You will learn about:
Top 3 Challenges Marketers are facing in 2019
How to generate traffic for your website
8 tips & tricks to generate leads
How to prove the ROI of your mobile marketing campaigns 
According to Hubspot's State of Inbound 2018 Report, the top 3 challenges marketers are facing in 2019 are: generating traffic and leads, proving the ROI of marketing activities, securing enough budget.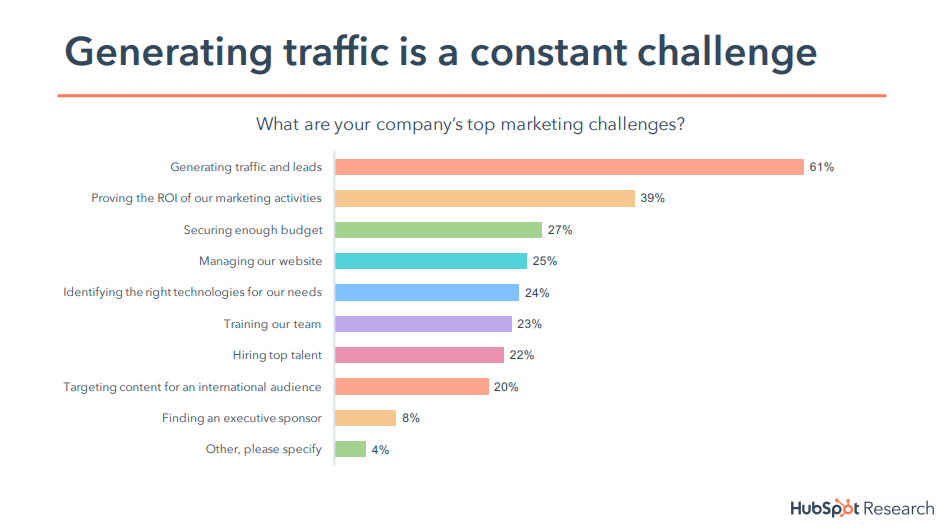 In my opinion, generating traffic and generating leads are different marketing goals so for this article I found it more valuable to you, the marketer looking to improve your skills to rearrange the top as follows:
Top 3 Challenges Marketers Are Facing in 2019
Generating traffic;
Generating leads;
Proving the ROI of marketing activities.
Challenge #1 Generating Traffic
What is the best way to generate traffic to your website?
Create excellent content!
What is excellent content?
Back in 2014, marketing expert Mark Schaefer coined the following term: content shock.
He said content shock emerges when the amount of content available to customers exceeds their capacity to consume it. Upon his estimations, we are now reaching the tipping point.
Content shock

The emerging marketing epoch defined when exponentially increasing volumes of content intersect our limited human capacity to consume it.

Mark Schaefer
What Mark says the problem is not too much bad content. The problem is too much good content.
So what should a piece of excellent content be like?
Here are 6 attributes of excellent content:
Insightful;
Helpful;
Informative;
Original;
Entertaining;
Niche-focused.
Excellent content increases website traffic, brand awareness and helps leads turn into sales.
Your brand may not be in a position to produce content with all six attributes. Touching three or four of them could be enough to support your marketing campaigns meet their goals.
Write with your customer in mind
Write to bring benefits to your audience.
Write for the benefit of your community first and SEO second.
Put the spotlight on people: write about their pain points, their struggles, their achievements.
Write to bring people together. Tell the story of innovative, creative, relentless, insightful individuals (check out our Success Stories Series).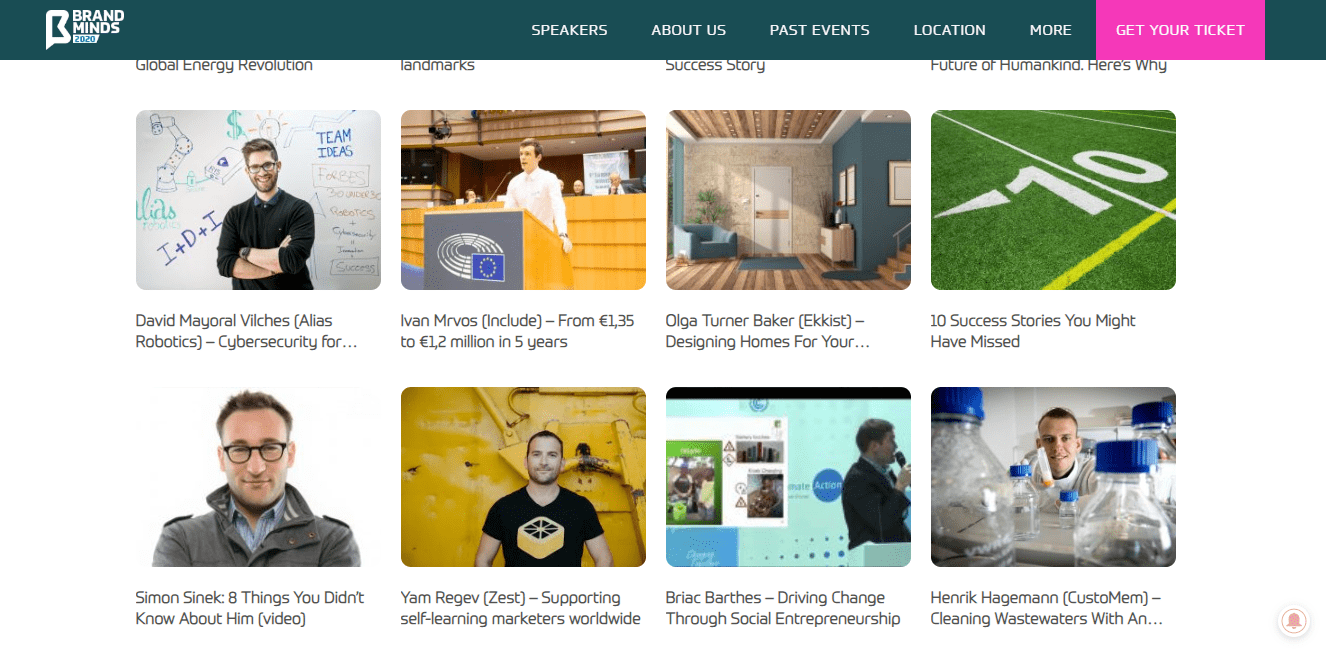 They can be your customers, your suppliers, your team members, your supporters.
This type of articles checks most of the boxes organically: it is inspirational, original, insightful and niche-focused. Who doesn't like reading a good story?
What else could your content be about?
Relevant insights on the industry,
The latest news on a particular subject which is of interest to your audience,
Interviews,
Quotes,
Main key takeaways of research papers and reports.
Write for mobile
According to the latest stats, in 2018, 58% of site visits were from mobile devices.
So it's important to write for mobile.
What does that mean?
Writing for mobile is not like writing a book. You cannot publish a post that looks like a page from a book: words from right to left with two paragraphs. People don't have the time, nor the patience to read blocks of text.
So turn your content into something which is easy to read and equally easy to understand with short sentences, plenty of space between sentences, paragraphs, sub-titles in bold, numbered lists etc:
Guides;
Recommendations;
Tips & Tricks;
How-To's.
Bigger, better, different
SEO expert Brian Dean gives the following recommendations for creating great content for both your audience and SEO:
Find opportunity keywords;
Analyze Google's first page;
Create different content for your chosen keyword;
Create better content for your chosen keyword;
Add a hook to get backlinks;
Focus on 1 specific result;
Content design.
Learn more: SEO Strategies for 2019 from SEO Experts Brian Dean and Eric Enge
If your competition has published a list of 10 recommendations, you need to write a piece which includes 15, 20, 25 recommendations to gain the attention of your reader and maybe rank higher in search results.
If they write guidelines, turn your own guidelines into video or audio content.
Also, add an image to every scroll depth of every article.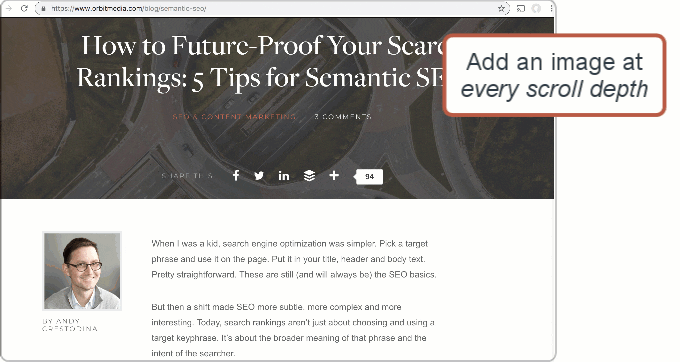 A new voice
Reach out to experts, influencers and professionals to ask for their contribution to the specific subject that your article focuses on.
Why?
Because:
It improves your content with insightful and fresh ideas;
It elevates your content's authority and influence by being associated with a reputable source;
It can help improve your content's social reach;
It increases the chance of earning valuable links.
Publish on other content-hosting platforms: Medium, LinkedIn
Publish long-form content on other blogging platforms such as Medium or LinkedIn. Test to see which drives the most traffic to your domain.
Both Medium and LinkedIn are giant content publishers and the articles published here sometimes rank higher in Google search results than branded content.
Let me tell you a story
Just because it's digital, your content doesn't have to be boring.
Use a conversational tone, but write smartly.
Be relaxed in your writing, but professional.
Replace the neutral and stiff pronoun we with the more relatable I and you. Remember, you speak to people, one individual at a time.
Don't forget to add your own perspective to the subject at hand. Share your opinion, make unexpected and thought-provoking connections.
Wrap up
Generate traffic by creating excellent content;
Your content should be insightful, helpful, informative, original, entertaining, niche-focused;
Write with your customer in mind;
Write for mobile;
Write bigger or better or different content to stand out from the competition;
Reach out to experts;
Publish on other content-hosting platforms;
Add your own perspective.
Challenge #2 Generating leads
Now that you've written a piece of content that it's better, bigger and different than anything your competition has put out, let the world know about it.
Share it far and wide on your social media channels, in your newsletter, to your WhatsApp group, reach out to your group of brand advocates and supporters and let them know you could use their help.
By the way, did you know that 80% of leads come from LinkedIn?
Once people are starting to visit your website to read your piece of content, make sure you have a lead generating strategy in place.
What action would you like your website visitors/blog readers to take? Sign-up for your newsletter? Download an e-book? Which action signals that you have new leads?
Here are 8 tips & tricks on increasing your lead generation numbers:
Leverage Quora to generate leads;
Create webinars and events ;
Email campaigns.
Did you know that email marketing has the best average ROI in comparison with mobile, keyword ads, SEO etc?
It's an average of $38 for every $1 spent.
If you plan to set up your email marketing campaign first stop making these 5 email marketing mistakes then learn how to acquire more email subscribers.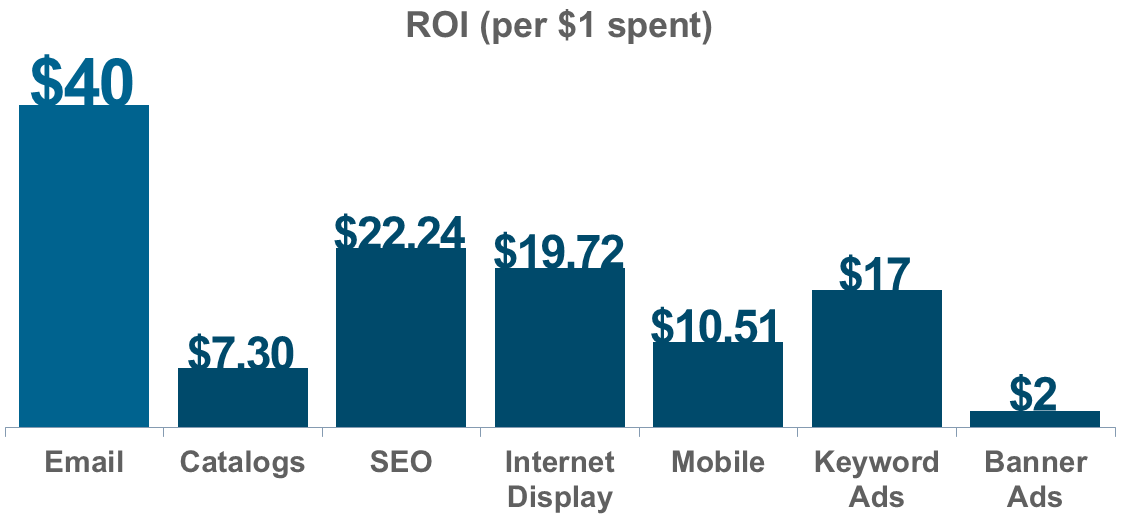 Challenge #3 Proving the ROI of marketing activities
Marketers have a difficult time measuring the results of their marketing activities today.
Why?
A few years back, marketers were used to a linear smooth go-from-A-to-B buyer journey.
That is not the case today.
Today customers search your product on Google, a few days later click on your ad on Facebook, check your product in your shop and then make an online purchase on your eCommerce site following their friend's recommendation (Hello, word-of-mouth marketing!). There's nothing linear nor simple about that!
Here's what the buyer's journey looks like for B2B according to Gartner:
You know what they say:
If you can't measure it, you can't improve it.
You can't know whether or not you are successful if you don't know what success looks like.
It's not the purpose of this article to provide you with measurement solutions to every marketing activities. It would turn this article into a 10,000-behemoth! (By the way, you're now 1250 words down, 200 more to go. Congratulations!)
I will only refer to the challenges marketers struggle with when managing mobile marketing campaigns.
Mobile Marketing Campaigns Challenges
Very often marketers are confused about their mobile marketing results.
Which network or channel drove the most mobile app downloads?
Which ad creative converted the most?
Users will often interact with multiple ads before making the final decision to install. So which media sources "assisted" each install – via a click or a view – and well as which drove the final install?
What is the ROI of your mobile marketing campaigns?
AppsFlyer is one of the solutions that can help marketers with measuring mobile marketing results.
Here's what AppsFlyer can assist marketers with:
Impressions and cost reporting;
Omni-channel measurement;
LTV reporting;
ROI reporting;
Rich in-app events;
Ad revenue attribution;
Uninstall attribution.
Learn more: 
Confused About Your Mobile Marketing Results?
This Platform Tells you Which is Which!

I hope my article has provided you with valuable resources and ideas to help you tackle your marketing-related challenges. If it has, it means I achieved my goal. If it hasn't, let me know in comments.
Join the Conversation
We'd love to hear what you have to say.