We searched the World Wide Web for powerful tools that grow your Instagram following, so you don't have to.
What are these tools about? you ask.
No, it's not about buying fake followers. Faking is not our style so you shouldn't do it either.
It's also not about magic. As much as we like Hogwarts, we prefer living in the real world.
Without further due, here they are!
3 powerful tools you can use to get more Instagram followers.
1. SocialDrift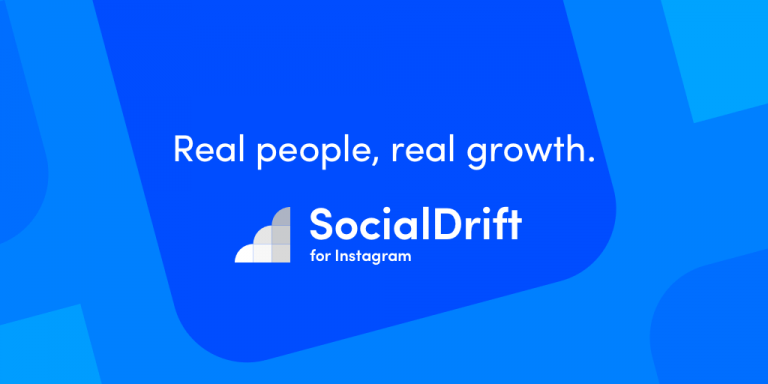 SocialDrift lets you organically increase your Instagram followers by using machine-learning algorithms to engage with other Instagram users through automated likes, comments and follows. This tool allows users to set specific parameters about automated outreach related to account location, name or hashtag use.
How can

SocialDrift

help you get more followers?
It targets the right audience
Using SocialDrift filters, you can target users by hashtags, usernames, locations and more. Customize the settings to match your strategy.
It automates your activity
You can enable the activities that you want your account to perform and SocialDrift will automatically execute them for you.
It grows your following base
SocialDrift takes care 24/7 of all the work and supports you to level up your Instagram presence.
Do you need to grow your Instagram account really fast? TurboMode can help you achieve this objective.
SecureBoost is SocialDrift's proprietary boosting engine, which ensures your account stays within limits.
Each Premium account comes with a Dedicated Proxy.
SocialDrift uses AI to optimize your account. The more it runs, the better the results get!
Get weekly/monthly reports on your account's evolution.
Compliant with Instagram ToS
SocialDrift is compliant with Instagram's terms to keep your account safe at all times.
How many Instagram followers can

SocialDrift

get for your account?
This information is not disclosed.
How much does it cost?
Here are the pricing plans of SocialDrift:
3-day free trial
$13/week
$39/30 days
Not happy with what SocialDrift can do for you?
No worries!
Let's go to tool no 2.
2. SocialStud.io

SocialStud.io boasts a client base of over 2000 all around the world with different goals and profiles.  They provide you 100% real, organic followers and outstanding growth by engaging with community that might be interested in you. They also provide advanced filtering so that your account never follows fake people.
How can

SocialStud.io

help you get more Instagram followers?
Customised Marketing Strategy
SocialStud.io creates a custom marketing strategy for every account to maximize growth of the follower's account, engagement, even sales.
Sign up and afterwards you will be assigned to a manager who will be responsible for your growth and will contact you via email.
This tool uses hashtags to engage (follow/like) with users that would be interested in your offering.
Are you running a local business? This tool can target one or multiple cities, states, provinces, or even countries.
Do you have competitors on Instagram? This tool will target and engage with their followers, which is the fastest route for growth.
Do you want to automate content posting? SocialStud.io can repost pictures from multiple accounts.
Your appointed manager can provide an in depth weekly report if you request.
How many Instagram followers can
SocialStud.io

get for your account?

Depending on many factors like your current account position, engagement, content and popularity, this tool can get you anywhere from 50 to 500 followers per day.
How much does it cost?
Here are the pricing plans of SocialStud.io:
7-day free trial
$49/month
$69/month
$99/month
If this tool doesn't hit the sweet spot for you, there's one last chance: tool no 3.
3. Social Bloom

Personal trainers, influencers, make-up artists, aspiring models, actors, local and e-commerce businesses use Social Bloom.
How can
Social Bloom

help you get more Instagram followers?

Your Instagram account will 'like' your target's posts, hundreds of posts, every day. This will result in massive amounts of exposure as you appear in people's notifications. This is an effective way to grow your Instagram account. You can like photos tagged with a specific #, like the photos of all people who follow a specific artist or personality, like all photos geo-tagged at a specific location.

You can automate your commenting to your target audience's content. If you're a business targeting potential clients, Social Bloom can comment things like: Awesome photo, use CODE10 for a 10% discount on my product! or DM me for a discount code on our fashion line! This can be used to drive sales and traffic. However these are not the only benefits of commenting – people love receiving comments and when someone reads your comment, they have a high chance of following you.

Following is a very strong method to grow your Instagram. When you follow people, they have a very high chance of following you back.

Target and interact with accounts based on geo-tagged locations. This may be useful if you want to drive quality users from a certain location, or if you're a local business to bring more people into your brick and mortar business.

This tool can even target locations based on your niche. For example, if you're a shoe shop, you can target people who have geo-tagged their media at a specific shoe shop. This will ensure you get people who are interested in shoes and live or travel to a specific location.

Blacklisting allows you to exclude specific usernames from your activity. This works great to exclude competitors or other accounts from your Social Bloom activity. That means you will never follow, unfollow, like, or comment on media from the users on this blacklist. As you know, it could look rather odd for you to comment on your competitors' posts. Luckily, the Blacklists feature can prevent that!
How many Instagram followers can
Social Bloom

get for your account?

Social Bloom states that your Instagram following can grow with 200 to 3,000+ real followers per week.
How much does it cost?
Here are the pricing plans of Social Bloom:
3-day free trial
$16/week
$22/week
$40/week
$90/week
There they are: SocialDrift, SocialStud.io and Social Bloom.
All you need to do is find out what's important for your Instagram account and choose the right tool!