The global Augmented Reality market is expected to reach 461.25 billion US dollars by 2030 at a compound annual growth rate (CAGR) of 41.50% according to this report.
Read on to learn why this is the time to include Augmented Reality in your business strategy for 2023.
Augmented Reality global market and user statistics from Google and Snap:
66% of people are interested in using augmented reality technology for help when shopping

By 2025, nearly 75% of the global population and almost all smartphone users will be frequent AR users

More than 100 million consumers are shopping with AR online and in stores

61% of people use AR for communication (Snap)

6 in 10 people identify shopping as their main reason for using AR

The majority are discovering AR through social/communications apps

76% of people expect and desire to use it as a practical "tool" in their everyday lives

3 in 4 people recognize AR as useful

Interacting with products that have AR experiences leads to a 94% higher conversion rate

Industries use AR to delight customers: entertainment, education, fashion, health & beauty, education, travel, automotive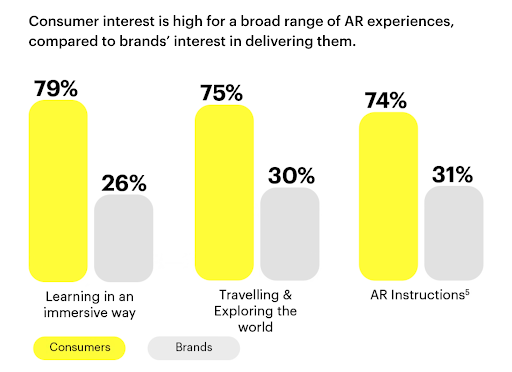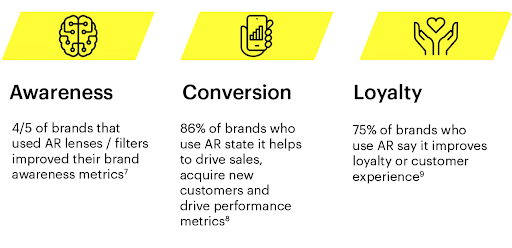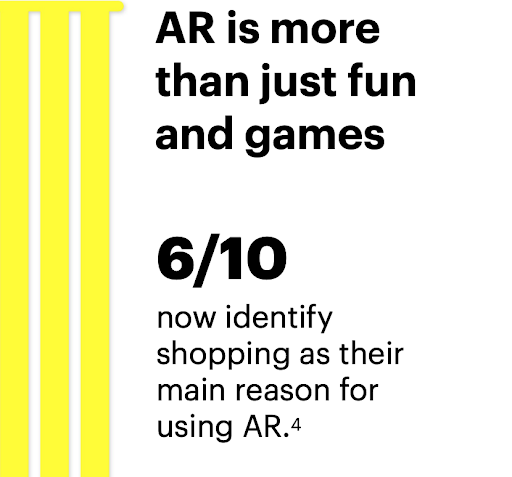 4 reasons for including Augmented Reality in your business strategy
1.

Seamless shopping experience & increased sales
How many companies are competing for your customer's attention? Your competitors, TikTok, Facebook, Instagram, activity apps and Netflix.
Who is getting their attention? Whoever provides them with the best experience whether it's entertainment, learning or shopping for a new pair of glasses.
As Snap states in its 2022 report, 3 in 5 eCommerce brands agree AR is an essential part of its marketing and sales efforts thanks to its unique ability to offer immersive experiences throughout the entire customer journey: awareness, consideration, conversion and loyalty.
Augmented Reality Business Use Cases
IKEA
IKEA is one of the first major brands to use AR to help customers make the right decisions when shopping for their products. In 2017, they developed IKEA Place, an AR application showing customers how virtual IKEA items would look in any given space. The AR application was a success: 2 million downloads and over 2 billion website visitors.
L'Oreal
L'Oreal is one of the most innovative companies in the global beauty market. The company provides customers with Augmented Reality and Artificial Intelligence powered tools to virtually try on its hair and makeup products or to measure skin ageing. By developing and including beauty tech, L'Oréal's e-commerce sales grew by 25.7% in 2021 (9.3 billion euros), an amazing jump from 15.6% in 2019 (4.6 billion euros).
2.

Customers already have and use AR – no adoption is needed
Whenever there is a breakthrough in technology, the main challenge businesses face is persuading customers to adopt it. Depending on the type of technology and the psychographics of the customer base, the technology is easier or more difficult to adopt. A great example is the ATM; it was invented in the late 1960s but wasn't adopted until the 1980s because people didn't trust the machine to give them their money. 
In the case of Augmented Reality, the adoption has already taken place. There is no need for your business to persuade your customers because the smartphone in their hands grants them instant access to Augmented Reality.
3.

Meeting your customers' expectations for convenience and support
Your customers are comfortable with using Augmented Reality and are expecting brands to offer them a unique experience. They are looking to your business for support in whatever they want to achieve. Meet their expectations by providing them with Augmented Reality powered tools which show them how your furniture would look in their home or how to learn to play the piano or how to install a device by giving them AR instructions.
4.

The opportunity to stand out from your competitors
Augmented Reality has sparked the imagination of professionals in marketing and advertising since its first emergence on the business horizon. They realized they could make advertising campaigns come alive and give audiences a way to interact with their ideas. It was the dawn of a new era: the phygital (physical + digital).
MLKonMLK by Lenovo
There are 955 streets that bear Martin Luther King Jr's name and Lenovo transformed all of them into an immersive experience to celebrate black history. The company partnered with the DuSable Museum of African American History and created the MLKonMLK AR campaign, an immersive educational experience that brings Martin Luther King Jr.'s "I Have a Dream" speech to every single MLK street using augmented reality.
HBO x Snap for House of the Dragon premiere
In an effort to reach fans for the much-awaited prequel, the TV channel and streaming service launched a mega marketing campaign spanning social media, outdoor, digital, and mainstream TV spots, promotions on selected distribution partners, live experiences and activations.
On Snap, users were given access to two in-app AR experiences. In the first experience, the user is transformed into a fire-breathing dragon. In the second, AR renderings of the show's dragons are revealed over local landmarks all over the globe.