What are 4 technologies every business should use to achieve their goals more effectively in 2021?
1. Digital Automation
What is automation? Automation is the elimination of all manual labour through the use of automatic controls that ensure accuracy and quality.
The term automation was first coined in the 1940s at the Ford Motor Company and was applied to the automatic handling of parts in metalworking processes.
The industrial revolution leveraged the power of machines to produce goods at scale. The digital revolution began in the late 1970s and ushered in a new way to manage business processes.
The benefits of automating business processes are many, ranging from efficiency boost, reduced costs to increased productivity.
Automation in business means using technology to replace manual effort and repetitive tasks allowing employees to tackle creative tasks or other projects where they can add real value.
In October 2020, leading Robotic Process Automation software (or RPA) UiPath's survey on automation skills found that 70% of senior executives want non-technical employees to have automation and AI skills.
Here are 6 examples of business automation tools:
ServiceNow is a cloud-based workflow automation platform that enables enterprise organizations to improve operational efficiencies by streamlining and automating routine work tasks;
ActiveCampaign is a marketing automation platform, combining advanced email marketing features and an enterprise standard CRM;
Hootsuite automates your social media marketing;
Grammarly automates proofreading and spell-checking;
Agile CRM automates workflows across sales channels;
Zoho Recruit helps HR managers source, track, and hire the best candidates;
The global marketing automation market size alone was valued at USD 4.06 billion in 2019 and is expected to grow with 9.8% from 2020 to 2027 (source).
Is your business automating its processes? How much of your employees' tasks are automated to reduce time, cut costs and increase productivity? Is your organization going through digital transformation?
2. Robotics
In 1947, science fiction author Isaac Asimov devised the Three Laws of Robotics, a set of rules created to protect humans interacting with robots.
The robots that we see now are yet to achieve the sophistication level of the robots that Asimov has imagined seventy-three years ago.
Our robots come in many shapes and sizes. From standard robotic arms working in factories to Amazon's cobots packing orders five times faster than a human warehouse worker and Sophia, the humanoid AI Robot who can simulate a full range of facial expressions, look people in the eyes and conduct natural conversations with them.
The robotics industry market is predicted to exceed USD24 billion by 2030, an increase with a CAGR of 28.6%. Find other interesting robotics industry statistics and the latest challenges in robotics.
The latest innovation in robotics comes from Mos Burger, a Japan-based burger chain which tested the OriHime robots in its restaurants. These robots are remote-controlled by restaurant employees from home. Each robot is clad in a trainee uniform and equipped with a microphone and camera, so workers can personally serve customers and answer their questions about the menu (source).
In this example, the robots are not taking the jobs of the restaurants' employees but act as a replacement, a body double if you will. An innovative solution perfectly adapted to pandemic times.
Farming is another industry with great potential for automation. Spot, the now-famous Boston Dynamics dog-like robot opens doors, walks up and down the stairs, carries payloads of up to 14kg and can haul a truck together with nine of his "siblings".
Recently this year, a fleet of Spots was deployed to a farm in New Zealand to conduct agricultural tasks: inspecting crops, navigating rough terrain and gathering data in real-time. It was strange seeing the robot successfully herding sheep. Yes, the robot-like dog could prove more useful to any farmer, but it won't replace a dog's playful bark and loving eyes any time soon.
3. The surprising use of gaming in business
It's been almost a year since the pandemic started. At first, we were happy to use Zoom and Zoom was certainly happy to see its stock more than double (up 107.2%) over the past three months and skyrocket nearly eightfold (up 680.2%) year to date (source).
Now we've grown increasingly tired of going on Zoom meetings. Mental health experts identified two new work-related conditions: Zoom fatigue and Zoom burnout.
Is there a more pleasant way of conducting team meetings or business meetings?
Gaming seems to be the answer for some professionals. Why stare at your colleagues inside six or nine small screens when you can bond on Red Dead Redemption 2? Why add to your business partner's zoom fatigue when you can relax first, go shoot some guns in Grand Theft Auto and then discuss business details as this New York Times article points out.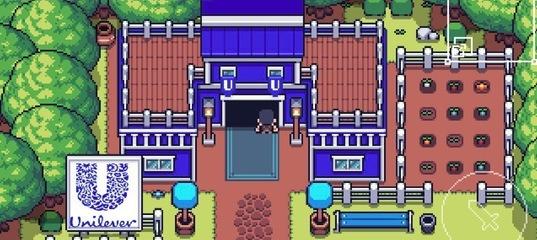 Unilever Russia went even further and designed a career fair in the format of an online game, where users could visit 8-bit versions of company office buildings, learn job details and communicate with virtual representatives.
4. Augmented Reality experiences for a touchless economy
2016 will go down in history as the year the world saw a cultural phenomenon go global, the PokemonGo.
It is estimated that 27 million users played the AR-based game and $950 million in revenues were generated.
The same year, Snapchat bought Augmented-Reality start-up Cimagine Media.
Today Snapchat is synonymous with AR. Recently, the company rebranded itself as a camera company, with the goal of empowering people to express themselves, live in the moment, learn about the world, and have fun together.
AR is Snapchat's unique feature that attracts over 170 million Snapchatters, nearly 30 times every day according to the latest reports by Snap.
This year, the social media company launched Local Lens, a new feature that promised to transform whole neighbourhoods into digital canvases.
Apart from the obvious entertainment opportunity, AR is also a tool that can be used by businesses to drive engagement and fulfil customers' needs.
Augmented reality firm Moviebill launched Inflight, AR versions of airlines' safety cards, duty-free magazines, and inflight menus.
How does Inflight work? Passengers can use their smartphones to scan an image (such as an airline's logo) on their tray table to see the content 'come to life' in 3D. The idea is to help airlines get rid of items that are touched by many crew members and passengers, as well as create more engaging customer experiences.
Do you think your business could implement this technology for the benefit of its customers?