8 Millennials running billion-worth tech companies 
1.
ADAM D'ANGELO

, the co-founder of QUORA ($2 billion)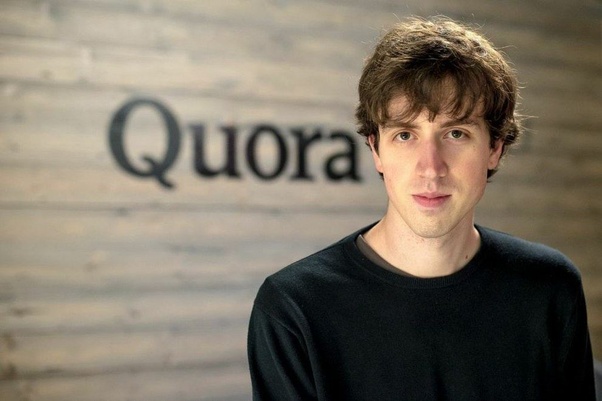 Quora co-founder Adam D'Angelo (source: vox.com)For Adam D'Angelo, 36, co-founder and CEO of Quora, "access to knowledge is one of the main ways we benefit from everyone who has come before us, and sharing knowledge is one of the most impactful ways to contribute back to society and future generations."
After serving as Facebook's CTO until 2008, Adam launched Quora, the crowdsourced question and answer platform in 2009. In 2014, Quora received $226 million and is now valued at $2 billion.
Adam wants to keep building the Q & A social platform that helps people learn while avoiding the controversies underlining his former employer's ongoing trials and tribulations. So far he has succeeded.
How does Quora generate revenue? Advertisers run ads on specific questions or topics.
The company reported $8 million in revenue in 2018, with 300 million unique monthly visitors asking and answering questions in 24 languages.
Are you a Quora fan?
You can attend the Quora World Meetup Week 2020. The meetup will be held online and will take place August 8-16. If you are interested, check this blog announcement for more information.
QUORA STATISTICS
300 million unique monthly visitors;
Adults spend 2x as much time on Quora than LinkedIn;
Businesses using Quora Ads have seen up to 4x more conversions;
27% of Marketers plan to invest more in Quora Ads for 2020;
In 2018, entertainment, travel, business, marketing, learning, and technology were the most popular topics on Quora.
2.
ALEXIS OHANIAN

, the co-founder of REDDIT ($3 billion)

Alexis Ohanian (37) is the co-founder of Reddit, the social news aggregation, web content rating, and discussion website.

He launched Reddit in 2005, right after college with the goal of it becoming the "front page of the Internet."

Fifteen years later, whether or not Reddit has accomplished its objectives is an open discussion.

What we do know is that the platform is now valued at $3 billion with its latest investment coming from Chinese company Tencent.

Reddit makes money by selling advertising space and from an optional premium membership plan that allows users to turn off ads and enjoy other benefits.

In 2018, Reddit made $100 million in ad revenues and for last year, the market analysts have forecast $119 million.

Amid the turmoil caused by the killing of George Floyd and the black lives movement going global, Alexis resigned from Reddit's board and urged them to replace him with a black candidate as his contribution to fighting against racism. A bold and unique decision in the business space.
REDDIT STATISTICS
Reddit is a growing community with 430 million monthly active users and more than 100K active discussion forums.
From news to relationships, funny memes to beauty care, politics to anti-vaxxers – Redditors talk about everything.
The platform has also taken the Ask Me Anything (AMA) content to a whole new level. The top 3 most upvoted AMAs of 2019 featured Bill Gates, the Cookie Monster and Presidential Candidate Andrew Yang.
Discover more about Reddit's top communities, trends and topics of the year in Reddit's 2019 Year in Review.
3.
MELANIE PERKINS

, the co-founder of CANVA ($6 billion)

Co-founder Melanie Perkins (32) launched Canva in 2012 with one mission – to empower everyone to create beautiful designs without friction.

Canva provides graphic design software as a service; it is an online collaborative platform dedicated to people who aren't graphic designers and don't have funds to hire one.

Melanie and her team designed a great product which has rapidly become successful through word-of-mouth, social currency and listening to users feedback. Learn more: How Canva acquired 10 million users within 5 years.

Canva's business model is subscription-based. The platform makes money from freemium subscriptions, prints, online and in-person design classes, design marketplace and an affiliate program. For the fiscal year 2019, Canva projected to hit annual revenues of $291 million.
CANVA STATISTICS
As of 2019, Canva has over 20 million users across 190 countries and is valued at $6 billion.
The latest news from Canva reports that users have created over 2 billion designs in more than 100 languages in the last year. To date, there have been 3.5 billion images uploaded to the platform.
4.
BEN SILBERMANN

, the co-founder of PINTEREST ($12.7 billion)

Co-founder Ben Silbermann (38) launched Pinterest ten years ago as an online "catalogue of ideas".

Pinterest is the visual discovery engine whose mission is to give everyone the inspiration to create a life that they love.

In 2019, Pinterest generated $1,14 billion in ad revenue with a 51% growth year-over-year compared to 2018.
PINTEREST STATISTICS
The platform boasts 367 million monthly active users and 48% of them are on the platform to shop which should be an interesting statistic for brands looking to reach their customers.
The users carry out more than 2 billion searches every month saving more than 200 billion pins to date. Half of the users live outside the US.
The number of active advertisers on Pinterest doubled in 2019 which is an indication that brands running ads on the platform are seeing positive results. Pinterest is constantly working on improvements to its advertising tools.
In its 2019 letter to shareholders, Pinterest mentions that it is making it much easier to discover and buy the products within the platform by improving and simplifying the user's shopping experience.
Launched in 2018, video content has seen a 6x increase in viewership. The platform's improved conversion visibility led to a 2,5x growth in attributed conversions for some advertisers.
For 2020, Pinterest expects total revenue of up to $1.52 billion. Currently, the visual discovery engine is evaluated at $12 billion.
The article continues with part 2.
Join the Conversation
We'd love to hear what you have to say.
Get in touch with us on our LinkedIn Group, Facebook Group or Twitter.