According to Markets and Markets, Artificial Intelligence (AI) in healthcare is expected to grow from $2.1 billion in 2018 to $36.1 billion by 2025, at a CAGR of 50.2% during the forecast period.
That's the highest growth percentage among the growing industries we have previously analyzed on this blog: pet-food (4,8%), gaming, health & wellness (12.8%) and health & fitness (10%).
Topics:
Reasons why Artificial Intelligence is disrupting the healthcare industry
Artificial Intelligence in healthcare statistics
Factors driving and limiting growth
Artificial Intelligence applications in healthcare
Examples of AI-powered apps
Trends via CBInsights
Big pharma partnerships with AI healthcare startups
Why is Artificial Intelligence disrupting the healthcare industry?
The reasons Artificial Intelligence is changing healthcare are quite obvious. AI is quicker and better than human doctors: the machine takes 15 seconds to read and diagnose scans while doctors arrive at a diagnosis in 30 minutes.
AI brings many benefits to the healthcare industry worldwide. Data-driven products and services result in cost cuts, treatment improvement, increased accessibility, higher-quality personalization and a more accurate initial diagnosis which leads to a more effective treatment plan.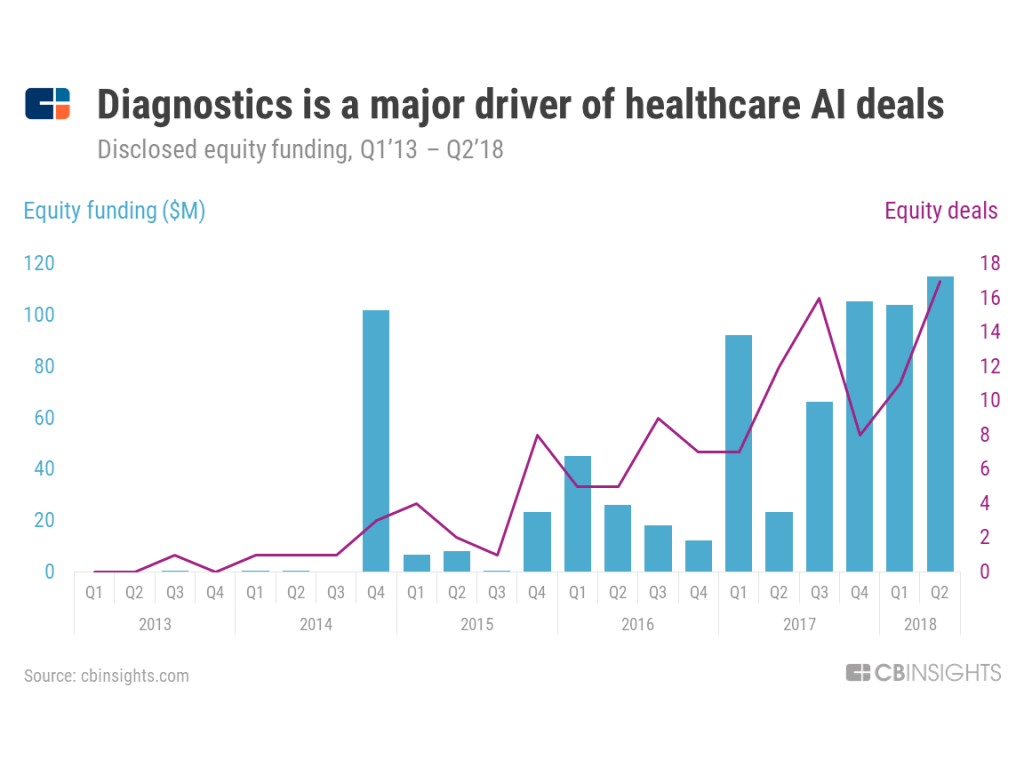 Artificial Intelligence in Healthcare Statistics
Between 2013 and 2017, more than 300 health care AI-related patents were issued with the following technology giants leading the charge: Alphabet filed 186 patents, Microsoft – 73 and Apple – 54.
Funding for U.S.-based AI and machine-learning health companies has increased more than 2,000% since 2011.
Factors driving the growth of Artificial Intelligence in healthcare
increased number of artificial intelligence solutions;
the ageing of baby boomers and prolonged life expectancies;
advancements in clinical research;
advancements in personal digital assistants;
AI's enhanced ability to reach an accurate diagnosis in the early stages of chronic diseases and disorders;
increased funding in healthcare Artificial Intelligence;
effective cost reduction in healthcare expenditures;
the growing number of startups for AI in healthcare;
the ability to share health information easily across institutions and software systems which is one of the most pressing issues in healthcare.
According to Healthcare Weekly, AI startups have raised $4.3B across 576 deals since 2013, topping all other industries in AI deal activity.
Factors limiting the growth of Artificial Intelligence in healthcare
end-users' reluctance to adopt Artificial Intelligence technologies;
potential risks associated with Artificial Intelligence in healthcare;
lack of trust.
Artificial Intelligence applications in healthcare
appointment scheduling;
insurance coverage checking;
clinical imaging & diagnostics;
developing new drugs;
monitoring patients progress;
precision surgery.
AI-powered apps
Here, on the blog, we have talked about AI-based apps extensively.
Here are 3 healthcare apps developed on AI-based technology:
the Child Growth Monitor built on Microsoft artificial intelligence solutions;
Ginger.io, an app which offers professional coaching services to support employees' emotional wellness;
Replika, an app which helps users unlock their emotional intelligence.
7 Trends for AI in healthcare via CBInsights 
1. AI-as-a-medical-device
Here are 3 AI software platforms which FDA has already approved:
IDx-DR is an AI software that screens patients for diabetic retinopathy without the need for a second opinion from an expert. The results are remarkable: it was able to correctly identify patients with "more than mild diabetic retinopathy" 87.4% of the time, and identify those who did not have it 89.5% of the time.
Viz.ai analyzes CT scans and notifies healthcare providers of potential strokes in patients. The company closed a $21 million Series A round from Google Ventures and Kleiner Perkins Caufield & Byers.
Arterys was FDA-approved last year for analyzing cardiac images with its cloud AI platform.
2. Using neural networks to identify the risk of heart disease
AI could potentially help identify the risk of heart disease. One algorithmic approach showed 85% accuracy in detecting diabetes from heart rate.
3. Building a clinical research ecosystem
With iPhone and Apple Watch, Apple is the first tech company to build a health records ecosystem. Since 2015, Apple has launched two open-source frameworks — ResearchKit and CareKit — to help clinical trials recruit patients and monitor their health remotely.
In January 2018, Apple announced that iPhone users will now have access to all their electronic health records from participating institutions on their iPhone's Health app.
4. Traditional pharma companies looking to AI SaaS startups for innovative solutions
Big pharma companies have recognized the huge potential and the benefits AI can offer to healthcare.
Pfizer entered into a strategic partnership with XtalPi — an AI startup backed by tech giants like Tencent and Google — to predict pharmaceutical properties of small molecules and develop "computation-based rational drug design."
5. Chinese investments in AI healthcare are on the rise
The Chinese government issued an artificial intelligence plan last year, with a vision of becoming a global leader in AI research by 2030. Healthcare is one of the 4 areas of focus for the nation's first wave of AI applications.
Chinese big tech companies are now entering into healthcare AI with strong backing from the government. WeChat, Facebook's competitor in Asia has reached 1 billion users. Also called the "app for everything", WeChat reported 38,000 medical institutions had accounts last year, of which 60% allowed users to register for appointments online. Also, more than 2,000 hospitals accept WeChat payment.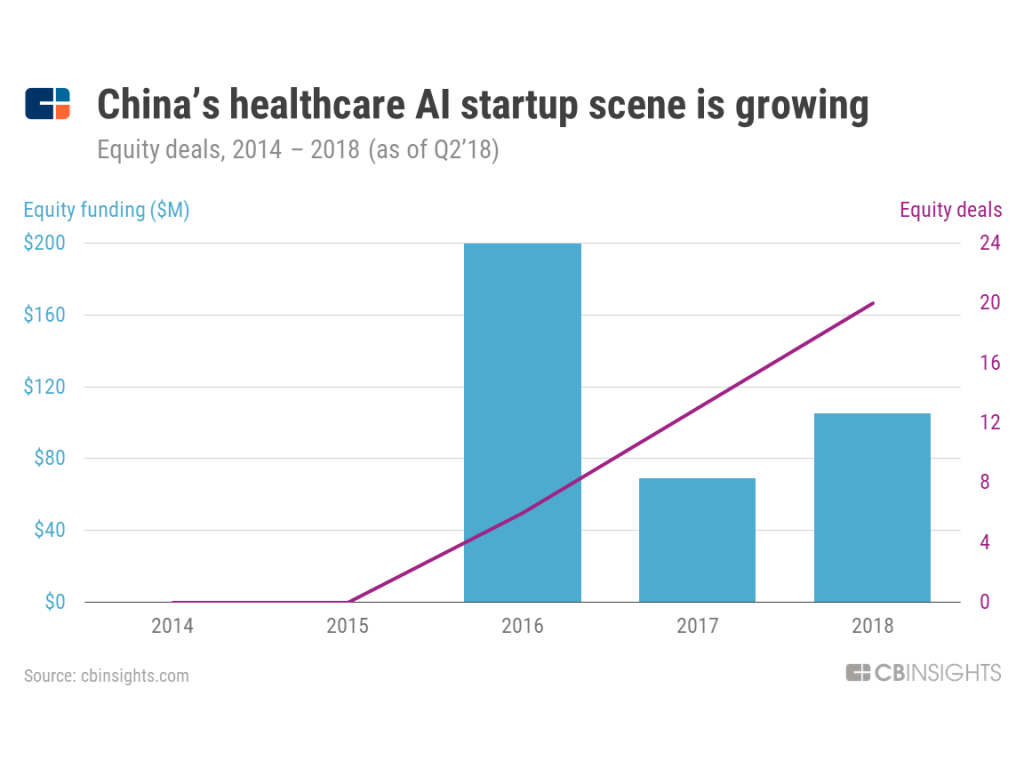 6. DIY diagnostics
AI has turned smartphones and consumer wearables into powerful at-home diagnostic tools. Dip.io performs urine analysis via a smartphone camera and SkinVision monitors skin lesions and assess skin cancer risk.
7. Therapy bots
From life coaching to cognitive behavioural therapy to faith-based healing, therapy bots support users' mental health and help them change negative thoughts and behaviours through conversations. Check them out: Woebot, Wyse, Tess, Sister Hope, WisdomBot etc.
Big pharma partnerships with AI healthcare startups
1.Pfizer partnered with XtalPi, a U.S.-China biotech firm that uses artificial intelligence and computing to accelerate the development of new drugs. XtalPi has raised a total of $67.6M in funding.
2. Merck partnered with Atomwise which develops artificial intelligence systems for drug discovery. Atomwise has raised a total of $51.3M in funding.
3. GlaxoSmithKline partnered with Insilico Medicine which develops high-performance AI platform for drug development to treat cancer and age-related diseases. Insilico Medicine has raised a total of $14.3M in funding.
4. Mayo Clinic partnered with Beyond Verbal which uses voice and AI to revolutionize healthcare, well-being and emotional Understanding. Beyond Verbal has raised a total of $10.1M in funding.
5. Novartis partnered with Pear Therapeutics to create software applications to treat patients with schizophrenia and multiple sclerosis. Pear Therapeutics has raised a total of $134M in funding.
6. Sanofi partnered with Recursion Pharmaceuticals which combines experimental biology, automation, and artificial intelligence to discover treatments. Recursion Pharmaceuticals has raised a total of $226.4M in funding.
7. Janssen Pharmaceutical partnered with BenevolentAI, an advanced technology company focused on accelerating the journey from data to medicines. BenevolentAI has raised a total of $202M in funding.
8. Roche Holding acquired Flatiron Health for $1.9B in February 2018. Flatiron uses machine learning to mine patient data.
---
Sources: healthcareweekly.com, cbinsights.com, forbes.com, fastcompany.com, crunchbase.com
Join the Conversation
We'd love to hear what you have to say.
Get in touch with us on Facebook Group and Twitter.