In this article:
Global Coaching Industry Statistics for 2019
3 fast-growing niches for business coaches
Executive coaching vs Business coaching
Executive coaching 2022: future trends
Coaching and Technology
2 Threats and 2 Opportunities
6 methods of measuring the benefits of coaching in 2019
IBISWorld estimates the business coaching industry revenue increased to $15 billion in 2019 at an annualized rate of 5.6%. In 2015, the estimated global revenue from coaching was $2.356 billion.
Global Coaching Industry Statistics
Here are the main findings of the 2016 Global Coaching Study commissioned by the International Coaching Federation:
Total number of coaches worldwide: approximately 53,300 professional coach practitioners;
Total revenue generated worldwide from coaching in 2015 was $2.356 billion, representing a 19% increase over the 2011 estimate published in the 2012 ICF Global Coaching Study;
The annual average revenue generated by coaching is $51,000;
An active coach practitioner maintains an average of 11 clients at any given time;
67% of global coach practitioners are women, with the highest concentrations in North America, Eastern Europe and Oceania;
6% of coach practitioners are under the age of 35, with the largest numbers being in Eastern Europe (17%), Latin America and the Caribbean (11%) and Asia (9%);
54% of global clients are women.
1. Women empowerment coach
A women's empowerment coach facilitates women to disengage from limiting beliefs and conditioned responses.
Women are looking to open up life choices that were previously inaccessible to them. Motherhood is no longer their sole legacy in life. They seek self-actualization and finding their unique purpose in life.
2. Employee satisfaction coach
Employee happiness and satisfaction is essential for business success and employers are aware of that. Employees want more than a higher paycheck.
The job of an employee satisfaction coach is to heal broken relationships within the workforce. Mostly it is about the employee's relationship with themselves and their motivations within the team.
3. Sales coach
Sales coaches establish a longer and more frequent relationship with sales representatives than traditional sales training.
Their purpose is to ensure sales reps perform at their peak and bring in accounts to hit their quotas.
Executive coaching v Business coaching
In its 2019 Executive Coaching Survey, Sherpa Coaching defines executive coaching as "regular meetings between a leader and a trained facilitator, designed to produce positive changes in business behaviour in a limited time frame."
Don't confuse executive coaching with business coaching!
Business coaching is different from executive coaching in that it entails working to develop the client's knowledge and skills.
Hourly earnings: Global figures for 2019 via Sherpa Coaching
Executive Coaches: $398 per hour, up from $386 last year and $352 in 2017.
Business Coaches: $251 per hour, down from last year's average of $279.
Life Coaches: $208 per hour, an increase over last year at $190 per hour.

Source: coachfederation.org
Executive Coaching 2022: Future Trends
Coaching will become a commodity and fees will decrease (57%);
Professional coaching for Millennials leaders will increase (82%). In total, 23% of coach practitioners surveyed reported their clients are under the age of 35.4;
App-based coaching platforms will become a significant player in the industry (67%);
Leader-as-coach training will become more prevalent (89%);
Team coaching will increase (83%);
Leadership development programs will include additional coaching (89%);
More than half of coach practitioners (51%) believe to a large extent that coaching is able to influence social change.
Learn more: How coaching your team makes you a better leader
Coaching and Technology
Technology is always changing and the way coaches deliver services will change to reflect it.
In 2012, 45% of coaches delivered their services in in-person meetings.
In 2019, this percentage decreased to 32% while web video, Skype etc increased from 15% to 25%.
Today coaches use the telephone as a delivery method the same as in 2012: 25%.
Threats and Opportunities
There are two identified obstacles for coaching:
Untrained individuals calling themselves coaches;
The marketplace confusion about the benefits of coaching.
The main opportunities for coaching as identified by coach practitioners are:
Increased awareness of the benefits of coaching;
The emergence of credible data on the ROI/ROE from coaching.
Measuring the benefits of coaching in 2019
Measuring the benefits of coaching as accurate as possible is driving the growth of the industry.
Here are 6 methods coaches are using to show the value of coaching:
360 Assessments (which is a before-and-after method pioneered by Marshall Goldsmith) (29%);
Well-being and Engagement (20%);
Performance Reviews (18%);
Impact on Business (15%);
Return on Investment (10%);
Effectiveness of Learning (8%).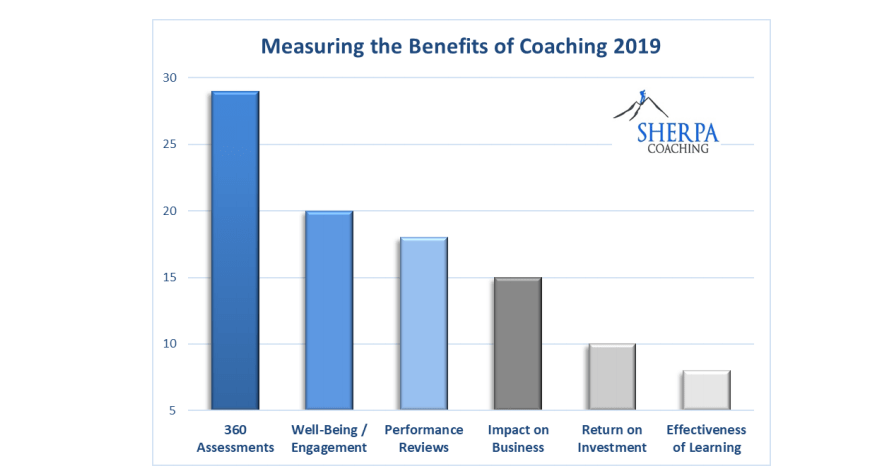 Are you going to include coaching in your leadership development programs?
Join the Conversation
We'd love to hear what you have to say.
Get in touch with us on Facebook Group and Twitter.