Performing background checks is one of the stages in the hiring process. Background checks are often slow and inaccurate. This leads to almost 2 in 5 employers losing candidates according to a Careerbuilder survey.
Also, poorly-run background checks provide candidates with a bad experience which can damage your company's reputation: 56% of candidates think less of a company if they have a bad experience with its technology. A bad reputation and lack of trust increase the likelihood of talent avoiding you.
Checkr is a technology company in the background check industry. It is a technology platform built with artificial intelligence and machine learning which improves background checks accuracy to ensure everyone gets an opportunity to work.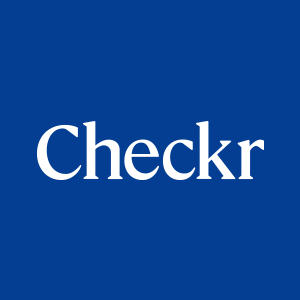 Managing your background checks with the candidate in mind will make them happier, and make you more competitive in today's talent market.
Checkr specializes in helping companies hire large volumes of people, realizing at the same time that there are people behind the number. Managing background checks with the candidate in mind will make them happier which in turn will make your company more competitive in today's talent market.
Mission

We believe all candidates should have a fair chance to work. And, we understand that candidates are real people whose lives depend on the results we deliver. That's why we're committed to our mission of building a fairer future by improving understanding of the past.

We're building a better future for everyone by making hiring better, fairer, and more efficient.
We're committed to helping all of our customers reach their goals and find new ways to make hiring more inclusive.

Checkr
Benefits of using Checkr in your company's hiring process
The platform has helped companies improve their hiring and opened up opportunities for candidates;
It helps companies evaluate their existing hiring practices;
Improved productivity, speed and accuracy;
Employers find new ways to open up their candidate pools with Checkr technology;
The AI-powered service rechecks and suggests anyone whose offence is older than your company's cut-off date;
By using AI-powered technology, your company can help remove some of the biases from the hiring process;
Your hiring team is able to perform screenings more efficiently while reducing unnecessary costs and speeding-up your hiring;
Your company runs a lower compliance risk, with higher-quality data and scalability to meet demand;
Provides better candidate screening tools which allow your talent hiring team to quickly identify qualified candidates.
Checkr – Info and Data
The company was founded in 2014 and started out as a small group of technology and background check experts on a mission to build a better future.
Today the Checkr team includes more than 400 people. The platform has performed over 42 million background checks to date and helped companies hire more than 20 million applicants in five years.
Checkr has raised $160 million in Series D funding which they will use for three key initiatives:
Expanding the functionality of the hiring platform,
Improving accuracy and fairness while creating new products,
Developing new international capabilities to align with the expansion plans of their customers.
The technology developed by Checkr has helped fuel the growth of the on-demand economy. The 2019 Mary Meeker Internet Trends report highlighted Checkr as a driver of economic growth.
The latest product was developed in collaboration with Uber and it is called Continuous Check. Continuous Check is the first background check product that actively flags potentially disqualifying records to ensure safety standards are met. With this product, Checkr is creating a new standard of safety for the ridesharing industry and beyond.
Join the Conversation
We'd love to hear what you have to say.
Get in touch with us on Facebook Group and Twitter.