According to the 2022 European Unicorn Soonicorn Report by international tech M&A firm, investor and venture builder i5invest & i5growth, Germany is growing 4 of Europe's Top 5 Fastest Unicorns.
Gorillas and Flink are groceries delivery apps valued at 3.1 billion US dollars (with 2.6 billion US dollars in revenue) and 5 billion US dollars respectively. Based in Germany, both tech unicorns are fighting for dominion over the European rapid-delivery market boasting a 10-minute delivery from micro warehouses in Germany, France, the UK, Denmark, Spain, Austria and Netherlands.
Razor Group acquires and scales promising e-commerce brands into next-generation household names. The tech unicorn is valued at 1 billion US dollars and has over 200 brands in its portfolio and over 1 million customers. The companies Razor Group acquires must meet a few requirements including EBITDA of at least 250,000 EURO.
SellerX is also acquiring companies and is valued at 1 billion US dollars. The difference between SellerX and Razor Group is that the first is focused on buying Amazon small businesses and has a smaller number of brands acquired (40+).
What you need to know about Germany
With a tech startup ecosystem of 384 billion US dollars, Germany ranks second behind the UK with 989.4 billion US dollars.
The ecosystem value of the UK, Germany, France, Israel, Sweden and Netherlands
(source Dealroom)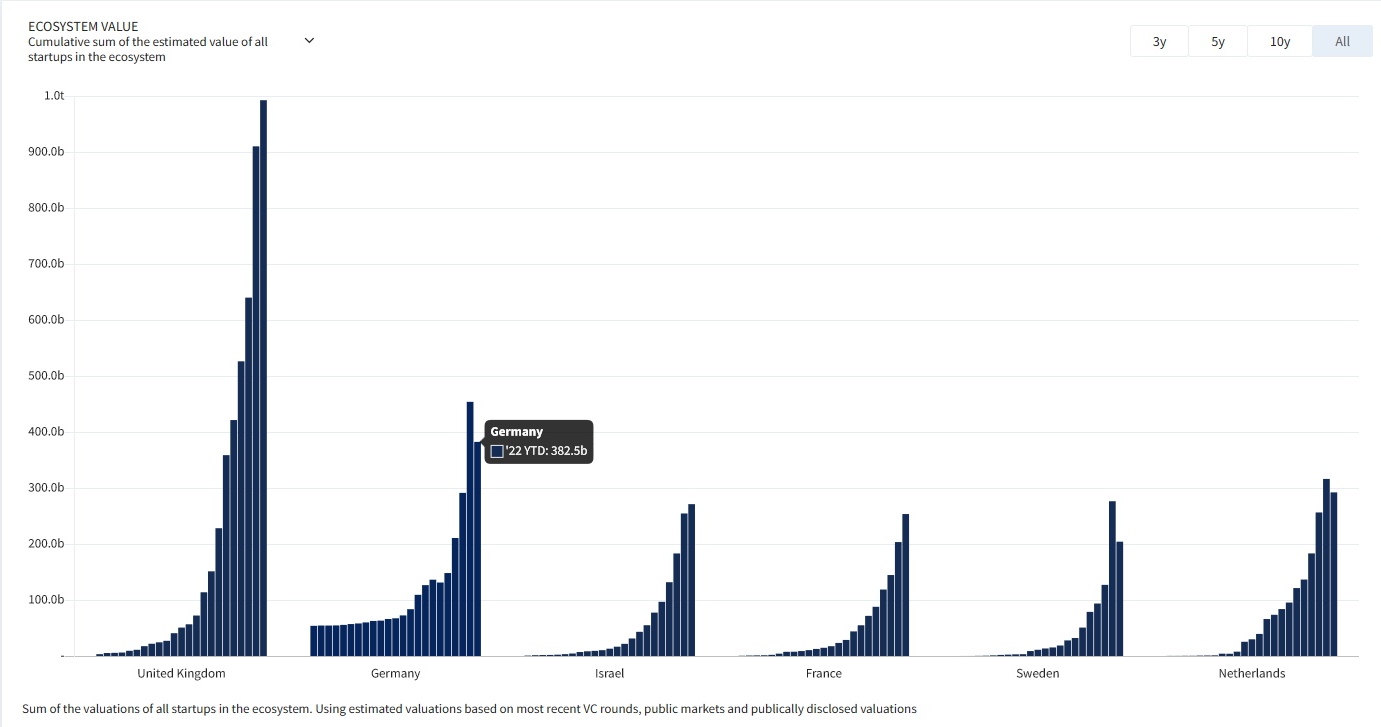 Over the last 20 months, Germany has invested 6 billion US dollars in Fintech making it the third country in Europe with the biggest investments in startups developing financial technology.
Top 3 European countries by amount invested in Fintech
(source Dealroom)
United Kingdom
5.2 billion US dollars (2020)
15.2 billion US dollars (2021)
9.3 billion US dollars (2022 to date)
France
777 million US dollars (2020)
2.6 billion US dollars (2021)
2.5 billion US dollars (2022 to date)
Germany
967 million US dollars (2020)
4.2 billion US dollars (2021),
1.8 billion US dollars (2022 to date)
The leading venture capital firms by portfolio size in Germany are High-Tech Grunderfonds, Global Founders Capital, HV Capital, Earlybird Venture Capital and Point Nine.
They are primarily focused on investing in European technology innovations and have participated in deals totalling 24.5 billion US dollars.
Top 5 German tech VC firms by portfolio size
(source Dealroom)

High-Tech Grunderfonds has invested in Mister Spex and commercetools, two global and EMEA unicorns.
Global Founders Capital has invested in various industry leaders including Meta, Canva, Slack, Revolut and Zalando.
HV Capital has a number of future unicorns in its portfolio like IMMO Capital, Europe's first technology-led residential real estate platform and CoachHub, a leading global talent development platform.
Earlybird Venture Capital supports fast-growing unicorns like Aiven, an information technology company and N26Group, the bank account that can be managed entirely from a smartphone.
Point Nine has investments in 16 billion dollar Delivery Hero and 9 billion US dollars cloud-based customer service platform Zendesk.
The Germany-based startup to watch in Fintech
Based on fundraising timeline, growth indicators, founding team, and other factors
(source Dealroom)

With a whopping growth of 180% growth over the last 12 months, Advanced Blockchain invests in, innovates, and incubates blockchain and Web3 solutions on a global scale. The company deploys extensive investment, development, research, and business resources toward projects in order to generate long-term value for the industry.
Key facts about Germany to talk to your team about
Tech ecosystem value: 384 billion US dollars
Has invested 6 billion US dollars in Fintech over the last 10 months
Most valuable tech unicorns and the industries they are operating in:
N26Group: 9 billion US dollars, Finance
Contentful: 3 billion US dollars, Enterprise Software
BioNTech: 24.6 billion US dollars, Health
Volocopter: 1.7 billion US dollars, Robotics
Delivery Hero: 16.6 billion US dollars, Food
Auto1Group: 12.9 billion US dollars, Transportation
Home of 4 of Europe's fastest-growing unicorns: Gorillas, Flink, Razor Group and SellerX