In this article:
What is biometrics? What is biometric authentication?

Biometrics industry segmented by applications and end-use

A new technology: typing biometrics

Global biometrics industry statistics & facts 2020

Key factors driving and restraining the growth of the biometrics industry

Biometrics industry could lose $2B this year from pandemic

Growth opportunities for biometric vendors
The global biometrics market accounted for $17.28 billion in 2018 and is expected to reach $76.64 billion by 2027, growing at a CAGR of 18% during the forecast period.
If you are taking into consideration investing in the biometrics industry, this article provides you with the necessary information to help you make an informed decision.
What is biometrics? What is biometric authentication?
Biometrics covers a variety of technologies in which unique identifiable attributes of people are used for identification and authentication. These include (but are not limited to) a person's fingerprint, iris print, hand, face, voice, gait or signature, which can be used to validate the identity of individuals seeking to control access to computers, airlines, databases and other areas which may need to be restricted.
Biometric authentication is the process of comparing data for the person's characteristics to that person's biometric "template" to determine resemblance.
Biometrics industry applications
Face recognition
It uses the human face as a key to security and finds applications in both law and non-law enforcement end-use segments. Face recognition has distinct advantages because of its non-contact process.
Hand geometry
It uses the geometric shape of the hand, length & width of the fingers, size of the palm, the distance between the knuckles for biometric identification. Biometric hand scanning reads palms to identify and recognize individuals. The palm scanning systems are said to be 100 per cent more accurate than fingerprints recognition and hence is extensively used across different end-use verticals.
Voice recognition
The technology uses the individual's voice to verify the person's identity and offers access. Such biometric technologies have gained popularity in the recent past for remote authentication due to the availability of devices for collecting speech samples and its ease of integration.
Signature biometrics analyzes and measures the activity of signing, such as the pressure applied, the stroke order, and the speed among others.
Iris recognition
It uses mathematical pattern-recognition techniques on the iris of an individual's eyes, as iris have complex patterns that are stable and unique.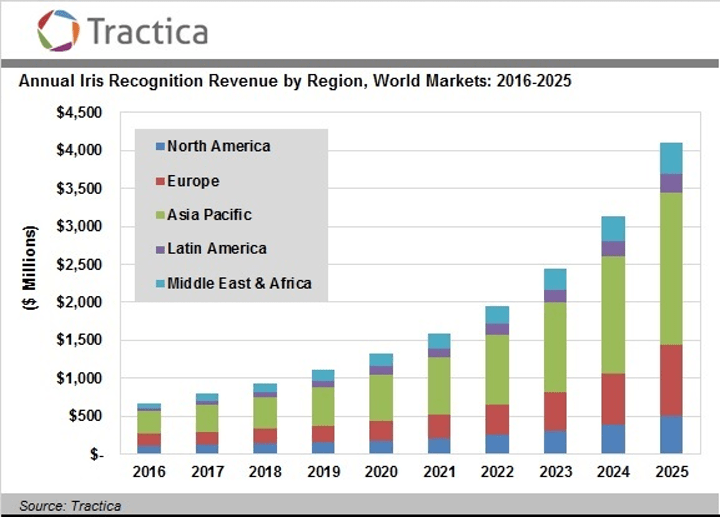 Biometrics industry end-use
Government
Government agencies use biometric technology to detect and prevent illegal entry, to verify information on visa applications and to keep legal travel and trade moving smoothly. In the US, airlines use biometric technology and facial recognition as part of the preboarding screening process of international flights to combat terrorism travel.
Banking and Finance
Biometric authentication is used in banking and finance to increase efficiency and to prevent frauds.
JP Morgan Chase, Bank of America and Wells Fargo allow their customers to log in to mobile banking via fingerprint authentication. Voice authentication is also deployed in bank call centres to identify customers. Wells Fargo took the step to use voice biometrics to authenticate payments.
Consumer Electronics
Consumer electronics with biometric capabilities are developed in order to improve customer experiences. Here are three examples of consumer electronics with biometrics that were showcased at CES 2020:
smartglasses that enable video chat and medical consultation
smart doorbells with face recognition capabilities
smart cars with iris recognition that are capable of identifying the driver without any need for physical contact.
Retail
Retailers are investing in biometrics, including behavioural tracking and facial and voice recognition to not only improve store security—and potentially catch shoplifters—but to also target consumers with promotional content.
Healthcare
Biometrics technology serves as an effective tool to help secure critical patient information stored in electronic health record systems.
Transport/Logistics
In transport and logistics, biometrics technology is extensively used for driver identification in efficient tracking of parcels and goods.
Defense & Security
The technology facilitates border control as biometrics help to track and manage the flow of humans across borders. The segment further includes the use of biometrics technology in the homeland and commercial security.
A new technology: typing biometrics
Typing biometrics is a new revolutionary technology used in cybersecurity, fraud prevention and risk-based authentication. It is a type of behavioural biometrics, embedded in people's transient behaviour when typing on a keyboard.
Founded in 2016 and with a $7M investment from Gradient Ventures, Google's AI-focused venture group, TypingDNA is the tech startup leading the typing biometrics market. Read my interview with Raul Popa, TypingDNA CEO.
Global biometrics industry statistics & facts 2020
Biometrics technology was first used by governments in the late 1800s when police officers began to use fingerprints as a way to identify suspects.
Launched in 2011, Motorola Atrix was the first smartphone that had a fingerprint scanner. Apple followed Motorola adding a fingerprint reader in its Flagship phone iPhone 5s in 2013 and naming it as Touch ID.
In 2023, it is projected that the global market size of touch fingerprint sensors will reach $8.91 billion (Statista).
By 2022, an estimated 96.8 per cent of biometric device users are expected to download biometric apps (Statista).
Forecasts suggest that by the year 2020, 100 per cent of new smartphone and wearable shipments will contain biometric technology. (Statista).
The use of biometric technology in digital transactions is expected to become increasingly common over the next few years, with 97.17 per cent of biometrics capable devices forecasted to be using biometrics for transactions by 2022.
The fingerprint reader is the most commonly and widely used biometric device. Fingerprint recognition is to account for the largest market size during the forecast period. The growth of the market for fingerprint recognition is attributed to the increasing demand for fingerprint recognition solutions in travel and immigration applications for e-passports and e-visas as well as in the government sector for issuing a driving license. Fingerprint authentication is extensively used in numerous other revenue-generating sectors such as healthcare and banking & finance.
Iris recognition is widely considered to be the most reliable and one of the fastest-growing biometric techniques. It is expected to achieve the highest growth rate during the forecast period, mainly because of the commercialization of various iris scan-based electronic devices, like smartphones, tablets, smartwatches, notebooks, and others.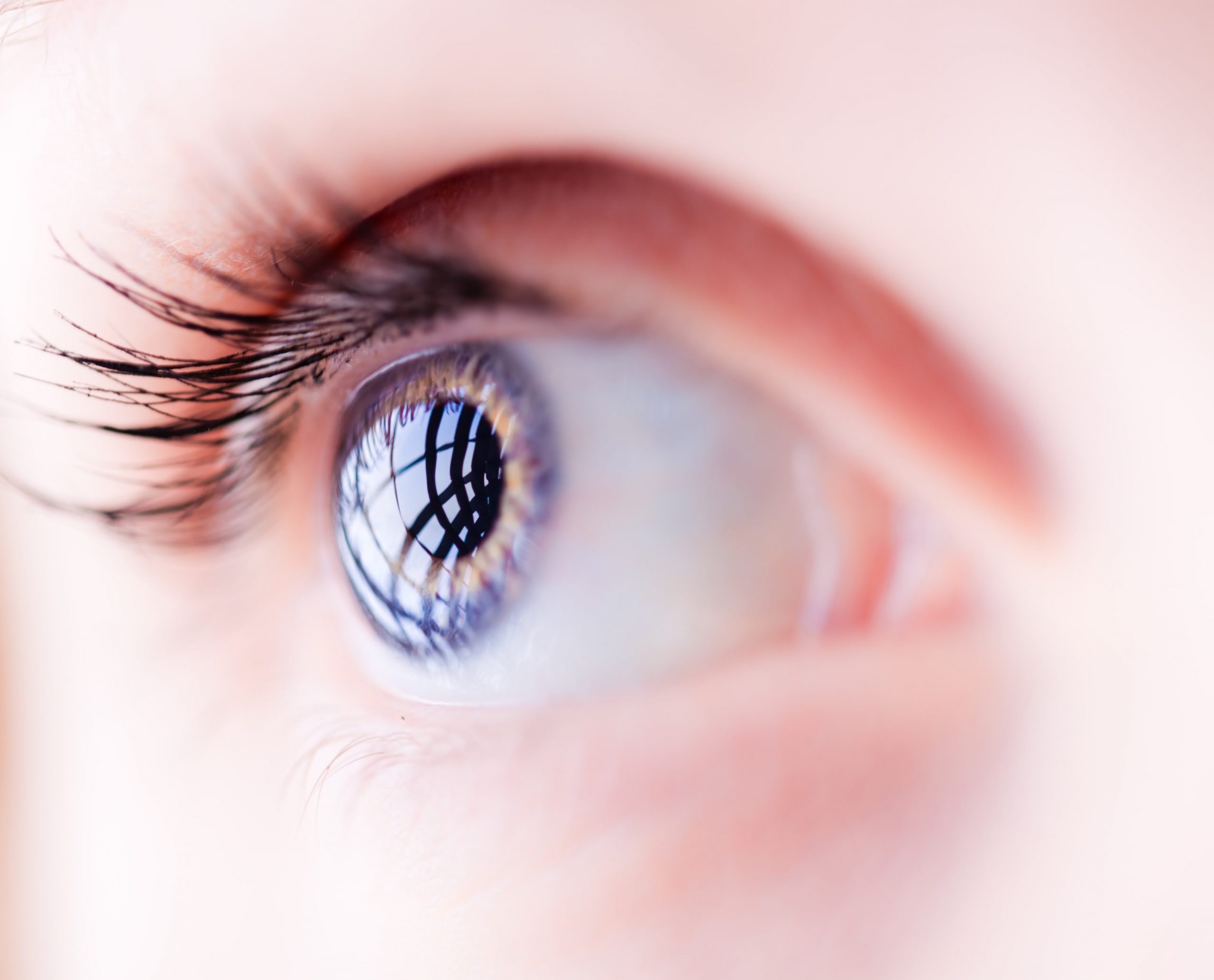 Vein recognition is considered to be one of the most secure biometric modalities.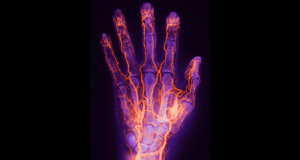 The largest biometrics market is in North America. The US and Canada have a strong economy, which empowers them to invest significantly in public safety activities. The growing adoption of smart technologies and the rapidly increasing digitalization have further fueled the growth of the biometric system market in North America.
The fastest-growing biometrics market is in the Asia Pacific where the healthcare sector is expected to experience growth in the application of next-generation biometrics in this region.
According to Biometricupdate.com, VCs invested $900 million in authentication and identity in 2019. The investment went to identity and authentication startups, including OneLogin, Authenteq, Onfido, Evident ID, Au10tix, Hypr and IDNow.
Key factors driving the biometrics industry market growth
The need to counter security threats and prevent terrorist attacks
The growing need for surveillance
Consumers expecting a safe identity mechanism
Increased need to prevent frauds in banking and finance
Improvements in customer experiences
The end-users are increasingly looking for integrated solutions, rather than depending on conventional methods.
Increasing theft of private information and personal data
Growth in the e-passport program
Extensive use in criminal identification
The rise in airport security initiatives
Increased attempts to reduce the crime rates
Key restraining factors for the growth of the biometrics industry market
High deployment cost
High initial investment cost
Fear of privacy intrusion
Biometrics industry could lose $2B this year from pandemic
A new report from ABI Research forecasts a revenue drop of $2 billion this year in the biometric device market caused by the COVID-19 pandemic.
While hygiene concerns are expected to impact contact biometric devices for public use, face and iris recognition are becoming more prominent.
The sale of fingerprint devices will slide, but facial recognition will experience an increase as algorithms are updated to work with or around facial occlusions such as the masks.
The addition of temperature screening sensors to biometric systems is also seen as a market booster.
Growth opportunities for biometric vendors
They need to come up with behavioural and multimodal biometrics technologies.
Also, they should consider entering strategic partnerships with vendors to make sure their solutions are in line with market demands.
The next step is to make Biometric-as-a-Service available for government and commercial applications.
Add an AI engine or introduce an IoT strategy to meet demand in commerce, automotive and finance
focus on interoperability and deployment details to ensure maximum usability.
Sources: GlobeNewsWire, GrandViewResearch, MordorIntelligence, MarketsandMarkets, BiometricUpdate
Join the Conversation
We'd love to hear what you have to say.
Get in touch with us on our LinkedIn Group, Facebook Group or Twitter.