Prof. Hitendra Wadhwa is a leadership expert and he was a keynote speaker at BRAND MINDS 2019.
BRAND MINDS is The Central and European Business Summit taking place in Bucharest, Romania.
He is a #worldchanger: his teachings help leaders change the world by changing themselves first.
Read our article to discover why Prof. Hitendra Wadhwa is a world-changer and to learn more about him and his story.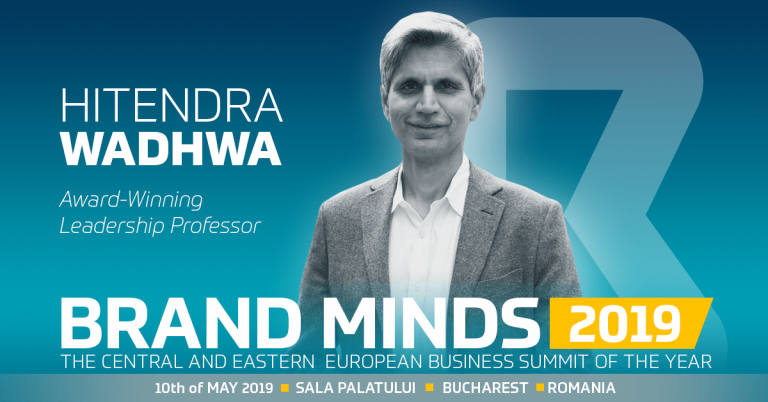 Working with Fortune 500 corporations
Hitendra Wadhwa received an MBA and PhD in Management Science from M.I.T.
Between 1996 and 1999, he joined McKinsey&Co, the American worldwide management consulting firm. Here he counselled senior executives on a range of strategic and marketing issues. His clients included Fortune 500 corporations in the retail, consumer goods, financial services, life sciences and electric utility industries.
He launched the 1st executive education online courses of Columbia Business School
Beginning with 2007, he is a professor at Columbia Business School where he launched his innovative executive education programs. His programs include teaching MBA and Executive MBA courses in:
Personal Leadership,
Leading Others from the Inside Out,
Driving Strategic Impact,
Marketing Strategy.
Prof. Hitendra Wadhwa launched Columbia's first executive education online courses – Personal Leadership (Online) and Driving Strategic Impact (Online).
He was honoured for his work with the following awards:
2015 EMBA Commitment to Excellence Award;

2012 Dean's Award for Teaching Excellence;

2007 Most Dynamic & Engaging Professor Award by Marketing Association of Columbia;

2007 Lear Award for Commitment to Students.
He wrote articles on Personal Leadership for Inc and Fortune magazines. His research and teaching on Personal Leadership also received coverage in Psychology Today, Financial Times and BBC.
Personal and pro-social Leadership – his formula for becoming a great leader 
My passion is the science of human potential – how each of us can draw out the best in ourselves and others to maximize our impact in life and leadership. I call this Personal Leadership.
His mission is to help men and women working in the business world by creating a new model of business education.
My mission is to develop a rigorous approach to this discipline of Personal Leadership that is grounded in the latest scientific findings on human nature from psychology, neuroscience, psychotherapy, behavioural economics, sociology and medicine – and that has universal appeal. I integrate science with case studies on Great Leaders from history whose lives have exemplified Personal Leadership, and I translate my research into practical tools that we can all use to inspire, motivate and develop ourselves – and to inspire, motivate, persuade and develop others.
The Problem
His extensive contact with the business world allowed him to notice that most of the leaders he met, both men and women – the overachievers – were driven by short-term, material, self-centred goals and were defined by outer achievements.
They were living in a world where they were constantly pressured to pursuit shareholders happiness, power and fame. Their incentive consisted of material rewards, completely ignoring the inner-self. This often leads to a dramatic shift in a person's values and a profound disconnection from one's self.
Psychologists found that focusing on materialistic values lessened concern for others, undermined job performance and decreased well-being.
The solution
Prof. Hitendra's solution is to support the overachievers of the world reconcile business and personal values.
His formula for becoming a great leader is personal and pro-social leadership.

Founder of the Institute for Personal Leadership
In 2011 he founded the Institute for Personal Leadership, a program that is focused on training individuals and organisations on self, strategic and people leadership.
He led the design and delivery of a Leadership Development program for the Top 100 executives of Godrej Group, a major Indian conglomerate, including workshops and executive coaching.
Keynote speaker and leadership workshop trainer
In the past years, Prof. Hitendra Wadhwa delivered a range of keynote speeches, executive sessions and workshops on leadership for top teams at GE, Unilever, IEEE, S&P, Bayer, Godrej Group, Estee Lauder, SAP, Deutsche Bank, a leading hedge fund, and Aditya Birla Group.
He also spoke at TED Talks and was honoured in 2013 with a cover article in Psychology Today, entitled "Can One Man Save American Business? The Asset that CEOs Need Most".
Are you a #worldchanger?
Here are our first confirmed speakers; we will be announcing more speakers in the coming months so stay tuned!
Malcolm Gladwell, Martin Lindstrom and Michio Kaku