Live blogging is a great guerrilla marketing tactic that can help you grow your following and voice in the media, taking advantage of the event's audience and speakers. When you live-blog, you can get attention in the moment from people attending the live event and even a bigger audience,adding the people that couldn't attend the event,but were interested in the subject.
According to socialmediaexaminer.com, live blogging can focus on: an entire event, several connected sessions or presentations, a single presentation, a behind-the-scenes look into the event.
Lisa Barone, vp of strategy at Overit, explained for Ad Week how a person can make the most of live-blogging as part of a strategy to develop brand influence.
Do your homework. Before you start signing up for events, Barone said it's important to understand your audience, the people important to your brand and find the events those people are attending.
Have a plan. Barone said it's easy to send someone to a conference and tell them to cover what happens. You'll get better, more targeted content if you create a plan. What sessions should they attend? What topics do you want to focus on? Are they live-blogging every session they attend or write one recap post?
Make the right connections. Don't wait until you arrive at the event to start connecting with people. If part of your plan is to interview speakers, make that connection ahead of time and schedule time before they speak.
Promote your attendance. If people don't know you're at an event, they won't look for coverage from you. Barone said, "don't wait until the event to let people know what you're doing."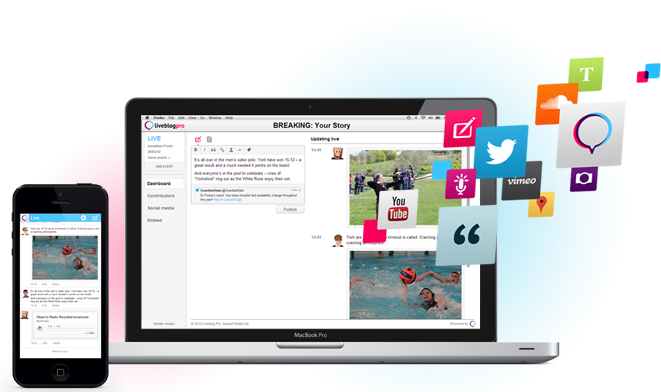 Moreover, other facts that we consider need to be taken in account are:
Engaging with the audience as often and early as possible
"Getting your audience involved not only elevates their voice, but also empowers your messaging. You can also start creating various touch points with your audience by creating brand awareness videos and social-media sharing contests that encourage people to talk about your event. You can even use a little incentive like a give-away or advance content from speakers. Once you have an idea of the type of content you want to create, it's best to lay it all out. Content calendars can help program content from your event throughout the year so you know how each piece fits together," explains Nate Bird for visual.ly.
Teasing your session. If you are speaking at the event, you may want to write about your session also before it occurs. Not only is this is a great way to repurpose content that you have spent a lot of time creating, but it also builds anticipation for your session.
Encouraging the audience to share on their social channels using the dedicated hashtag.
More ideas one can find here.