Senior Vice President Prabhakar Raghavan, who runs Google's Knowledge & Information organisation, mentioned in a conversation at a tech conference earlier this year, that the search behaviour of young people, especially Gen Z and Alpha is changing.
He said this:
In our studies, something like almost 40% of young people when they're looking for a place for lunch, they don't go to Google Maps or Search. They go to TikTok or Instagram.
FORTY PERCENT.
TikTok picked up on this change in behaviour faster than Google and is adjusting accordingly.
What's TikTok's primary goal?
To keep users on its platform as long as possible.
TikTok and all the other social media platforms are looking for ways to make users' experiences so fun that they don't WANT to leave. They are also searching for new ways to cater to users' every need so they don't HAVE to leave. Looking for a new exciting place to eat out? Don't need to search on Google, you can search on TikTok!
TikTok's latest update confirms its focus on developing its search feature
To support this new behaviour, TikTok recently announced that its latest update allows users to post up to 2,200 characters in a video description. This means that with more text TikTok can better index search results.
With the average user spending almost 2 hours on TikTok as per Sensor Tower and Gen Z spending nearly 3 hours according to eMarketer, it's a golden opportunity for marketers to get on the app and create content for the relevant keywords.
Here's another statistic relevant to the amazing influence of TikTok on its users: there are over 24 billion views of #TikTokmademebuyit with users buying all sorts of products ranging from cat brushes to levitating light bulbs.
For some of these products, TikTok was a powerful sales generator after they went viral.
Like Clinique's Black Honey Lipstick, which launched fifty years ago. Last year it was discovered by Gen Z and went viral on TikTok causing it to sell out in every store, including Clinique. Check out #cliniqueblackhoney, it has over 83 million views.
Another product that blew up on TikTok, also from the makeup vertical, is Maybelline's Sky High Mascara. Where did it originate? A short analysis shows that it might have begun with this user trying the product on. Her video has 1 million views, the #skyhighmascara has now 711 million views.
Users searching for products and services on TikTok instead of Google coupled with TikTok giving users bigger video descriptions have huge implications for B2C brands. If you are a marketer working with B2C brands, take a closer look at TikTok and ask yourself and your team these questions:
Is our customer base on TikTok?
After seeing our product on TikTok, will they go I gotta have it!
Are there influencers with engaged communities relevant to our product? Should we work with them?
Should we build a community on TikTok yourselves or rely exclusively on influencer-led campaigns?
Before making a decision, here are 2 more insights to provide further guidance:
TikTok Communities
Surprisingly, #comedy (1722 billion views), #makeup (307 billion views) and #fashion (185 billion views) are not the only growing communities.
You should also know about #BookTok, the TikTok community where users share their favourite books. Videos labelled with this hashtag have 79.5 billion global views.
Recently TikTok announced a new feature dedicated to book lovers in this community developed in collaboration with Penguin Random House. "This feature allows users to link their favourite Penguin Random House books within their videos. Clicking the link directs people to a dedicated page with details about the book, including a brief summary, and a collection of other videos that linked the same title," said TikTok in their announcement.
#momsoftiktok is another community of engaged creators with 144 billion views. Surprising, isn't it? Gen Z is not the only generation on TikTok, Gen Xers and Millennials are on the app too.
Does your product fall in any of these categories?
If it does, log into TikTok and see what creators in these communities are talking about.
What are TikTok creators looking for?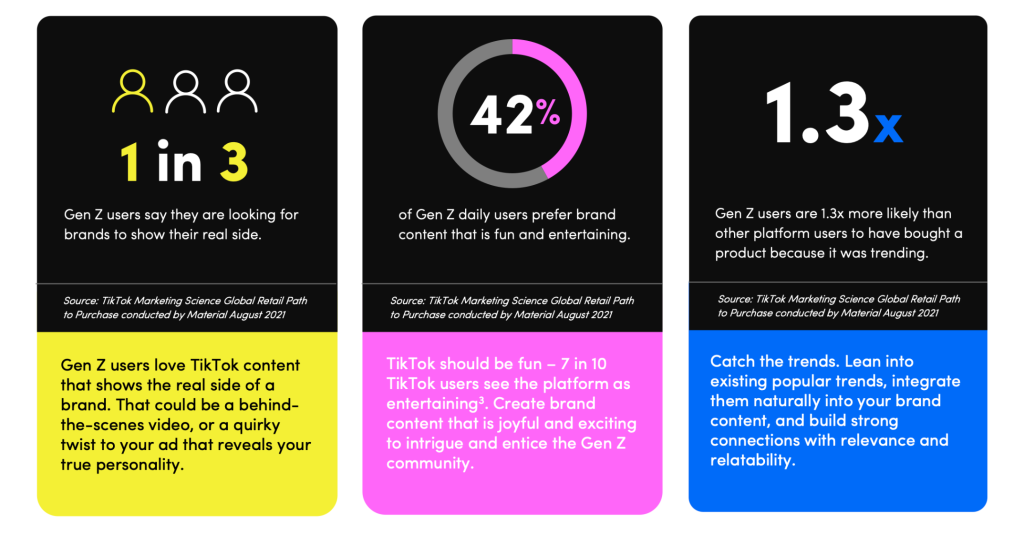 Gen Z TikTokers are using the app to express their creativity and find inspiration.
They are also more likely than other TikTok generations to discover new brands and products on the platform.
And another insight from TikTok: they love creating tutorial videos about their favourite finds.
What they expect from brands is to be authentic, entertaining (which doesn't mean doing comedy) and show real people.

Millennial TikTokers go on TikTok to watch entertaining content and content that aligns with their interests.
6 in 10 Millennials on TikTok are parents so they are also watching videos related to parenting (#momsoftiktok, 144 billion views).
Other video categories include music (63%), food/cooking (60%), comedy (58%), film/tv (55%), sports (53%) and health (50%).