Jamiroquai x The Sandbox
The Sandbox is partnering with Jamiroquai, the seminal jazz-funk band led by Jay Kay, to bring the group's free-spirited essence to Web3.
Known for the global smash, "Virtual Insanity", and a string of hit albums and worldwide tours, the Grammy-winning band has sold more than 27 million albums worldwide. Its third album, Travelling Without Moving, received a Guinness World Record as the best-selling funk album in history.
Jamiroquai has joined other legendary musical artists including Snoop Dogg and Deadmau5.
Read more in the official company statement.
Shores of Loci, building fantasy worlds in VR
The Shores of Loci is a single-player narrative puzzle game that can only be experienced in VR.
With compelling characters, beautiful cinematic scenes and surreal worlds, the Shores of Loci will transport users to other dimensions to create visions larger than life.
The game was created by Mike Teevee, a female-run production company reinvented. The team has done creative work for famous global brands including Adidas, Nina Ricci, Lego, Jimmy Choo, Heineken, KLM and CNN.
Shores of Loci is their first VR title, the culmination of decades of storytelling craft, love, and passion, translated into an immersive and interactive world.
AR use-case

: illustrating the power of natural phenomena on The Weather Channel

The Weather Channel makes amazingly realistic broadcasts with AR technology!
Weather Broadcast AR with Unreal Engine. #gigadgets #weather #channel #ar #unrealengine #vr #theweatherchannel #tech #sustainableliving #broadcast #amazing #cool pic.twitter.com/Bn3BXfuaSC

— GiGadgets (@gigadgets_) May 19, 2022
Turning text into images with
DALL-E

– a new form of storytelling

DALL-E is an artificial intelligence program that creates images from textual descriptions.

The 12-billion-parameter neural network takes a text caption and generates images to match it while understanding and rendering concepts of space, time, and logic. Read more about DALL-E.

Here is AI and edtech creator Zack using DALL-E to create a new form of storytelling.

DALL-E can bring fantasy novels to life 💭

Each paragraph can be used to generate a unique set of vivid imagery on the fly#dalle pic.twitter.com/sywgJ1Y6C6

— zack (@wenquai) May 19, 2022
The Potential Global Economic Impact of the Metaverse could reach
$3.01 trillion in 2031
Authors and economic analysis experts Lau Christensen and Alex Robinson published a new report on the Metaverse and its potential global economic impact.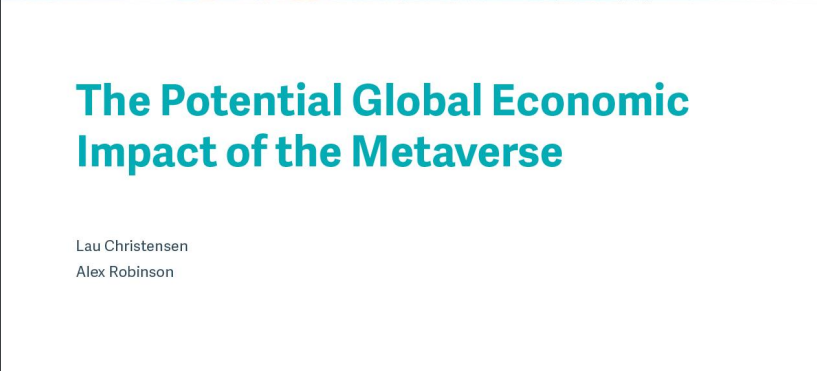 Key insights and excerpts from the report:
1.What is the Metaverse? The Metaverse is a set of interconnected digital spaces, including immersive XR experiences that combine the digital & IRL worlds, in which people can move between different spaces & experiences and interact & collaborate with other people who are not in the same physical space.
2. The early components of the metaverse are already in exhibit: AR, VR, mixed reality, blockchain & NFTs. They are the backbone of the metaverse and its offerings.
3. Estimating the economic impact of the metaverse presents substantial challenges. It is impossible to predict all of the areas in which metaverse tech will be used, the extent and timing of their adoption & the innovations that will be developed that build upon the metaverse.
4. The authors have drawn their conclusions from the deployment and innovation impact of mobile technology to estimate the potential impact of the metaverse.
5. While mobile devices untied the Internet from desktop computers, the metaverse is expected to further break down location barriers & transform a wide range of industries by enabling more seamless and immersive experiences.
6. If the metaverse were to be adopted and grow in a similar way as mobile technology, then we would expect it to be associated with a 2.8% contribution to global GDP after 10 years.
7. The model used by the authors implies that if metaverse adoption began today, it would have a contribution to the global GDP of $3.01 trillion (measured in 2015 U.S. dollars) in 2031.
8. Near-term impact estimates: between $800 billion to $2 trillion over the next few years (gaming, social media, eCommerce, and live entertainment).
9. Long-term estimates range from approximately $3 trillion to over $80 trillion.
10. The vision of the future seamless interoperability of the metaverse is very different from what we have now. Today, the digital world remains incompatible.
11. What is seamless interoperability?
Andrew Chow, a journalist for Time Magazine explains:
"Instead of having separate Facebook and Twitter accounts in which everything you post is owned by those corporations, you will be able to own your digital personhood and all of your ideas and digital belongings wherever you go."
12. In addition to collaboration & tech advances on a massive scale, the metaverse is going to require elevated user experience, sophisticated telecoms infrastructure, and human-machine interfaces. Some are well advanced already, while others still need to be created and developed.
13. An anticipated benefit of the metaverse is the creation of new markets and broader economic & social impacts. The form and shape of the metaverse will materialize slowly at first, and only after a critical mass of adoption is achieved, will its full potential begin to take shape.
14. Challenges and opportunities for metaverse adoption from technology expert and venture capitalist Matthew Ball: concurrency infrastructure, the adoption of standards and protocols, and the on-ramp experience.
Concurrency infrastructure refers to the technology that will support the simultaneous presence of millions of users in a shared synchronous experience.
Standards & Protocols will also be needed to realize the level of interoperability envisioned for the metaverse. One company/a handful of companies will not own or be the metaverse; individual companies' products will be destinations in the metaverse or support the metaverse.
The on-ramp experience requires critical-mass adoption of the metaverse by creators. Unless the metaverse has something exciting to offer both creators and users, it may be challenging to achieve widespread adoption of the metaverse.
Other factors: country- or regional-specific challenges in the form of governing bodies' policy or regulatory objectives.
Conclusions:
The impacts of the metaverse are likely to be felt differently in different sectors of the economy, in
different regions, and for different people. If the metaverse is successful, it will likely displace some existing tech & industries.
With successful development & deployment of infrastructure and other technologies, policies supporting widespread & equitable distribution, and creative innovations, the metaverse can be expected to have substantial beneficial economic impacts around the world.
The article header image source: Shores of Loci
Looking to upgrade your business and prepare for the future?