Sir Anthony Hopkins to Launch his NFT collection in September
The winner of two Oscars best-known for his role in the 90s thriller 'The silence of the lambs', Sir Anthony Hopkins is set to launch an NFT series called "The Eternal Collection".
As an artist, it's been terrific discovering NFTs as the new canvas. Thank you @orangecometnft for immortalizing this old man. "The Eternal Collection" is built on Jungian's archetypes, which I've referenced and conceptualized when building a character. https://t.co/ymJ1xkdWj3

— AHopkins.eth (@AnthonyHopkins) August 17, 2022
The iconic actor has teamed up with Web3 experience company Orange Comet whose mission is to become The World's Foremost Entertainment Creators Powering The Digital Revolution.
Creative professionals are investing in Orange Comet among which the most famous are music industry veterans Gloria Estefan and Emilio Estefan. William Shatner, best known for the role of the iconic Captain James T. Kirk in the cult television series Star Trek, is also supporting Orange Comet, but in an advisory role.
Sir Anthony Hopkins's NFT collection immortalizes the actor as the 10 Jungian archetypes (the Jester, the Ruler etc) and includes an intimate lunch/brunch with Sir Anthony Hopkins for collectors.
The collection is set to drop on OpenSea in the middle of September.
Fox Corporation to launch an NFT collection based on the upcoming animated series Krapopolis
Dan Harmon, co-creator of the successful animated sitcom 'Rick and Morty', will be launching a new animated series in 2023, on Fox, called Krapopolis.
The new series is set in the mythical world of ancient Greece and is "centered on a flawed family of humans, gods and monsters that tries to run one of the world's first cities without killing each other."
We are excited as KRAP to announce the inaugural #NFT release for Krapopolis, "KRAP CHICKENS" dropping August 11! Get on the early mint list now at https://t.co/vQCCep6yyq and follow us to learn all about the first show curated on the blockchain #Krapopolis pic.twitter.com/FNNzcq2cO2

— Krapopolis (💩,🐔) (@Krapopolis) July 19, 2022
Ahead of the launch next year, fans and NFT collectors can buy Krap Chickens on krapopolis.com, the inaugural Krapopolis NFT collection for .18ETH a chicken. Special prices are available for buyers looking to get on the early access list because you know what they say: the early chicken gets the worm…or was it the early bird? Never mind, you get the point!
The clucking NFT collection is developed by Blockchain Creative Labs, a company established by Fox Corporation in 2021 with the mandate to create, launch, manage and sell non-fungible token content and experiences as well as other digital goods.
The fifth most-watched TV network in 2021 in the US per Statista, Fox Corporation is set to invest 100 million dollars in NFTs with a focus on long-term return on investment.
Here are some of the perks NFT collectors will enjoy as owners of Krap Chickens:
Watch exclusive behind-the-scenes content
Participate in live watch parties
Take part in deciding on various show details
Meet cast and crew from the show in live AMA's
Alphabet has invested 1.5 billion dollars in blockchain companies over the last 10 months
Alphabet ranks #1 in the Top 100 public companies investing in blockchain & crypto companies with a combined investment of 1.5 billion dollars. The report was released by Blockdata, an analysis platform established by CB Insights company with a focus on supporting blockchain adoption.
You could say that's a lot of money to invest, but when you know the tech giant's revenue for 2021 was 257 billion dollars, you realize the investment is actually minuscule, not even 1%.
With this much investment power, it's interesting to see what startups Alphabet chooses to grow:
Fireblocks, a digital asset custody, transfer and settlement platform;
Dapper Labs, the creator of the iconic CryptoKitties and one of the world's most innovative gaming companies;
Voltage, an infrastructure provider for Bitcoin;
Digital Currency Group, a venture capital company focusing on the digital currency market.
Also part of the billion-dollar investment club are Blackrock, an investment management corporation and Morgan Stanley, a global leader in financial services. In fourth place comes Samsung with a total of only 979 million dollars but the most diversified portfolio so far: 13 blockchain and crypto companies.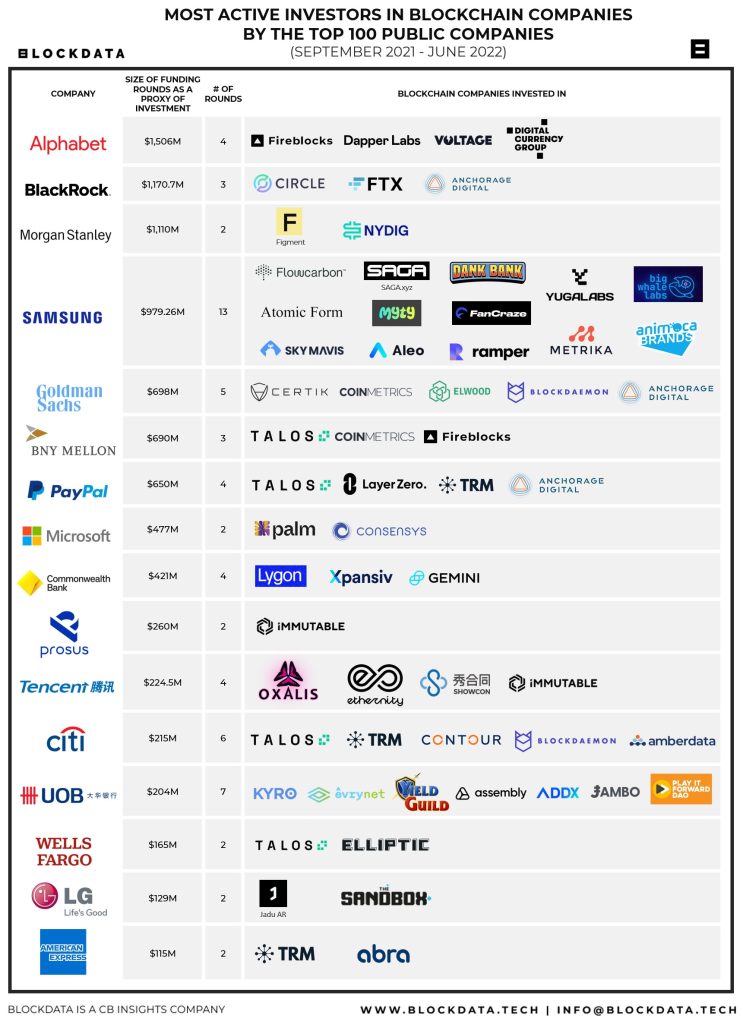 Mark Zuckerberg has announced the launch of Horizon Worlds in France and Spain
The screenshot Mark went with to illustrate the news has received many comments and questions and the feedback was harsh.
Some said the graphics looked like they belonged in a computer game played by the kids in 1997. Others said it looked worse than The Sims and even the Money for Nothing music video launched by legendary Dire Straits on MTV back in 1987.
Mark defended the image with a later post saying the graphics in Horizon are improving very quickly and users just have to be patient.
Facebook has invested over 10 billion dollars to date to support its VR ambitions. For that kind of money, users are expecting their VR graphics to look a little bit more polished.
What we know about Horizon Worlds is that the platform hit a total monthly userbase of 300,000 people this year, 10,000 worlds have been built to date and Meta is currently working on a desktop and mobile version.
AR adoption in sports: the sector is set to reach $100 billion by 2030
As per this AR report by Research and Markets, AR has a bright future in sports.
Here are the report's key takeaways:
In 2020 AR software was worth $6bn globally, and by 2030, the AR software market is estimated to reach $100bn;
Fan engagement will drive AR in broadcasting and on mobile devices;
Tech sponsorships and partnerships are one of the market's growth factors: in 2021, telecommunication operators accounted for $420.56M of sports sponsorships deals and IT services companies spent $205.85M;
Leading sports federations and teams adopting AR: the NFL, NHL, the International Olympic Committee (IOC), and Manchester City Football Club;
Leading sponsors and vendors supporting AR in sport: Verizon, Sony, Douyin (TikTok), Brainstorm, and Vizrt AR.
HBO Max partnered with Snap to launch AR experiences for 'House of the Dragon' premiere
The 'Game of Thrones' prequel 'House of the Dragon' premiered on August 21, on HBO Max.
In an effort to reach old and new fans aged 18 to 54, the TV channel and streaming service launched a mega marketing campaign valued at $100 million in media spend as per Deadline.
The campaign spanned social media, outdoor, digital, traditional TV spots, promotions on selected distribution partners, live experiences and activations.
On social media, the campaign rolled out 12 videos on Facebook at 11.1M views and fewer on YouTube with 134.2M views, according to social media analytics firm RelishMix.
On Snap, users were given access to in-app AR experiences: a selfie Lens and Landmarkers Lenses. The selfie lens transforms the user into a fire-breathing dragon and the Landmarker Lenses reveal AR renderings of the show's dragons over local landmarks all over the globe.
With 10 million viewers for its first episode, 'House of the Dragon' premiere is the biggest in HBO's history so the campaign paid off big time.
Printed books, e-books and now a-books: the future of paper books is AR
The University of Surrey has announced a major breakthrough in its Next Generation Paper (NGP) project: allowing the reader to consume information on the printed paper and screen side by side.
The a-books (short for augmented books) provide readers with an enhanced reading experience.
The user/reader triggers digital content with a swipe of a finger, which will then be displayed on a nearby device. The a-books are power efficient and are made of pre-printed conductive paper with no wiring visible to the reader.
There are many uses for a-books: user manuals where you swipe your finger and play a short how-to video, fantasy novels, where you get to see the characters, history books where you can play an audio file of one of Churchill's inspiring speeches and so on.