8 quotes from past BRAND MINDS Speakers
Quote from past BRAND MINDS speaker Gary Vaynerchuk:
"My experience with BRAND MINDS was A plus!" –

Gary Vaynerchuk, CEO VaynerMedia, Entrepreneur & Investor – BRAND MINDS 2017, 2020, 2022
Gary is an entrepreneur at heart – he builds businesses. The founder of a digital empire – Gary is also the CEO of VaynerMedia, a full-service advertising agency servicing Fortune 1000 clients from 4 offices spread across the globe: New York, Los Angeles, London and Singapore.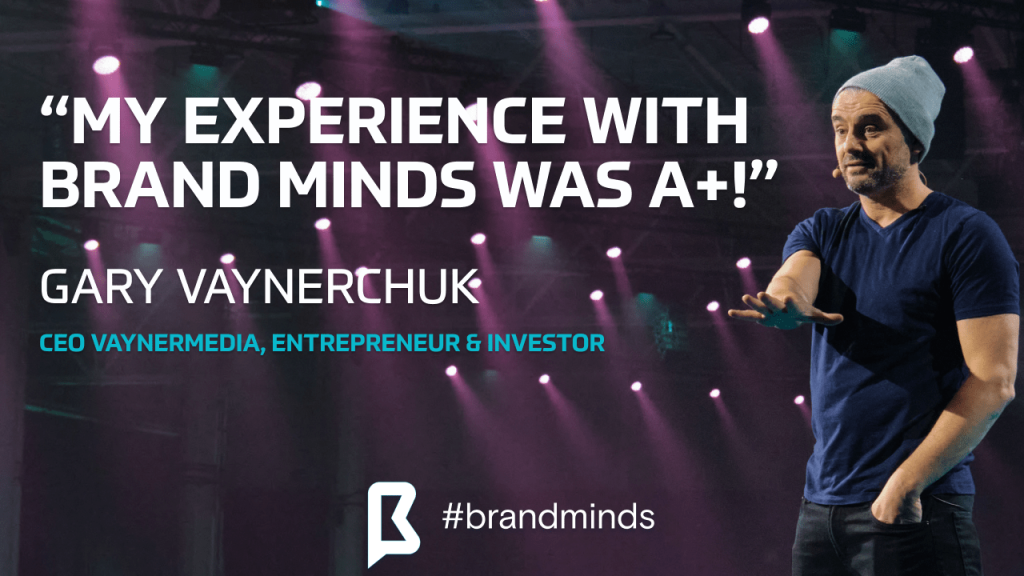 Quote from past BRAND MINDS speaker Dan Ariely
"BRAND MINDS has been a very wonderful experience!"

Dan Ariely, Renowned Behavioural Economics Expert – BRAND MINDS 2022
Selected in the Top 50 Most Influential Thinkers, an elite international ranking featuring individuals with "the ability to move markets or shape ideas and policies", Dan Ariely is one of the most influential authorities in behavioural economics in the world.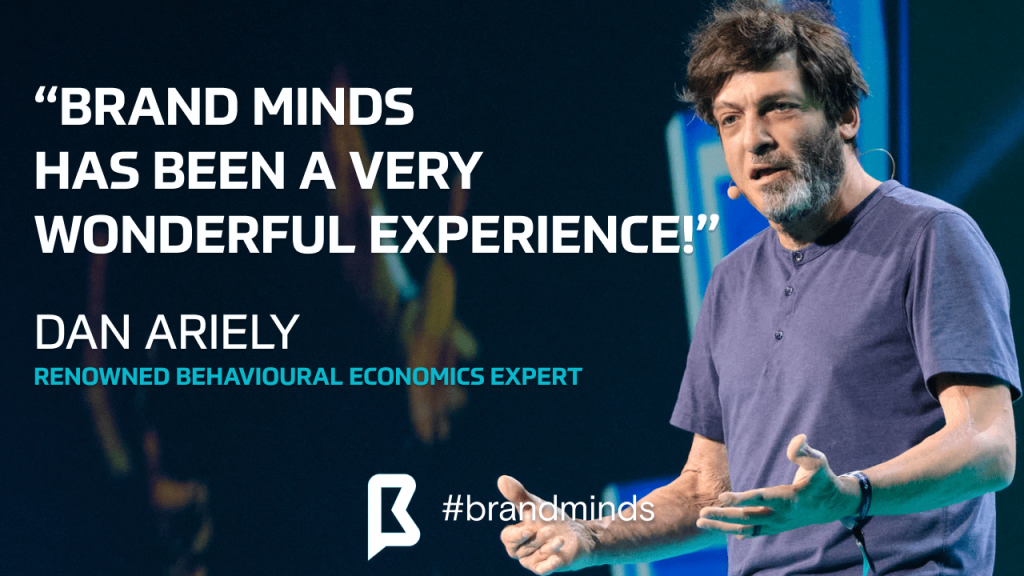 Quote from past BRAND MINDS speaker Seth Godin
"Some of the biggest marketing and thinking minds are at BRAND MINDS, talking about the future!"

Seth Godin, World-Famous Business Expert – BRAND MINDS 2018
Seth Godin is an entrepreneur, bestselling author, and speaker. In addition to launching one of the most popular blogs in the world, he has written 20 best-selling books, including The Dip, Linchpin, Purple Cow, Tribes, and What To Do When It's Your Turn (And It's Always Your Turn).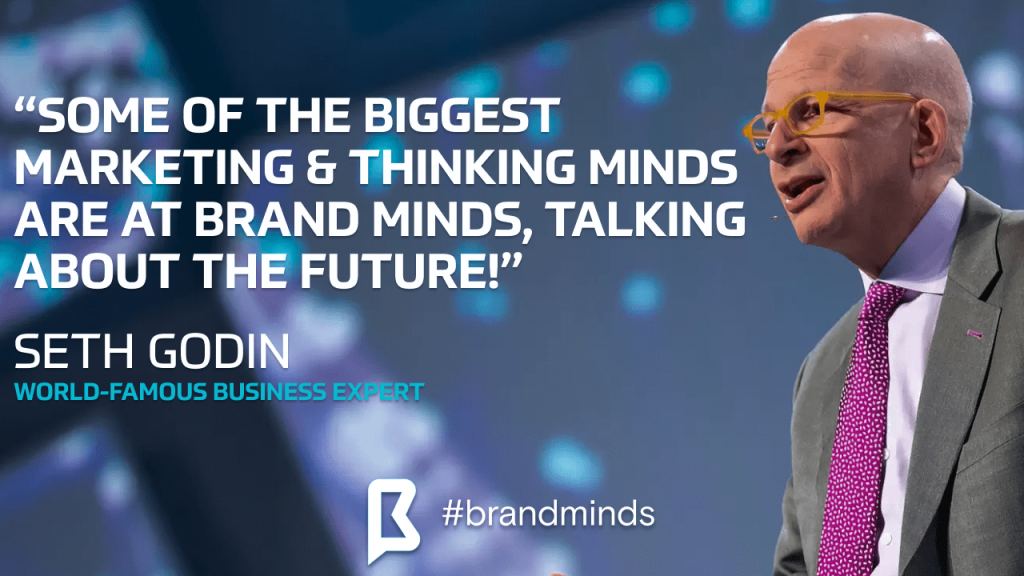 Quote from past BRAND MINDS speaker Mark Manson
"BRAND MINDS has been fantastic! It's been professional from beginning to end."

Mark Manson, Bestselling Author & Entrepreneur – BRAND MINDS 2020, 2022
Mark Manson is a 3x New York Times bestselling author. His books have sold over 14 million copies worldwide and have been translated into more than 65 languages and hit bestseller lists in sixteen different countries. Will, his 2021 book which he wrote in collaboration with Hollywood star Will Smith about his life story, became an instant #1 New York Times bestseller. Oprah Winfrey said, "It's the best memoir I've ever read." The book won Mark the NAACP Image Award for Outstanding Literary Achievement. His first book The Subtle Art of Not Giving A F*ck was the most-read non-fiction book worldwide in 2017, according to Amazon Charts.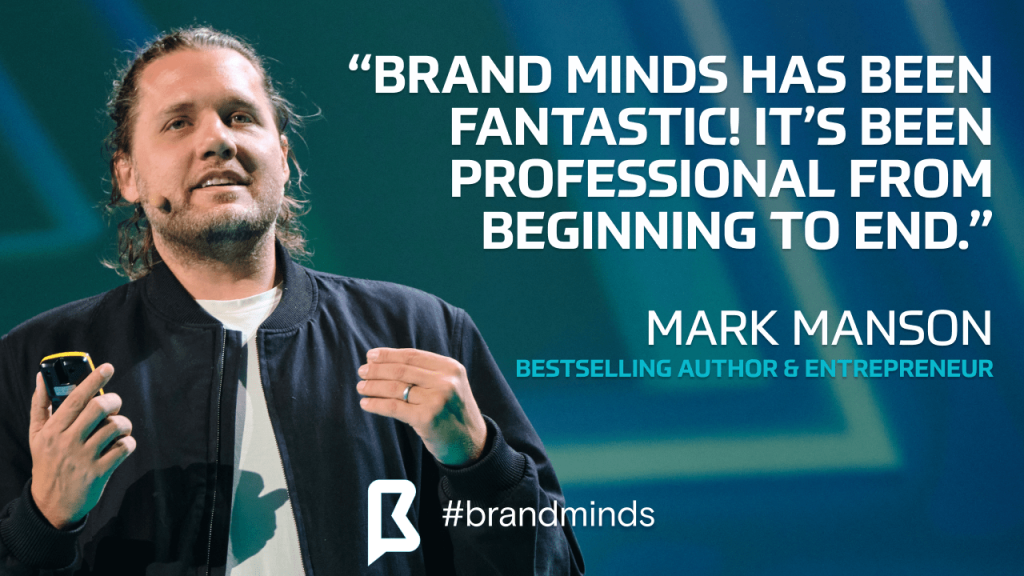 Quote from past BRAND MINDS speaker Grant Cardone
"If you get a chance to come to this event, stop with the crazy! Get on the front row!"

Grant Cardone, World-Famous Sales Expert – BRAND MINDS 2019
Grant Cardone has 35 years of selling experience, owns & operates 7 privately held companies that do almost $100 million in annual sales. He was named one of the top 10 CEOs to follow on social media and is an international social media influencer with over 15,000,000 followers, fans and connections.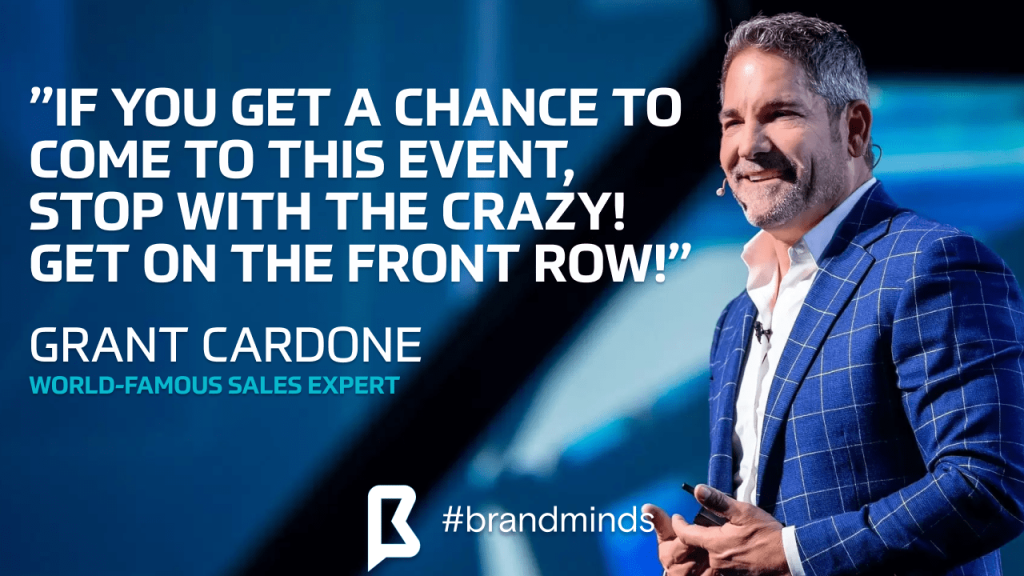 Quote from past BRAND MINDS speaker Guy Kawasaki
"BRAND MINDS is a very cool conference, great technology, a lovely audience and lots of good speakers!"

Guy Kawasaki, Brand Expert & Bestselling Author – BRAND MINDS 2019
Guy Kawasaki is the world's first Chief Evangelist. Apple has one of the strongest brand community relationships in the world thanks to Guy and his innovative work. His honesty and transparency about Apple facilitated a lifelong relationship between the brand and its customers who became evangelists themselves. He is the bestselling author of 15 books among which the most popular are 'Wise Guy', 'The Art of the Start 2.0', 'The Art of Social Media', and 'Enchantment'.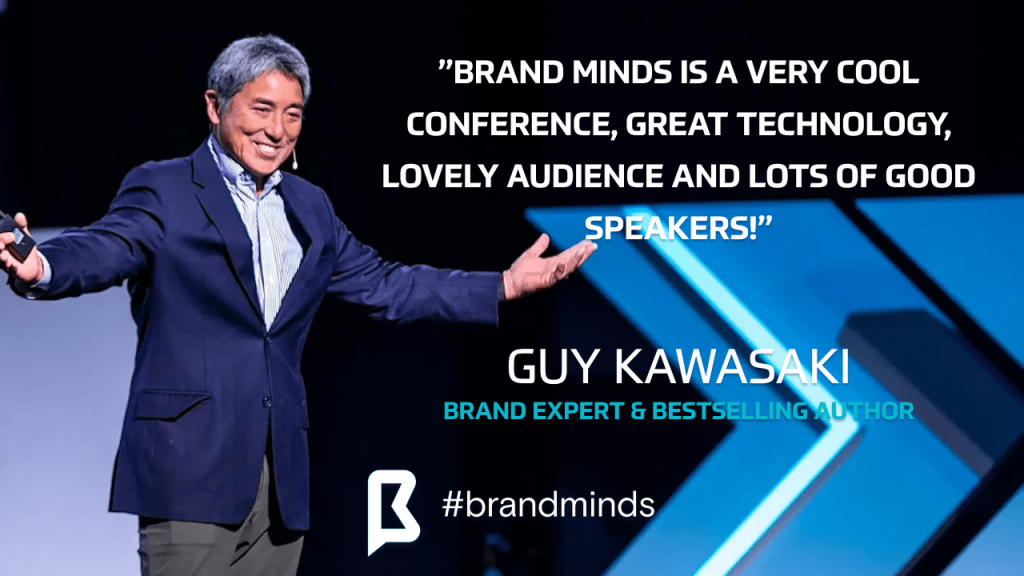 Quote from past BRAND MINDS speaker Jonah Berger
"BRAND MINDS is an amazing event! It's rare to see a set of a line-up of speakers that's this powerful."

Jonah Berger, Viral Marketing Expert – BRAND MINDS 2022
He was named one of the top 30 leaders in business by the American Management Association and one of the most creative people in business by Fast Company magazine. Jonah Berger is a Marketing Professor at the Wharton School at the University of Pennsylvania and the author of 3 international bestsellers: Contagious, Invisible influence and The Catalyst: How to Change Anyone's Mind.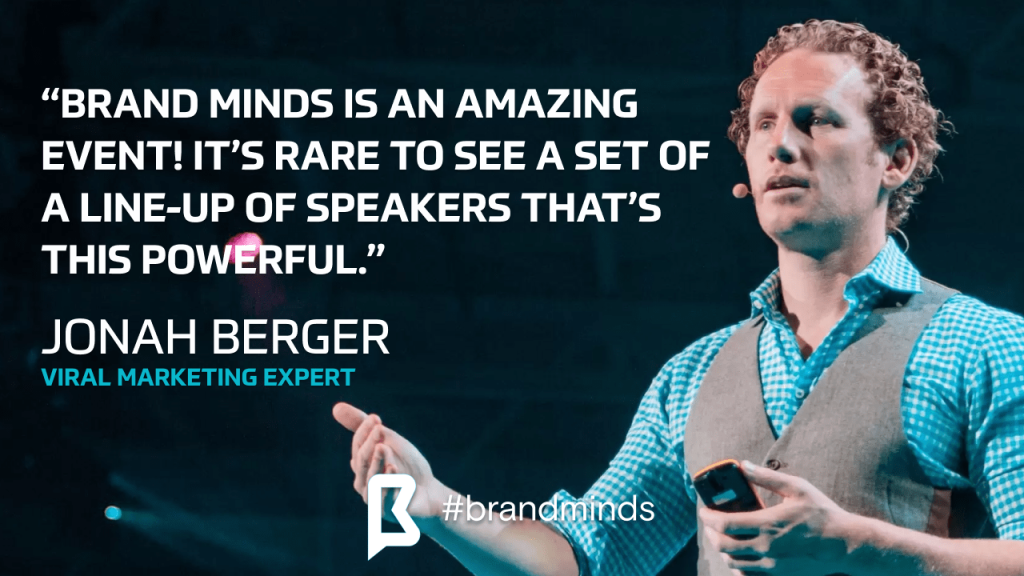 Quote from past BRAND MINDS speaker Yuval Noah Harari
"I am grateful to BRAND MINDS for providing such a prominent stage!"

Yuval Noah Harari, Bestselling Author & World Famous Historian – BRAND MINDS 2019
Prof. Yuval Noah Harari is a historian, philosopher, and the bestselling author of the best-sellers Sapiens, Homo Deus and 21 Lessons for the 21st Century. 'Sapiens' was in the top 3 of The New York Times Best Seller list for 96 consecutive weeks. His books have sold over 40 million copies in 65 languages and were recommended by Barack Obama and Bill Gates.
5 easy steps to set SMART goals in marketing
Looking to set achievable marketing goals? Be SMART and follow these 5 steps!
Your product solves your customer's problem efficiently. It looks good, it is easy to use and offers more value for its price than other available products. But your prospects don't know that. Yet.
Now that your product is finished and ready to delight your customers, you need to do some marketing. Why? Because as sales expert Grant Cardone puts it, Best product does not win the game; best KNOWN product wins the game. If you want to learn more business takeaways from Grant, watch this 2-minute video.
Are you ready to start your marketing journey?
Let's go!
First of all, we need to talk about marketing goals. There are many marketing goals you can set for your company depending on the stage you're in.
Companies today don't usually wait for the product to be finished, they begin to market the product while still in early development. It's a smart move. What they are doing is building a tribe for their product and raising awareness for the company. The members of the tribe will be the first people to buy the finished product. They are more likely to become ambassadors for the product and the company can attract new customers from word of mouth marketing.
Marketing goals for this stage could be building an emailing list of enthusiasts interested in your product. These individuals would be your product's die-hard customers and it would also be smart to find ways to get to know them and engage with them. And even ask for their ideas on features that could improve your product.
Once the product is finished, the company already has its first customers, it doesn't start marketing from zero which could be a competitive advantage.
But if you're company doesn't take this build-it-before-it's-finished approach, don't worry, there are many other marketing goals you can set for your company.
Here are 6 marketing goals that you should set in 2021 to support your company to achieve its business vision:
Increase brand awareness
Empower your email subscribers
Build brand ambassadors
Boost your sales through referral programs
Identify customer behaviour change
Increase website traffic with guest content
If you want to know more about these six marketing goals, read this article where I discuss each of them in-depth.
Now that we've touched on the subject of marketing goals, let's see what SMART and setting SMART goals in marketing means.
S.M.A.R.T. is the acronym for Specific, Measurable, Achievable, Relevant and Time-bound and refers to business objectives.
Consultant George T Doran is credited with writing down the S.M.A.R.T. acronym and laying out the main principles of SMART goals in his 1981 paper, "There's a S.M.A.R.T. way to write management's goals and objectives".
Although the SMART concept was created to support good management, setting SMART goals goes beyond that and can be used as a rule of thumb for setting goals in every area, business or personal.
What does a SMART goal in marketing look like?
You first start with a SMART business goal.
Here's an example. Let's assume you have an online ladies' shoe shop. You want to grow your business.
A SMART business objective should be defined like this:
Spring is around the corner. I want to sell 15% more ladies' shoes for spring. To achieve this I will invest $1000 in Facebook ads targeted at young fashion-forward professional women for a period of 3 months.
Why is this business objective SMART?
Because it is specific and measurable.
There are many ways in which you can grow your business (partnerships, investments etc), but you have chosen to focus on sales. You also narrowed down the sales offer to shoes for the springtime, not office shoes or running shoes. The 15% increase in sales is measurable.
Let's assume your sales have grown by 10% last year, therefore, a 15% increase is achievable whereas a 100% increase in sales would not be achievable.
You have also decided to invest $1000 in Facebook ads to target a specific customer base comprised of young fashion-forward professional women. Once again, specific and relevant to your business.
Your Facebook campaign will run for three months so the business objective is also time-bound.
Now that you know what a SMART goal in marketing should look like, I've put together a simple template with 5 easy steps that you can use to set SMART marketing goals for your company.
5 easy steps to set SMART marketing goals
1. Link the marketing goal to a business goal
As you saw in the example above, marketing goals must be relevant to the overall business goals.
So the first step is to set a marketing goal that relates to your business goal.
It could be a short-term goal like increasing sales of a specific product or it could be long-term business goals like increasing brand awareness or share of voice.
To increase sales you could set several marketing goals like increasing the number of qualified leads or increasing the number of email subscribers. To achieve long-term business goals like brand awareness you could increase the number of brand ambassadors or increase website traffic.
2. Establish the benchmark
Pulling numbers out of thin air is not going to help you achieve your goal.
Perform a marketing analysis before setting a new marketing goal. Run the numbers and come to a conclusion with regard to previous results.
How much does it cost to get a new customer or a new email subscriber?
What is the average cost per lead?
What is the current landing page conversion rate?
Learn how to calculate them and other key performance indicators in this two-part article.
Only after you know these numbers ie the benchmark, you can set achievable marketing goals.
3. Write the goal using the SMART framework
Follow the example above and make your marketing goal specific, measurable, achievable, relevant and time-bound.
4. Design the strategic plan you will use to achieve the SMART marketing goal
The goal of a strategic plan is to provide you with a roadmap to achieve set marketing goals.
The plan outlines what (resources), how (specific tools, activities, platforms etc) and why (the reasons behind your choice of a specific resource or tool) the company will use to achieve this goal.
Referring back to the online ladies' shoe shop and its goal to increase sales by 15% through Facebook ads, you need to establish who will design the creative concept of the Facebook campaign and who will write the copy.
What is the format of the campaign: video, image, link? Once the campaign is ready to be launched, establish who will set the campaign in your company's Facebook Ad account and solve any problems that might arise.
Should the customers reacting to your campaign need the help of your customer support, how are they going to reach your company?
A successful campaign is an eco-system where every factor is aligned and working in perfect harmony.
5. Implement & optimize
Now that your campaign is ready to go and you have planned everything in detail, you can implement the campaign and optimize it if necessary.
Join the Conversation
8 facts you might not know about Grant Cardone
Grant Cardone was a keynote speaker at BRAND MINDS 2019.
Here are 8 facts you might not know about him:
BRAND MINDS 2019: What You've Missed
BRAND MINDS 2019 has just ended and it was an amazing event!
Our 7th edition of BRAND MINDS filled Sala Palatului to capacity: 4200 people breathing in unison.
They were entrepreneurs, CEOs, middle managers, salespersons, trainers, marketers etc – World-Changers each and every one of them!
If you didn't attend our conference this year,
here's what you've missed:
One full-day of intensive business strategy training;
A live experience like you've never seen before;
Learning how to take your business to the next level;
Opportunity for high-level networking through the BRAND MINDS app;
Making new connections;
Laughs, good food and great energy on and off the stage;
A life-changing experience overall.
18 Insightful Takeaways from BRAND MINDS 2019
Each and every one of our speakers has delivered amazing keynotes pack-full with actionable insights, inspiration and tips & trick to advance your business, your career and personal development.
Here are a few of the most insightful takeaways from BRAND MINDS 2019:
ROBERT CIALDINI @ BRAND MINDS 2019
The Power of Persuasion
People want more of those things they can have less of;
If you mention a weakness in your speech, people will find you trustworthy;
Pre-suasion is the practice of getting people sympathetic to your message before they experience it.
GRANT CARDONE @ BRAND MINDS 2019
High Performance in Sales
Branding should come before advertising;
Wherever your attention goes is where your money goes;
People buy from people they know. Not people they trust.
DENISE JACOBS @ BRAND MINDS 2019
Banish Your Inner Critic: Transform Self-Talk To Elevate Performance
Our brains are actually one of the biggest untapped resources on the planet;
The inner critic is actually a protective mechanism;
Creativity feels a lot like magic, but it isn't.
HITENDRA WADHWA @ BRAND MINDS 2019
Inner Mastery. Outer Impact.
The more you operate from your inner core, the more you create the conditions for outer impact;
To be true to yourself, you should be able to freely express yourself: thoughts, feelings, values, personality, desire;
Commit yourself to a journey of continual learning and growth – to awaken to your true self.
GUY KAWASAKI @ BRAND MINDS 2019
The Art of Innovation
Great products and great people polarize people;
Changing your mind is a sign of strength and cleverness;
Innovation is a process. Not an event.
YUVAL NOAH HARARI @ BRAND MINDS 2019
The End of Homo Sapiens: When do humans cease being human?
Many people confuse the brain with the mind;
It's easier to manipulate a system than to understand it;
In the future, your mobile phone can be incorporated into your body with functions as analyzing your emotions, feelings, your state of the body. We will operate with 2 brains, your current one plus the bionic brain.
Goodbye BRAND MINDS 2019 – Hello BRAND MINDS 2020
For the past four editions, our conference has been sold out 3 months in advance leaving many people joining the waiting list in the hope that someone will not be able to attend the event and relinquish their ticket.
To make sure we meet the ever-growing demand for tickets to our conference, we changed the location and date of BRAND MINDS 2020.
BRAND MINDS 2020
Date: 4th of May
Location: Romexpo
Participants expected: +6000
BRAND MINDS 2020 – Confirmed Speakers
Malcolm Gladwell – World's Top Journalist
Martin Lindstrom – World's Top Marketing Expert
Michio Kaku – World's Top Scientist

More Guest Star Speakers to be announced soon!
In the following months, we will update our speakers' lineup so follow our social media accounts (Facebook, LinkedIn, YouTube, Instagram, Twitter) to be the first to know!
Join us in our mission of Uniting the Business World and enjoy a life-changing business experience!

Grant Cardone at BRAND MINDS
Grant Cardone was the sales expert speaking at BRAND MINDS 2019.
BRAND MINDS is The Central and European Business Summit taking place in Bucharest, Romania.
By the end of this article, you will know more about Grant Cardone and what makes him a #worldchanger: his experience, his life and his mission.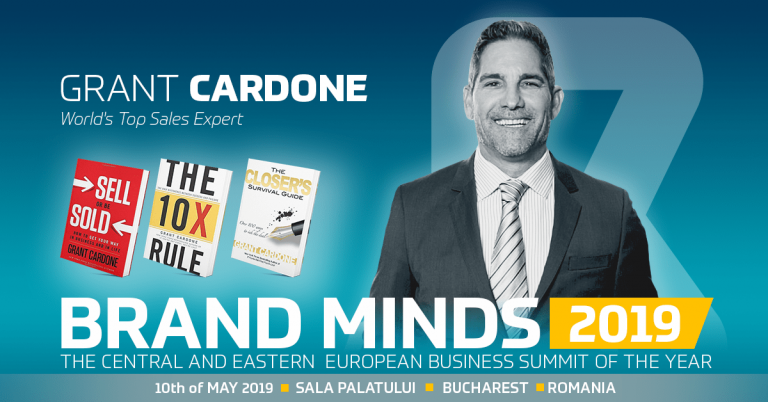 World's Top sales training expert – 30-year selling experience
Grant Cardone is the world's top sales training expert with over 1500 segments of content used by companies like Google, MIT, T-Mobile, Toyota, AT&T, Ashley, Allstate, Inside Sales, Udemy, Chrysler, Morgan Stanley and thousands more.
The single biggest financial mistake I've made was not thinking big enough. I encourage you to go for more than a million. There is no shortage of money on this planet, only a shortage of people thinking big enough.

Grand Cardone
Best-selling author
He is a New York Times bestselling author of 5 books:
The 10x rule: The only difference between success and failure
The millionaire booklet: How to get super rich
Sell or be sold: How to get your way in business and in life
Closer's survival guide: over 100 ways to ink the deal
If you're not first, you're last: sales strategies to dominate your market and beat your competition
Go the extra mile, there's no one on it.

Grant Cardone
Internationally renowned speaker
He is a media personality and an award-winning speaker on leadership, real estate investing, entrepreneurship, social media, and finance.
Forbes named Mr Cardone #1 of the 25 Marketing Influencers to Watch in 2017.
Featured in Fox News, CNBC, Business Insider and more others
He regularly appears on Fox News, Fox Business, CNBC, and MSNBC, and writes for Forbes, Success Magazine, Business Insider, Entrepreneur.com, and the Huffington Post.
Very successful people don't seek comfort; they seek success and are willing to do what is most uncomfortable. But most of the world is seeking comfort and familiarity, which are traps that cause you to settle for the mediocre. If you want to get to the next level of your business, you've got to be comfortable being uncomfortable.

Grant Cardone
Successful businessman – Owner of multiple companies of over $100 million annual revenues
Mr Cardone owns multiple successful companies; their annual revenues exceed $100 million:
Cardone Training Technologies Inc.
Cardone Group (a software and technology business);
Grant Cardone TV (online media network– GrantCardoneTV.com) and
Cardone Acquisitions, a national real estate company which currently owns over 3,500 units throughout the United States.
Knowledge speaks. Wisdom listens. Action wins.

Grand Cardone
Grant's Story – from $0 to $750 million
At 23 he was a car salesman and struggling with drug addiction. He went to the treatment centre and got himself clean. He didn't like his job as a car salesman, he didn't even like cars, but he decided to go all in and become the best salesman. His decision turned his life around.
If you're not training, you're DONE!

Grant Cardone
He spent all his free time studying every sales book, sales training tape or sales course there was on the market. He studied all the sales masters to learn everything he could. Grand had found a new obsession: to know everything there was to know about sales.
Don't try to get rid of your obsession, use it, it's a gift!

Grant Cardone
The climb to Top 1% in the automobile industry
He became great at selling cars, going from $3,600 a year to $90,000 a year. Within three years he was in the top 1% of everybody in the automobile industry.
He had become a sales master at 29 years old. He was teaching other people about sales while actively doing sales every day. He had acquired an extraordinary level of sales intuition that helped him close deals after deals after deals. He set himself the goal of becoming the greatest sales training expert surpassing other sales masters like Brian Tracy or Zig Ziglar and by 40 he had achieved that goal.
Whatever you think you can do, just multiply it by ten because you can do more than you think.

Grant Cardone
The best sales training expert in the world
Now in his fifties, Grant Cardone is the best sales training expert in the world. His mission is to help others achieve greatness in sales and change their lives.
"I want to help millions—even billions. I want you to become financially prosperous. You should be super rich. What I've done will work for others. Create the life you want!"
Are you a #worldchanger?
Here are our first confirmed speakers; we will be announcing more speakers in the coming months so stay tuned!
Malcolm Gladwell, Martin Lindstrom and Michio Kaku