8 quotes from past BRAND MINDS Speakers
Quote from past BRAND MINDS speaker Gary Vaynerchuk:
"My experience with BRAND MINDS was A plus!" –

Gary Vaynerchuk, CEO VaynerMedia, Entrepreneur & Investor – BRAND MINDS 2017, 2020, 2022
Gary is an entrepreneur at heart – he builds businesses. The founder of a digital empire – Gary is also the CEO of VaynerMedia, a full-service advertising agency servicing Fortune 1000 clients from 4 offices spread across the globe: New York, Los Angeles, London and Singapore.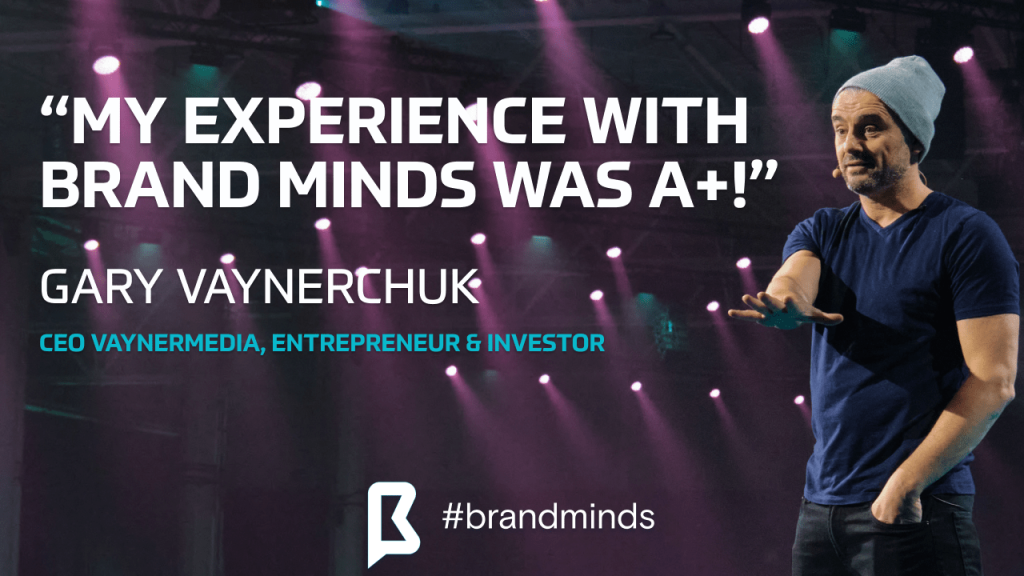 Quote from past BRAND MINDS speaker Dan Ariely
"BRAND MINDS has been a very wonderful experience!"

Dan Ariely, Renowned Behavioural Economics Expert – BRAND MINDS 2022
Selected in the Top 50 Most Influential Thinkers, an elite international ranking featuring individuals with "the ability to move markets or shape ideas and policies", Dan Ariely is one of the most influential authorities in behavioural economics in the world.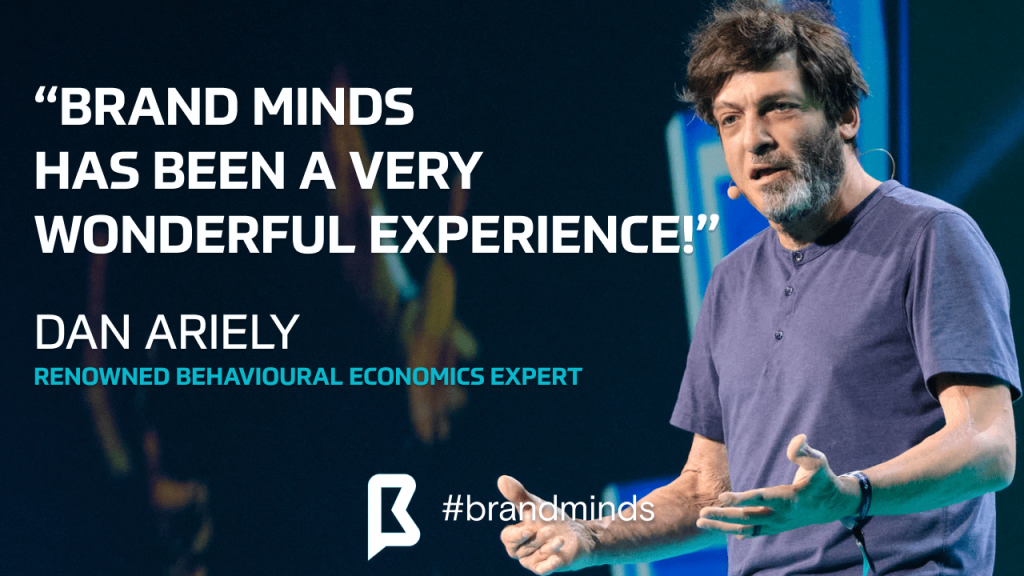 Quote from past BRAND MINDS speaker Seth Godin
"Some of the biggest marketing and thinking minds are at BRAND MINDS, talking about the future!"

Seth Godin, World-Famous Business Expert – BRAND MINDS 2018
Seth Godin is an entrepreneur, bestselling author, and speaker. In addition to launching one of the most popular blogs in the world, he has written 20 best-selling books, including The Dip, Linchpin, Purple Cow, Tribes, and What To Do When It's Your Turn (And It's Always Your Turn).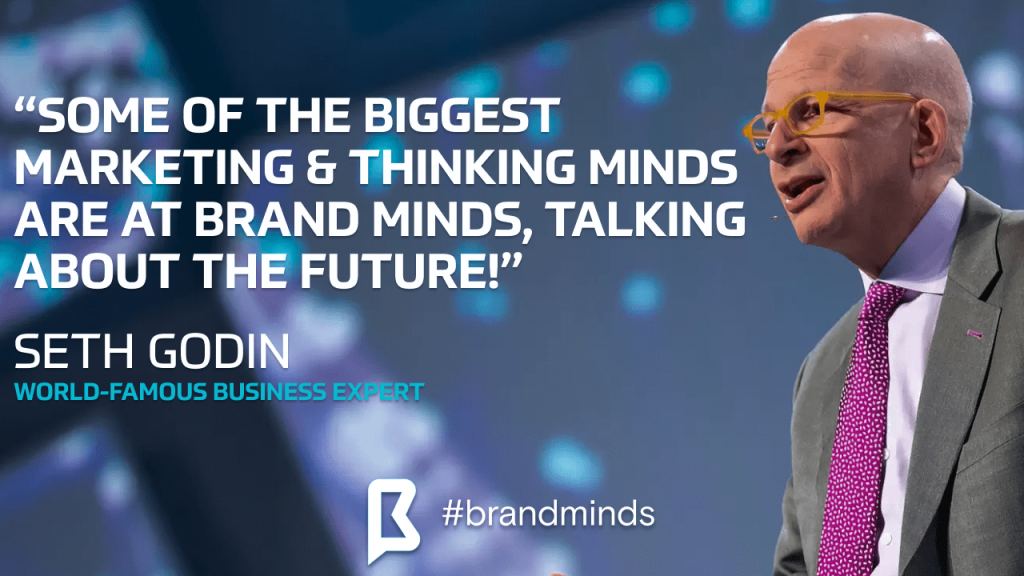 Quote from past BRAND MINDS speaker Mark Manson
"BRAND MINDS has been fantastic! It's been professional from beginning to end."

Mark Manson, Bestselling Author & Entrepreneur – BRAND MINDS 2020, 2022
Mark Manson is a 3x New York Times bestselling author. His books have sold over 14 million copies worldwide and have been translated into more than 65 languages and hit bestseller lists in sixteen different countries. Will, his 2021 book which he wrote in collaboration with Hollywood star Will Smith about his life story, became an instant #1 New York Times bestseller. Oprah Winfrey said, "It's the best memoir I've ever read." The book won Mark the NAACP Image Award for Outstanding Literary Achievement. His first book The Subtle Art of Not Giving A F*ck was the most-read non-fiction book worldwide in 2017, according to Amazon Charts.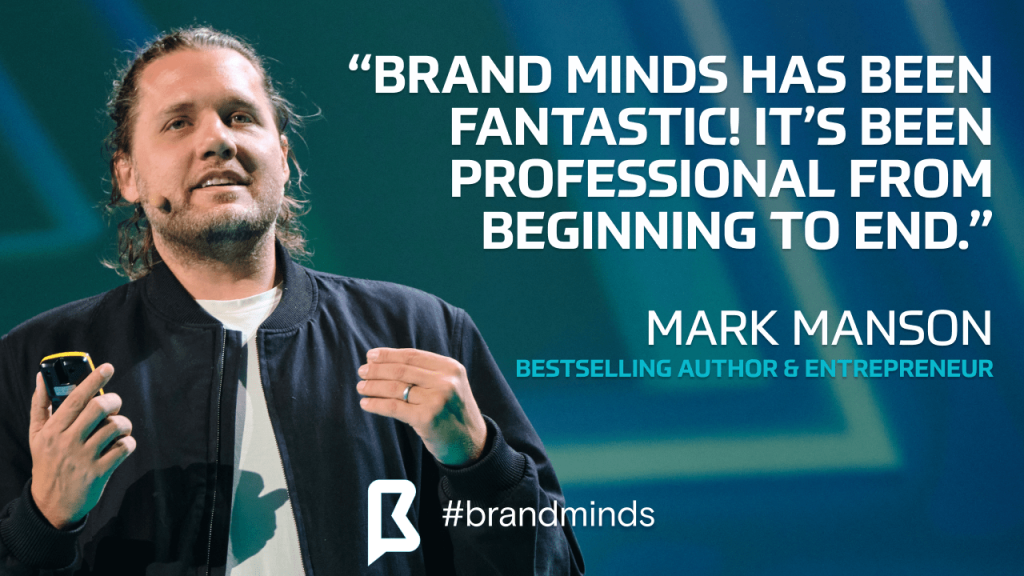 Quote from past BRAND MINDS speaker Grant Cardone
"If you get a chance to come to this event, stop with the crazy! Get on the front row!"

Grant Cardone, World-Famous Sales Expert – BRAND MINDS 2019
Grant Cardone has 35 years of selling experience, owns & operates 7 privately held companies that do almost $100 million in annual sales. He was named one of the top 10 CEOs to follow on social media and is an international social media influencer with over 15,000,000 followers, fans and connections.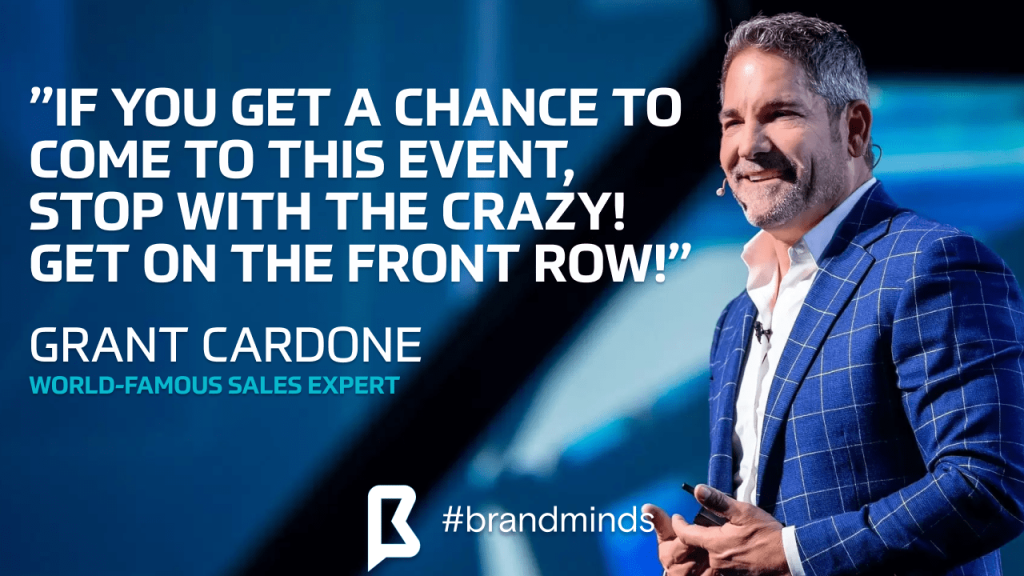 Quote from past BRAND MINDS speaker Guy Kawasaki
"BRAND MINDS is a very cool conference, great technology, a lovely audience and lots of good speakers!"

Guy Kawasaki, Brand Expert & Bestselling Author – BRAND MINDS 2019
Guy Kawasaki is the world's first Chief Evangelist. Apple has one of the strongest brand community relationships in the world thanks to Guy and his innovative work. His honesty and transparency about Apple facilitated a lifelong relationship between the brand and its customers who became evangelists themselves. He is the bestselling author of 15 books among which the most popular are 'Wise Guy', 'The Art of the Start 2.0', 'The Art of Social Media', and 'Enchantment'.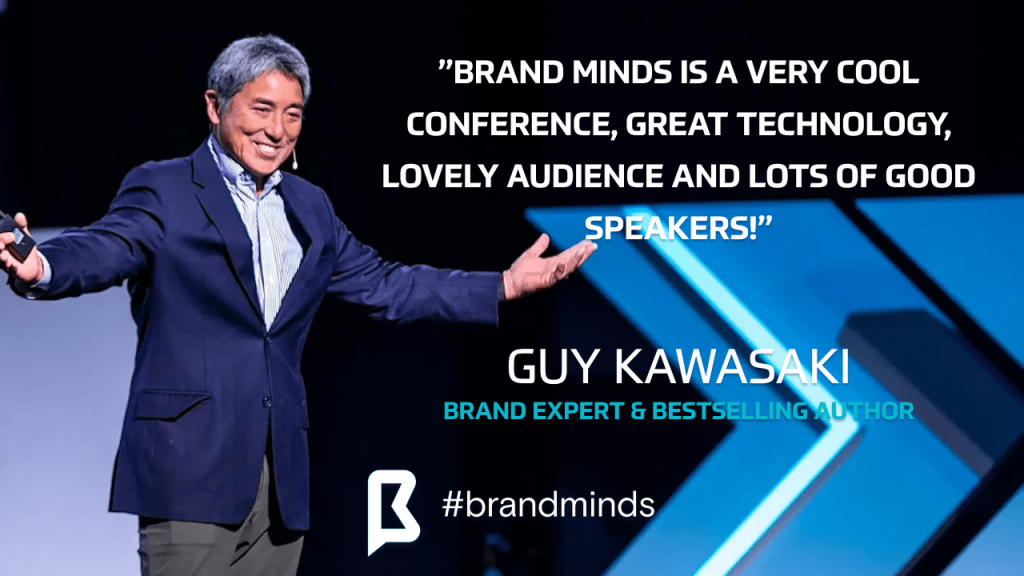 Quote from past BRAND MINDS speaker Jonah Berger
"BRAND MINDS is an amazing event! It's rare to see a set of a line-up of speakers that's this powerful."

Jonah Berger, Viral Marketing Expert – BRAND MINDS 2022
He was named one of the top 30 leaders in business by the American Management Association and one of the most creative people in business by Fast Company magazine. Jonah Berger is a Marketing Professor at the Wharton School at the University of Pennsylvania and the author of 3 international bestsellers: Contagious, Invisible influence and The Catalyst: How to Change Anyone's Mind.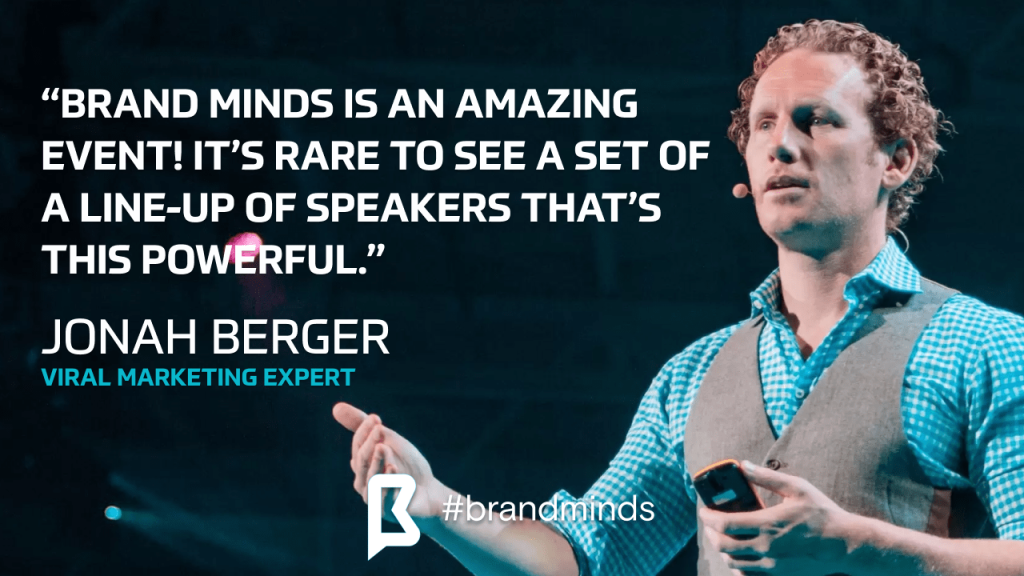 Quote from past BRAND MINDS speaker Yuval Noah Harari
"I am grateful to BRAND MINDS for providing such a prominent stage!"

Yuval Noah Harari, Bestselling Author & World Famous Historian – BRAND MINDS 2019
Prof. Yuval Noah Harari is a historian, philosopher, and the bestselling author of the best-sellers Sapiens, Homo Deus and 21 Lessons for the 21st Century. 'Sapiens' was in the top 3 of The New York Times Best Seller list for 96 consecutive weeks. His books have sold over 40 million copies in 65 languages and were recommended by Barack Obama and Bill Gates.
Yuval Noah Harari – 4 insights on the future of mankind
Yuval Noah Harari is one of the world's top bestselling author.
Here are his insights into the future of mankind.
BRAND MINDS 2019: What You've Missed
BRAND MINDS 2019 has just ended and it was an amazing event!
Our 7th edition of BRAND MINDS filled Sala Palatului to capacity: 4200 people breathing in unison.
They were entrepreneurs, CEOs, middle managers, salespersons, trainers, marketers etc – World-Changers each and every one of them!
If you didn't attend our conference this year,
here's what you've missed:
One full-day of intensive business strategy training;
A live experience like you've never seen before;
Learning how to take your business to the next level;
Opportunity for high-level networking through the BRAND MINDS app;
Making new connections;
Laughs, good food and great energy on and off the stage;
A life-changing experience overall.
18 Insightful Takeaways from BRAND MINDS 2019
Each and every one of our speakers has delivered amazing keynotes pack-full with actionable insights, inspiration and tips & trick to advance your business, your career and personal development.
Here are a few of the most insightful takeaways from BRAND MINDS 2019:
ROBERT CIALDINI @ BRAND MINDS 2019
The Power of Persuasion
People want more of those things they can have less of;
If you mention a weakness in your speech, people will find you trustworthy;
Pre-suasion is the practice of getting people sympathetic to your message before they experience it.
GRANT CARDONE @ BRAND MINDS 2019
High Performance in Sales
Branding should come before advertising;
Wherever your attention goes is where your money goes;
People buy from people they know. Not people they trust.
DENISE JACOBS @ BRAND MINDS 2019
Banish Your Inner Critic: Transform Self-Talk To Elevate Performance
Our brains are actually one of the biggest untapped resources on the planet;
The inner critic is actually a protective mechanism;
Creativity feels a lot like magic, but it isn't.
HITENDRA WADHWA @ BRAND MINDS 2019
Inner Mastery. Outer Impact.
The more you operate from your inner core, the more you create the conditions for outer impact;
To be true to yourself, you should be able to freely express yourself: thoughts, feelings, values, personality, desire;
Commit yourself to a journey of continual learning and growth – to awaken to your true self.
GUY KAWASAKI @ BRAND MINDS 2019
The Art of Innovation
Great products and great people polarize people;
Changing your mind is a sign of strength and cleverness;
Innovation is a process. Not an event.
YUVAL NOAH HARARI @ BRAND MINDS 2019
The End of Homo Sapiens: When do humans cease being human?
Many people confuse the brain with the mind;
It's easier to manipulate a system than to understand it;
In the future, your mobile phone can be incorporated into your body with functions as analyzing your emotions, feelings, your state of the body. We will operate with 2 brains, your current one plus the bionic brain.
Goodbye BRAND MINDS 2019 – Hello BRAND MINDS 2020
For the past four editions, our conference has been sold out 3 months in advance leaving many people joining the waiting list in the hope that someone will not be able to attend the event and relinquish their ticket.
To make sure we meet the ever-growing demand for tickets to our conference, we changed the location and date of BRAND MINDS 2020.
BRAND MINDS 2020
Date: 4th of May
Location: Romexpo
Participants expected: +6000
BRAND MINDS 2020 – Confirmed Speakers
Malcolm Gladwell – World's Top Journalist
Martin Lindstrom – World's Top Marketing Expert
Michio Kaku – World's Top Scientist

More Guest Star Speakers to be announced soon!
In the following months, we will update our speakers' lineup so follow our social media accounts (Facebook, LinkedIn, YouTube, Instagram, Twitter) to be the first to know!
Join us in our mission of Uniting the Business World and enjoy a life-changing business experience!

Yuval Noah Harari at BRAND MINDS
Yuval Noah Harari is one of the world's top bestselling author and he was a keynote speaker at BRAND MINDS 2019.
BRAND MINDS is The Central and European Business Summit taking place in Bucharest, Romania.
Prof. Harari is a #worldchanger supporting humanity's leaders look around the corner and see the breakthrough changes coming our way.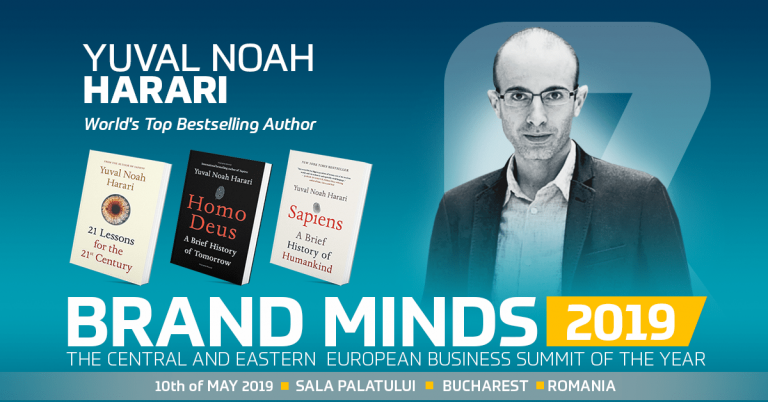 One of World's Top Historians
Yuval Noah Harari is a historian and a tenured professor in the Department of History at the Hebrew University of Jerusalem. Prof. Harari received his PhD degree in medieval history and military history at Jesus College, Oxford. He is currently focussing on world history, macro-historical processes and humanity's future.
Numerous International Awards
Yuval Noah Harari is a two-time winner of the Polonsky Prize for Creativity and Originality, in 2009 and 2012. In 2011 he won the Society for Military History's Moncado Award for outstanding articles on military history. In 2017 his book Homo Deus won Handelsblatt's German Economic Book Award for the most thoughtful and influential economic book of the year.
His books have been translated in 50 languages and sold in over 12 million copies around the globe
Prof. Harari has published seven books, of which the latest three have achieved international recognition and became best-sellers.
Sapiens: A Brief History of Humankind was published in 2014 and by 2017 eight million copies had been sold and the book was translated into nearly 50 languages. It was listed on the Sunday Times bestseller list for over six months in paperback and was a New York Times top 10 bestsellers.
Recommended by Barack Obama, Bill Gates & Mark Zuckerberg
Sapiens was recommended by Barack Obama, Bill Gates and Mark Zuckerberg.
In 2016, Prof Harari published his second book, Homo Deus: A Brief History of Tomorrow. Within less than two years, four million copies of the book had been sold worldwide and it was translated into nearly 50 languages. Homo Deus is a critically acclaimed book that examines the big future projects facing humanity in the 21st century.
After exploring deep into the past and then the future, Yuval Noah Harari published 21 Lessons for the 21st Century in 2018. Here he stopped to take the pulse of our current global climate, focusing on the biggest questions of the present moment: What are today's greatest challenges and choices? What should we pay attention to?
Worldwide Speaker
Prof. Harari lectures around the world on the topics explored in his books and articles. Various prestigious magazines have taken interest in his work and published articles exploring his insights, such as The New York Times, The Guardian, The Economist, The New Yorker, Financial Times, Times Higher Education, The Wall Street Journal.
He was interviewed by Christiane Amanpour and was a conversation partner of Christiane Lagardere, Natalie Portman, Russell Brand.
He spoke at the 2018 World Economic Forum meeting raising questions about the future of mankind.
Here are some of Prof. Harari's insights regarding the future of mankind.
The future of humans is becoming gods
History began when humans invented gods and will end when humans become gods.

Yuval Noah Harari, Sapiens
Prof. Harari envisions a not-so-distant future when humans are going to upgrade themselves into gods. By becoming gods he means humans "will acquire abilities that in the past were considered divine, such as eternal youth, mind reading, and the ability to engineer life."
The god-like nature of future humans doesn't seem so far-fetched if we keep in mind that researchers have been using CRISPR technology to edit out genetically inherited illnesses for the past ten years.
Life without death
A few serious scholars suggest that by 2050, some humans will become a-mortal (not immortal, because they could still die of some accident, but a-mortal, meaning that in the absence of fatal trauma their lives could be extended indefinitely).

Yuval Noah Harari, Sapiens
Is the prospect of a never-ending life possible for humans? The latest developments in bioengineering and nanotechnology bring a compelling argument in favour of this prospect. It's not only possible, but it's actually highly probable.
Digital dictatorship
Prof. Harari says free will is fantasy.
For a long time we have believed we are in control of our minds and no one can manipulate us. But the digital era has proven us wrong: search engines, algorithms and AI learn everything about our behaviours online. This vast amount of data can be used to manipulate and influence us – see fake news, the Facebook-Cambridge Analytica scandal, Google's databases.
Prof. Harari predicts that digital algorithms will know details about ourselves even before we do.
He sees the authority already shifting from humans to the algorithm. We already trust Amazon to show us what to buy, or a music-based AI algorithm to show us what clothes to wear.
Humans can be hacked
Prof. Harari believes that in the future it will be possible for algorithms to hack humans.
He gives the following explanation:
To hack humans you need a lot of data (which Facebook and Google already have), a good understanding of what's happening inside the body and the brain, and a lot of computing power to analyse the data and come up with insights.
What does Prof. Harari worry about?
His worst worry is related to technology and the place it is taking us to.
He believes we will change and upgrade before we can really understand the full capacity of homo sapiens.
We actually know so little about ourselves and it's a very bad idea to start upgrading something which you don't really understand.

Yuval Noah Harari
In our blog articles dedicated to supporting entrepreneurs improve their leadership skills, we have often written about the importance of looking beyond.
Prof. Harari helps the world's leaders look beyond humanity's horizon and see the rise of a different homo sapiens. This changed humanity means we will be facing spiritual, moral and ethical questions about AI, gene editing, re-engineering of the human body and mind and digital dictatorship.
Are you a #worldchanger?
Here are our first confirmed speakers; we will be announcing more speakers in the coming months so stay tuned!
Malcolm Gladwell, Martin Lindstrom and Michio Kaku