The months pass and the number of Covid-19 deaths continues to increase. Even those who had resisted social distancing initially became sufficiently anxious, and the practice became the norm – with the help of some gentle and not-so-gentle governmental nudges.
The multiple initiatives on vaccine development failed to reach a conclusive result. People continued to try to find ways to live and work under the new constraints. Research into antibody testing is more successful, and eventually reliable and cheap testing kits with quick results become available.
Much of the events industry has shifted online following an initial period of shock. Events platforms (some end-to-end, some offering specific functionality only) spring up to cope with demand and are eventually swallowed up by two big players – Zoom and Microsoft Teams.
Events companies find themselves having to run events in parallel on both platforms as attendees are usually locked into one ecosystem and reluctant to use the other. After Apple runs a press event for the iMask in Fortnite, gaming companies begin to court event organizers, offering their servers and digital environments up as conference venues. The International Police Association's global summit attracts much controversy when it is held inside Grand Theft Auto.
Organizers find themselves having to be creative in order to enhance value for attendees and find ways for sponsors and partner to promote themselves. It becomes typical to send attendees a physical kit ahead of the event containing reading material and promotional merchandise related to the topic.
With venues still inaccessible due to lockdown, the TEDx model also becomes popular, with many organizers licensing out their products to be run as smaller, more interactive online sessions. Many events organizers start experimenting with sending VR kits to attendees so that they can feel more immersed in the conference (for an enhanced ticket fee).
Among the topics discussed are: economic reconstruction, remote productivity, supply chain & logistics, and home baking.
This is a story about the future.
It is a future scenario narrative developed by James McLintock (UK-based Brand Strategist) after accepting my invitation for visioning a "Life in Isolation" future scenario in which social distancing becomes the norm in our society and there are no vaccines available yet.
What I love about scenarios is that it helps people live better with uncertainty. At its core, a scenario is a story, a view of how the future might unfold. This story triggers imagination and reflection by challenging current assumptions and known truths.
[bctt tweet="Foresight Expert Diana Stafie on the future of the events industry: No more prizes for those predicting the future, but for those building future preparedness. #eventsindustry #foresight " username="brand_minds"]
But how did I get to such a "Life in Isolation" future scenario?
In a recent Foresight endeavour looking at the Future of Events industry, we created several alternative scenarios.
The steps followed are illustrated in our framework below:
Those for which we consider that there are multiple ways in which they could play out became our key uncertainties and were further used in developing alternative scenarios.
In the current uncertain times, when social beliefs and attitudes, regulations, markets could suffer tremendous change on a weekly basis, I think there are no more prizes for those predicting the future, but more for those building future preparedness.
Some of these key uncertainties and the extreme ways in which they could play out in the future are illustrated below: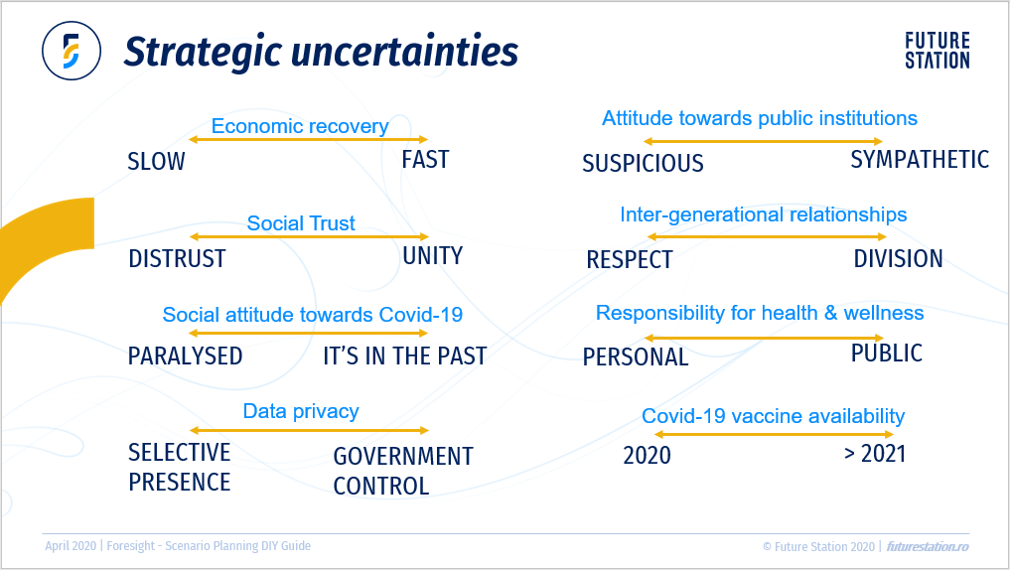 The Scenario Planning technique pairs two uncertainties (from different categories) to create a 2 x 2 matrix of possibilities.
Each quadrant of the matrix creates a possible scenario, a unique and specific possible future that emerges at the intersection of the extreme ways in which two uncertainties can unfold.
This thought exercise forces us to consider four very different sets of possible outcomes and enables us to think beyond our instinctual response and obvious assumptions.
Combining two of our uncertainties, we came up with the below 2×2 matrix: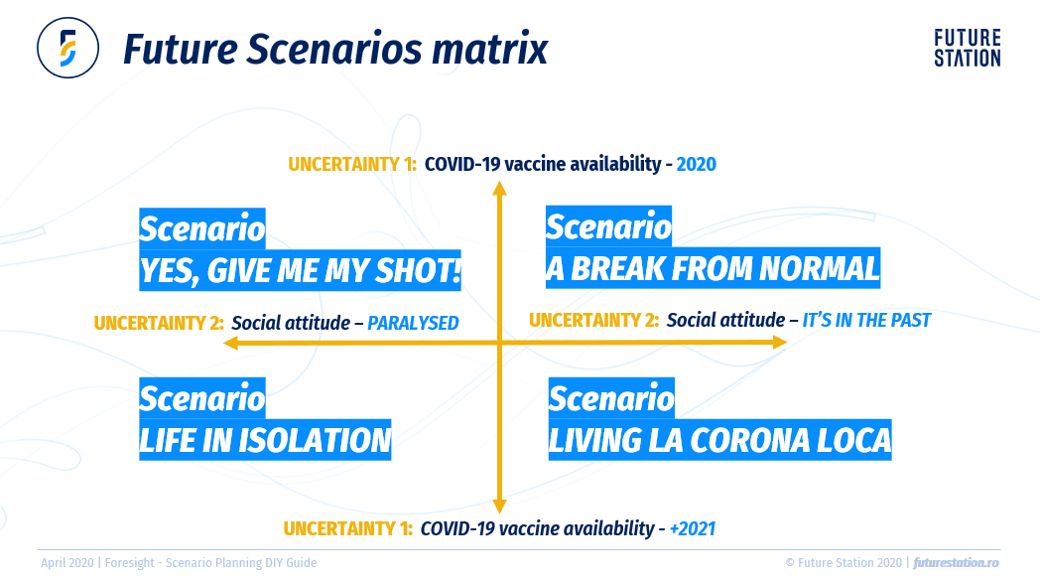 The lower-left quadrant is the "Life in Isolation" scenario visioned at the beginning of this article. Interestingly, a couple of weeks after developing these scenarios, we saw an indicator in the media – games being used as meeting environments.
Now, if you are in the events industry, I invite you to further explore #ScenarioPlanning and to consider:
What would your business and operating environment look like if similar scenarios became a reality?
What would your strategy be for each scenario?
Join the Conversation
We'd love to hear what you have to say.
Get in touch with us on our LinkedIn Group, Facebook Group or Twitter.