According to Market Research, the self-improvement market was worth $9.9 billion in 2016 and is estimated to grow to $13.2 billion by 2022 with 5.6% average yearly gains.
Self-improvement is about consciously identifying and developing one or more facets of your life. From the perspective of an entrepreneur, self-improvement will often entail some sort of mental training but can mean anything from practising stress management to valuable goal-setting. Professionals are often keen to learn things like time-management techniques (for better prioritising tasks) and increasing productivity without compromising mental wellbeing.
The self-improvement market is wide and encompasses a large variety of products and services which range from books to e-books, online courses, coaching programs, webinars, "academies", "universities", "masterminds", masterclasses, conferences, mobile apps etc.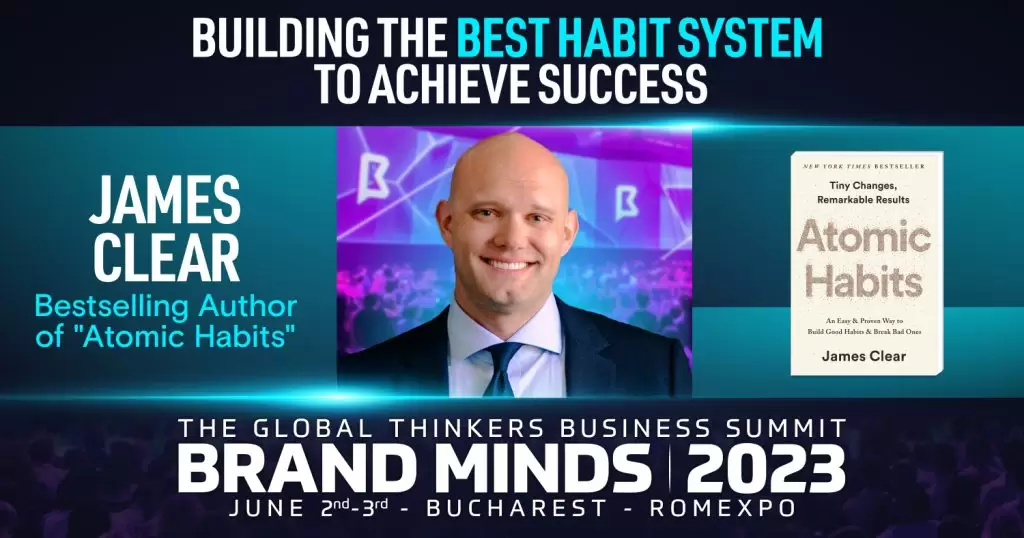 Join BRAND MINDS 2023.

Learn more: The Health & Wellness Industry is now worth $4.2 trillion
Here are various markets related to the self-improvement industry and how much they are worth according to Market Research:
Self-help audiobooks – $769 million (5.6% growth YoY);
Self-improvement books – $800 million (6% growth YoY);
Self-improvement apps – $27 million;
Personal coaching services – $1 billion in the US (source);
Motivational speakers – $1 billion per year combined.
Self-improvement industry statistics
Millennials are driving the growth of the self-improvement industry;
94% of millennials reported making personal improvement commitments and said they'd be willing to spend nearly $300 a month on self-improvement;
Millennials spend twice as much as Baby Boomers on self-improvement such as working out, life coaching and well-being apps (source);
Booknet Canada reported a 27% increase between 2016 and 2017 of the Self-Help/Personal Growth category (source);
'Girl, wash your face' by author Rachel Hollis is ranked #3 in top 10 Best-selling print books in the US in 2018 having sold over 1.28 million copies with 'Becoming' by Michelle Obama as #1 with over 3.4 million copies sold (source);
According to figures from Nielsen Book Research, in the UK the self-improvement literature has seen an increase in sales of up to 20% amounting to 3 million books (source);
India's self-help publishing industry has grown exponentially over the last 14 years and coincides with the entry of foreign publishers in the local market (source).
Self-improvement is a journey and books are the starting point of this journey. No matter your goal or your age, there's no better feeling than turning the pages of a book.

Learn more: The Pet Food Industry is Growing at a Fast Pace
Here are Amazon's top 10 bestsellers in the Self Help category of books:
Unfu*k yourself: Get out of your head and into your life – Gary John Bishop;
Can't hurt me: Master your mind and defy the odds – David Goggins;
Girl, stop apologizing – Rachel Hollis;
The subtle art of not giving a fu*k: A counterintuitive approach to living a good life – Mark Manson;
The 7 habits of highly effective people – Stephen R Covey;
Maybe you should talk to someone – A therapist, HER therapist and our lives revealed – Lori Gottlieb;
Dare to lead – Brené Brown;
How to win friends and influence people – Dale Carnegie;
Unlimited memory: How to use advanced learning strategies to learn faster, remember more and be more productive – Kevin Horsley;
Atomic habits: An easy and proven way to build good habits and break bad ones – James Clear.
Tech is driving the self-improvement industry forward
Unlike empires that revolve around a guru, the new self-help apps revolve around technology and the user.
Self-help apps are the solution to our on-demand society. They combine the best of old-school tools like paper books, seminars and coaching sessions:
They are easily personalized;
Provide the user with a rich multimedia experience;
Are socially connected;
Offer in-person coaching sessions.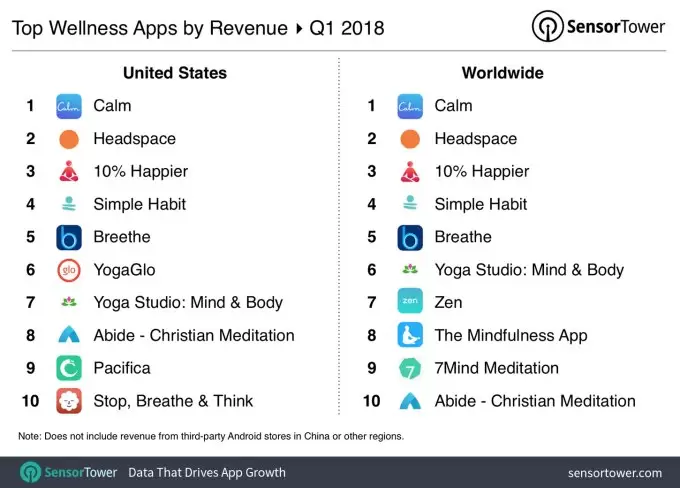 source: techcrunch.com
Self-improvement apps statistics via Market Watch
U.S. consumers spent $32 million on self-care mobile apps (Calm, 10% Happier, Headspace etc) in both the Apple Store and Google Play in the first quarter of 2018, up 40% YoY;
75,000 people download Calm each day, and the app's downloads have more than doubled in the past year, from 15.2 million in December 2017 to 37.2 million in December 2018;
American Airlines now features Calm on its boarding videos and in-flight entertainment systems;
10% Happier has more than tripled its number of subscribers from 2017;
Headspace currently has just under 40 million downloads, with well over one million paid subscribers;
More than 300 companies, including Google, LinkedIn, GE, Adobe, Genentech and Unilever, are offering Headspace to employees as a health and wellness benefit.

Learn more: The Gaming Industry – No longer a child's play
Here are the best self-improvement apps of 2018 by Google
Mimo. Learn to Code;
Drops: Learn 33 new languages;
10% happier: meditation & sleep;
Keep trainer: workout trainer & fitness coach;
Masterclass: learn how to cook, sing, act and more.
Apple

identified self-care as the app trend of 2018 with apps like Fabulous, Shine, Calm, and 10% happier leading the trend.

Have you joined the self-improvement movement?
Join the Conversation
We'd love to hear what you have to say.
Get in touch with us on Facebook Group and Twitter.