We are inspired by their vision and leadership styles.
Some of them set out to change the world.
Others changed the company's core values to usher in a new era of evolution and development.
Here is our top 6 tech leaders in 2018:
Tim Cook, CEO of Apple

– "We give back in job creation"
photo: politico.com
In 2011, after Jobs resigned, Cook was named the new CEO of Apple.
His leadership focuses on people, strategy, and execution.
He also states that a company should have values because a company is a collection of people.
Asked about what Apple gives back to society, Tim replied:
We give back through our work in the environment, in running the company on renewable energy. We give back in job creation.
Under Tim Cook, Apple has the same focus on standout hardware and design as it had under Jobs. But Cook is making his mark by highlighting the importance of social efforts: LGBT rights, philanthropy, corporate diversity, renewable energy and improving manufacturing conditions abroad.
Apple market value 2018: $910 billion (source: money.cnn.com)
Sundar Pichai, CEO of Google

– "Let others succeed"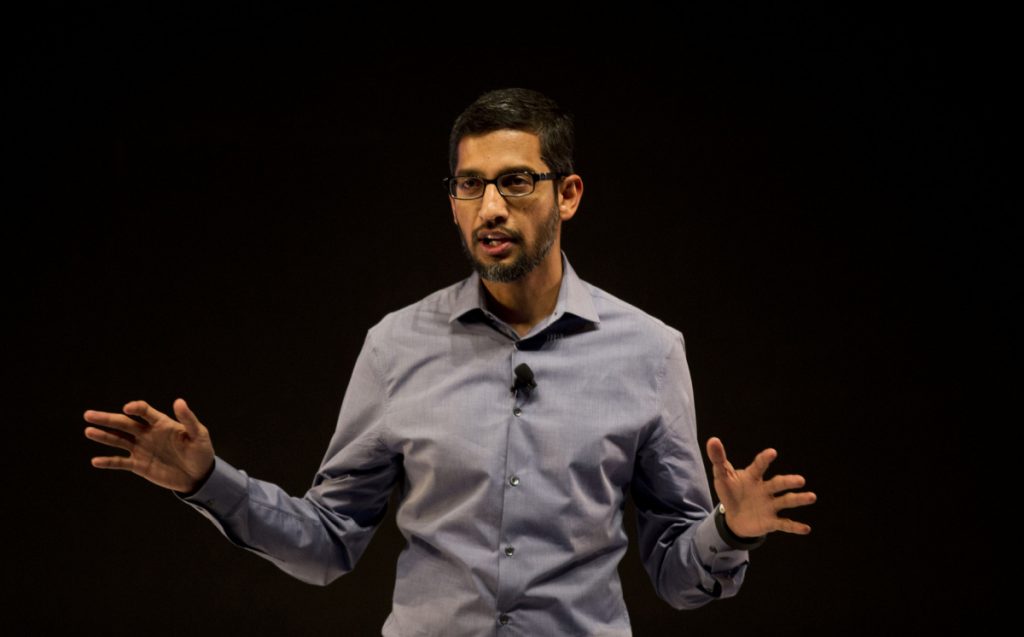 photo: fictional4.rssing.com
Sundar Pichai was appointed CEO of Google in 2015, following Larry Page, the co-founder and former CEO of Google.
Sundar joined Google in 2004 and was involved with developing a series of client software products including Google Chrome, Google Drive, Gmail, Google Maps and Android.
In Sundar's opinion leadership is
less about trying to be successful (yourself), and more about making sure you have good people and your work is to remove that barrier, remove roadblocks for them so that they can be successful in what they do.
He focuses on building Google as a collaborative culture company and is a much-loved leader by his employees.
Google market value 2018: $762.5 billion (source: cnbc.com)
Jeff Bezos, founder and CEO of Amazon

– "Get Big Fast"
photo: inc.com
Jeff Bezos is the founder and CEO of Amazon, the world's largest online shopping retailer. He founded his company in 1994, in his garage and named it after the Amazon River and because it started with A, the first letter of the alphabet.
Although Amazon was originally an online bookstore, Bezos had always planned to expand to other products.
To push Amazon forward, Bezos developed the mantra "Get Big Fast", which spoke to the company's need to scale its operations and establish market dominance.
Bezos is known to enforce a 2-pizza rule, which means the meetings must be small enough where two pizzas can feed everyone in the boardroom.
Amazon market value 2018: $702.46 billion (source: fortune.com)
Satya Nadella, CEO of Microsoft

– "The C in CEO stands for Culture"
photo: cnbc.com
In 2014, Satya Nadella became the current CEO of Microsoft, following Bill Gates and Steve Ballmer.
The most important change that Satya brought to Microsoft was shifting the company's culture. He says that his job as CEO is to create a culture that focuses on listening, learning, and harnessing individual passions and talents. Satya also placed employer empowerment at the core of Microsoft's culture.
Nadella is the author of Hit Refresh:The quest to rediscover Microsoft's soul and imagine a better future for everyone. In his book, he explores his life, his career in Microsoft and how he believes technology will shape the future.
In the years since Satya became CEO, Microsoft stock have risen more than 130% achieving an all-time high.
Microsoft market value 2018: $699.22 billion (source: fortune.com)
Jack Ma, founder and CEO of Alibaba

– "Customers first, employees second, and shareholders third"
photo: byrslf.co
A former English teacher, Jack learned about the internet in 1995 and realized early on that the internet had something great to offer. After a few business fails, Jack founded Alibaba, a China-based business-to-business marketplace site in 1999. Soon Alibaba became a multinational technology conglomerate and one of the most valuable technology companies in the world.
Jack Ma is an enlightened leader.
One of his goals is to improve the lives of employees who grow with the company, by offering them Alibaba stock options. He believes in the empowerment of the young by enriching their culture and education.
His focus is
to make sustainable money while being responsible to the society and improving the world.
Alibaba market value: $500 billion (source: technode.com)
Mark Zuckerberg, founder and CEO of Facebook

– "Making the world more open and connected"
photo: wired.com
Mark Zuckerberg launched Facebook in 2004, from his dormitory room at Harvard University.
He says Facebook's mission is
to give people the power to build community and bring the world closer together.
There are 7.6 billion people in the world (as of March 2018, according to worldometers.com) and Facebook reported that 2.13 billion are monthly active Facebook users! Although controversial, Facebook is too big to ignore.
Mark is a transformational leader.
He motivates employees through his passion for online communication and his constant pursuit to improve and innovate. He provides employees an opportunity to share in the success and views making mistakes as an opportunity for growth within the company.
Facebook market value 2018 (following Cambridge Analytica scandal): $476.83 billion (source: techcrunch.com)
If you liked the article, share it with your friends!