On this page:
What is Share Of Voice?

How to measure your brand's Share Of Voice

Why is Share Of Voice important for your brand

Six tips to boost your brand's Share Of Voice with examples
What is Share Of Voice?
Commonly referred to under the acronym SOV, Share Of Voice is the share of conversations generated around your brand, products or services on different digital marketing channels (news sites, blogs, forums, social media) in comparison to its direct competitors.
How do you measure your brand's Share Of Voice?
Share of Voice is a percentage resulting from the following calculation: take the number of your brand's mentions over a period of time, divide it by the total number of brand mentions (your competitors' and your brand's) over the same period of time then multiply the result by 100 and you get your brand's Share Of Voice.
SOV

= Your brand's online mentions/Total number of your competitors' online mentions x 100

Here's an example of measuring Share Of Voice for the top five video streaming providers- HBO, Netflix, Hulu, Disney+ and Amazon Prime Video. As the calculation shows, Netflix has the highest Share Of Voice of the five providers.
How to implement social listening
You cannot measure Share Of Voice without brand mentions and to get mentions you need to do social listening.
There are many social listening tools available for marketers, starting with Google Alerts which monitors the web and is free.
If you are looking for a more sophisticated social listening tool, you can choose from a slew of providers such as Brand24, Mention, Talkwalker or Awario.
Seven reasons why your brand should do social listening:
Monitor and influence brand awareness
Monitor and control brand crisis
Find prospects and turn them into leads or customers
Monitor your competition
Find conversations your brand can join or learn from
Find reviews and feedback
Find influencers
Why is Share Of Voice important for your brand and business?
As marketers, we never stop thinking about the best idea fueling our next campaign. Whether it's a blog post or a social media post, it's our job to put out content that delights our customers.
What are your customers talking about when they refer to your brand?
First of all, are they talking about you at all?
Who does the talking: your leads, your customers or people in general?
Where are these conversations taking place: social media, forums, comments to news articles?
Answering these questions will give you an overall view of your brand's awareness. If people are not talking about you, it's time to come up with a brand awareness campaign that will help you gain attention and get people talking about your brand.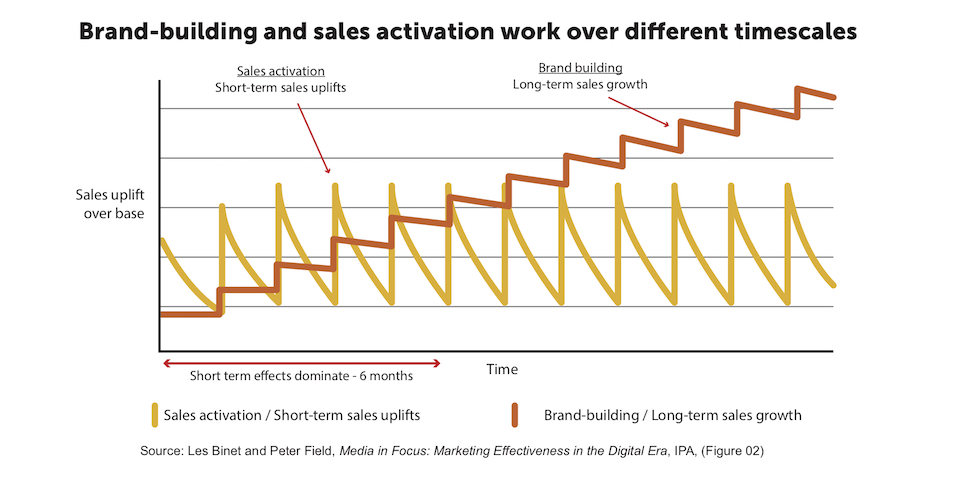 In his book, The Long and the Short of It: Balancing Short and Long-Term Marketing Strategies, co-author Les Binet recommends that marketers balance short- and long-term marketing strategies.
He argues that brands should run both types of campaigns but tweak the balance to 75% brand building and 25% activation.
"The digital revolution is leading to increased activation efficiency, and so a higher proportion should go to brand. It seems paradoxical, but what's happening in the digital world means you need to build that brand even more", Les Binet says.
Let's say there are conversations centred around your brand. The next question is, are they positive or negative? Do they rave about your latest product, or are they complaining?
Becoming aware of these conversations is an excellent opportunity to jump in, thank your happy customers, then do your best to turn them into your brand's ambassadors.
When you are dealing with complaining customers, it's equally a good opportunity for your business to pinpoint blind spots and put the spotlight on aspects that should be improved.
Amazon founder and CEO Jeff Bezos calls complaining customers "divinely discontent".
In his 2016 letter to shareholders, Jeff says "customers are always beautifully, wonderfully dissatisfied, even when they report being happy and business is great."
If I were to choose only one factor responsible for Amazon's success, it would be the company's obsession with customers, EVERY customer, not only the happy ones.
6 recommendations to boost your brand's Share Of Voice
There's really no secret to boosting your brand's Share Of Voice: you need to achieve top-of-mind awareness.
Top-of-mind awareness (TOMA) is an essential concept in consumer behaviour, marketing research and marketing communications by illustrating how well brands rank in the minds of consumers when thinking of a particular industry or category.
TOMA is defined as the first brand that comes to mind when a customer is asked an unprompted question about a category.
Let's do a short exercise. Name the first brand that comes to mind when you think of running shoes, watches, ladies perfume, soft drinks. I'll give you my answer: Nike, Rolex, Chanel and Coca-Cola. Was yours pretty much the same? That's TOMA.
So how could your brand reach the coveted top-of-mind spot?
By staying in front of your prospects' eyes for as long as possible. Coca-Cola has been the undisputed leader of the soft drinks category for the past 120 years.
Be creative.
Be relevant.
Be different.
Leverage the power of influencers (nano-, micro- or celebrities).
Appeal to your prospects' wants instead of their needs.
Commit to your core values and be bold.
Barbie

– The Dream Gap Project

Ruth Handler, Barbie's creator, has designed the now-famous doll as a way to tell little girls that they could aspire to be anything they wanted to be. Ruth's insight was that girls of the 1950s no longer wanted to grow up just to be mothers.

Seventy years later, the company holds to its core values by launching its 2018 campaign The Dream Gap Project.

The campaign signals the brand's commitment to close the gender gap. Oh, by the way: Barbie's YouTube channel has over 9 million subscribers. By comparison, Apple, the billion-dollar tech company, has almost 12 million subscribers. That's pretty good for a plastic doll!

The brand's efforts to update its products and become a better example for every little girl has resulted in a boost in sales starting with 2017. In 2019, Mattel's Barbie brand generated gross sales amounting to about $1.16 billion, up from about $1.09 billion the year before.
Nike

– You can't stop us

For Nike, the world's leading athletic apparel maker, everyone is an athlete.

Every campaign launched by Nike is a brilliant illustration of the brand's mission: doing everything possible to expand human potential. Nike is a brand synonymous with resilience, overcoming one's limitations, working to reach one's dreams, diversity and equality.

Nike's campaigns are inspiring and motivating, but they also take a stand on controversial topics. Such is the case of Dream Crazy, Nike's advert launched last year that touches on racial inequality and police brutality. The advert prompted a flood of debate and put the brand into the spotlight.

The latest Nike ad is You can't stop us and is a masterful example of conveying the brand's message with a creative twist, in this case – video editing.

Nike's advertising appeals to people's wants and dreams, is creative, bold and relevant. And this approach is good for the bottom line. In 2020, the Nike brand was valued at approximately $34.8 billion, which was an increase of over two billion U.S. dollars from 2019 (source).
Apple

– The whole working-from-home thing

With a brand value of $140 billion, Apple ranks third in the top 100 most valuable brands in the world in 2020, following Amazon and Google (source).

Apple designs technology that works together seamlessly. In the workplace, "Apple products help employees work more simply and productively, solve problems creatively, and collaborate with a shared purpose."

That's an excerpt from the brand's webpage dedicated to its business products.

Now imagine these fourteen words made up a brief and you have been tasked with creating a campaign based on them. Think of three ideas that you could pitch to Apple.

It's a great scenario if you want to exercise your creativity. If you're not in the mood, check out the brand's campaign series – Apple at Work – The Underdogs.

The series checks every benefit outlined in the brief, in an entertaining way. The second episode – The whole working-from-home thing gets real with all the ups and downs of the work-from-home world we are all living in now and it has struck gold. The video was published two weeks ago and it's already at 26 million views, making it Apple's the most-viewed in the last three months.

Join the Conversation

We'd love to hear what you have to say.

Get in touch with us on our LinkedIn Group, Facebook Group or Twitter.