David Meltzer is the co-founder and CEO of Sports 1 Marketing, top executive business coach and keynote speaker.
His company Sports 1 Marketing is a global sports and entertainment marketing agency that leverages over $20 billion in relationship capital and over 38 years of business experience.
David is a brand, media and business advisor at Youcanevent.com, an early-stage startup with more than half-million dollars in sales generated for hundreds of vendors in the last 12 months.
He is also chairman of Unstoppable Foundation, a non-profit humanitarian organization bringing sustainable education to children and communities in developing countries.
In 2017, David joined Entrepreneur Elevator Pitch TV series as an executive producer and judge. The show has been running for five seasons with great success.
He has also been recognized as "Sports Humanitarian of the Year" by Variety.
This year, he published his latest book 'Game-time decision making – High-scoring business strategies from the biggest names in sports', which teaches readers how to make business decisions with the same confidence and clarity as the world's best sports coaches.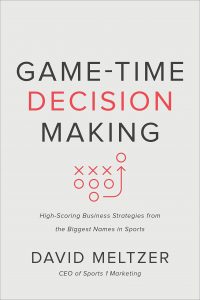 As a successful businessman, David takes to social media to share his insights and provide value to help other entrepreneurs starting out. Follow him on his channels but also tune in to his podcast The Playbook where he talks to people in top management roles at various companies.
I reached out to David Meltzer with a few questions on topics highly relevant in today's business environment.
Find his answers below.
1. Nokia failed because of its fear-fostering culture. Had it not been for Satya Nadella's change in leadership style, Microsoft might have had the same fate. Building the right company culture is foundational to that company's success. What factors should entrepreneurs take into consideration when building their company's culture?
First, entrepreneurs should consider the relationship between the company's mission and its core values. What exactly is your company's mission and how are your core values used to accomplish that mission?
When I first started Sports 1 Marketing, my initial mission statements were convoluted and confusing. It was only after I consulted one of my fellow co-founders that I realized the need to simplify that mission, eventually settling on "Make a lot of money, help a lot of people, and have a lot of fun."
From there, you need to develop a strategy to instil those values in employees and interns, consistently and persistently.
One of my favourite ways to reinforce company culture is with company-wide meetings or training, for example, our "Monday Morning Meetings" where our team gets together and participates in activities that revolve around our values.
One of the things we highlight for employees is being a "student of your calendar", so the entire company goes through the calendar to identify possible issues and efficiencies, with employees and interns alike learning more about how we like to run the business.
2. Today the workplace might include employees belonging to four different generations: people in their 60s, 40s, 30s and 20s. What is the entrepreneur expected to do to make sure everyone is happy?
I think the first thing is finding your "vibration", meaning the frequency that you have and share with others. When you are authentic and vulnerable, this frequency will resonate with those around you, no matter what generation a person is from.
The next step comes when you understand the different ways we communicate and which generation prefers each.
There are three main components to communication, which I call content, access, and medium.
The content is what you are communicating to others, the access is how it is communicated, and the medium is where that content is communicated. When you have a grasp on the type of content that each generation prefers, as well as how and where it is communicated, you are better prepared to inspire your team members and empower them to be happy.
3. What are the building blocks of your success in business?
When interns come into our office, they are often expecting to learn about what it takes to work in sports. The first thing I tell them is that we are going to teach them principles that would serve them in any industry, which are gratitude, empathy, accountability, and effective communication.
Gratitude gives you a positive outlook, making your past unbelievable, your present better, and your future brighter.
Empathy means forgiveness to me, and the person you need to live to forgive first is yourself because you cannot give to others what you do not have for yourself.
Accountability teaches us to ask two questions whenever something happens in our life: What did I do to attract this to myself and What am I supposed to learn about it?
Finally, effective communication requires us to connect in two ways, to those around us as well as to that which inspires us. When you are able to live with those values consistently and persistently, you will not only be successful, but happy.
[bctt tweet="David Meltzer (CEO @Sports 1 Marketing): The building blocks of business success are gratitude, empathy, accountability and effective communication. " username="brand_minds"]
4. Which attitude is better for entrepreneurs: FOMO or JOMO?
I don't believe fear is a motivator, although it does help some of us to focus, so I would never advise having a "FOMO attitude".
To me, JOMO is preferable because it centres on happiness and joy. Having a JOMO attitude means that you have a positive perspective, as you are happy to be missing out, instead of a scarce or negative mindset that is associated with fear.
5. You are an experienced and successful entrepreneur. What is your #1 advice for new entrepreneurs?
There is one piece of advice that all entrepreneurs need to take into account: the most important thing for your company is to ensure you stay in business tomorrow. The most successful ventures are those who evolve over time.
Amazon, for example, began as an online bookstore before it evolved into one of the most powerful technology companies.
Google began as a search optimization tool before growing into the diverse powerhouse that the company is today.
This evolution could have never happened unless these companies kept their doors open for long enough to adapt and adjust, and that key is something that all entrepreneurs should consider every single day.
Join the Conversation
We'd love to hear what you have to say.
Get in touch with us on our LinkedIn Group, Facebook Group or Twitter.