Google gave Gmail a big refresh that will change the way you interact with it and help you even more than before. As first reported by The Verge, the upgrade was revealed in a message from Google to administrators of G Suite accounts. The message stated that the changes would be coming to consumer Gmail accounts, as well as G Suite accounts.
The redesigned Gmail web interface is focused on quick productivity actions. Google is introducing features such as attachments chips, hover actions, and hover cards to make the static inbox experience more interactive without the need for multiple clicks. Google is also surfacing several labs features that were previously hidden in Settings > Labs, like canned responses, the ability to create multiple inboxes, and a preview pane to customize your preferences for different inboxes.
According to Fox News, Gmail is getting deeper G Suite interactions to directly create and edit Google Calendar invites, send notes to Google Keep, and manage to-do items in Tasks. "Google is also releasing new Tasks mobile apps for Android and iOS for adding and editing tasks from your smartphone to manage in Calendar and Gmail. The Tasks app is available today in the iOS App Store and Google Play Store.  Aside from the new-look web app and Tasks mobile apps, Google also announced new security features, including Gmail confidential mode, and expanded AI capabilities like smart replies and notification priority settings," added Fox News.
Here are some of the main changes and how they will impact you
Smart Replies and Smart Filtering
New AI-powered features in Gmail, like Nudging, Smart Reply and high-priority notifications, can now help you spend more time on work that matters. With Nudging, Gmail will proactively remind you to follow up or respond to messages, making sure you don't drop the ball.
Smart Reply offers pre-set, one-line replies for any email. The replies are not just standard answers, but customized according to each email, due to machine learning, that suggest responses to you, in order to help you save time. Moreover, two new features promise efficiency improvements through smart filtering. Notifications for high-priority messages help you focus on your most important work. From now on, Gmail will pay attention to frequent newsletters and suggest you give them the boot by unsubscribing if you stop opening them.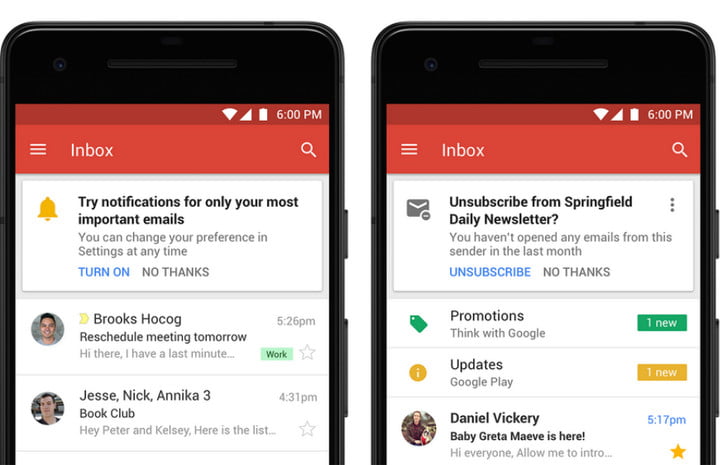 Protection from risky emails 
Built-in Information Rights Management (IRM) controls also allow you to remove the option to forward, copy, download or print messages. This helps reduce the risk of confidential information being accidentally shared with the wrong people. Confidential mode will begin to roll out to consumer Gmail users and a limited number of G Suite customers in the coming weeks (broader rollout following).
Moreover, the redesigned security warnings within Gmail are simpler to understand and give a clear call to action to employees. These bigger, bolder warnings will help you be even more informed when it comes to potentially risky email.
"When you compose sensitive email you can remove options to forward, copy, download, or print the messages. The option to protect your outgoing email with two-factor authentication — the recipient needs to log into their own email and click to receive an unlock code via SMS text to read the message you sent could help you sleep better at night if you later discover their email account was hacked," wrote Digital Trends.
Icons for Action Buttons
In the old Gmail interface, you'll find the action buttons in the inbox along with a text label. In the new interface, Google has turned these action buttons into icons — you can't read any text labels anymore. Also, this new icon menu has got two additional actions for quick access: Mark as read/unread and Snooze.
New Sidebar
It shows icons of other Google services like Calendar, Keep and Tasks. Tapping any icon expands the sidebar allowing you to quickly access your calendar entries, notes or tasks synced to your Google account. Any changes you do in these apps is synced back to the cloud and is instantly accessible on your other devices. You can also access third-party Gmail add-ons from the same side panel.
New native offline capabilities in Gmail on the web can help you work without interruption when you can't find Wi-Fi. Search, write, respond, delete, or archive up to 90 days of messages, just as you would working online, but offline.
You can use Tasks to create tasks and subtasks, and even add due dates with notifications to help you stay on track. And because Tasks closely integrates with G Suite, you can simply drag and drop an email from Gmail into Tasks to create a to-do. Tasks with due dates can also appear in your Calendar. You can download the new Tasks mobile apps from the Google Play Store or  iOS App Store today.
Different Display Modes
According to Economic Times, Google has added three view modes: default, comfortable and compact. Default view is ideal for large screens where you can open the preview of attachment in an email right from the inbox. This means you don't need to open the email itself. Comfortable view is great for laptop users – it has large text which is easy to read sans the preview option of the default view. Compact view is the same as before.