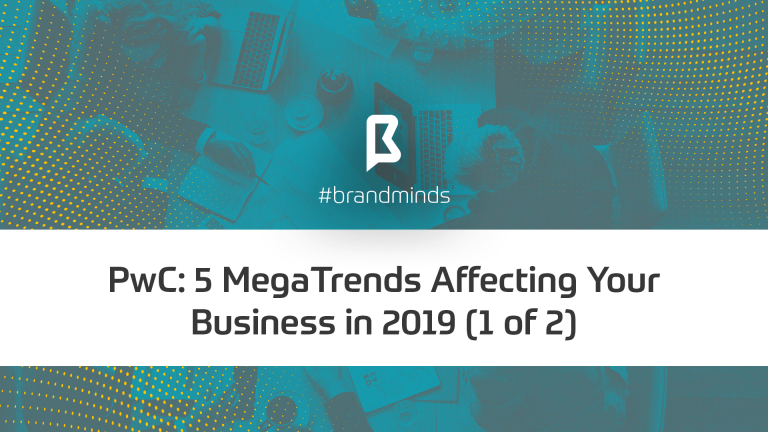 PwC has identified 5 global Megatrends that shape our world. This article explores these Megatrends looking at the way they affect the global business environment.
As business owners and entrepreneurs it's paramount to have a good grip on the present and also stand on the threshold of the future.
Let's see how these Megatrends identified by PwC are shaping our business environment on a global scale and what you can do to make the best of them.
Megatrends: 5 global shifts affecting your business in 2019
Rapid urbanisation;
Climate change and resource scarcity;
Shift in global economic power;
Demographic and social change;
Technological breakthroughs.
1. RAPID URBANISATION
Today, more than half the world's population live in urban areas and almost all of the new growth will take place in lesser known medium-sized cities of developing countries.

PwC
Challenges
Increasing global urban population: 1.5 million people migrate to cities every week.
Cities generate most of the world's GDP: 85% in 2015.
Cities stay at the heart of any economic development because they harness the power of economies of scale; they add value for people and companies thanks to their ability to attract talent, ideas, share knowledge and support businesses development.
Cities elevate the living standards of their citizens. China is an excellent case in point:
500 million Chinese people were lifted out of poverty in less than 30 years becoming China's booming middle class thanks to their developing cities.
[bctt tweet="Cities represent a major opportunity for business thus becoming breeding grounds for wealth-creation" username="brand_minds via @PwC_UK"]
To achieve that, cities must do the following:
Increase competition with other cities for talent, investment and firms;
Enhance levels of participation in city governance;
Improve connectivity;
Stimulate small business enterprises;
Deliver inclusive infrastructure;
Support sharing economies and micro industries.
One of the major opportunities that comes for the business environment is the emergence of new business models for delivering public services.
The current model of urbanisation is unsustainable. A crucial policy implication for government and business is not just to make the mega city workable but to address the urbanisation challenge at its source by helping to combat the distressed migration of 200,000 people a day from the countryside to the city.

PwC
The direction in which cities develop and evolve is shaped by the joint actions of city governments, citizens and businesses.
Solutions
Businesses must act towards taking greater responsibility for the following: service delivery, infrastructure investment, environment protection etc;
Job creation.
For large international businesses, rapid urbanisation will mean the creation of new markets. In their effort to expand globally, these companies should adopt a careful approach on how to position themselves in order to tap into the newly discovered potential.
Businesses will also see a change in their behaviours too.
The private sector will be challenged to be more open, sustainable, collaborative, innovative and flexible in their approaches.

PwC
2. CLIMATE CHANGE AND RESOURCE SCARCITY
As the world becomes more populous, urbanised and prosperous, demand for energy, food and water will rise. But the Earth has a finite amount of natural resources to satisfy this demand.

PwC
The world's current economic model is pushing beyond the limits of the planet's ability to cope.
Challenges
In the last years, the scientific community's predictions were proven to be right. Unfortunately they were accurate about the rate and effect of human impact on the climate.
The planet is no longer able to support current models of production and consumption.
The rising temperatures are predicted to lead to significant and potentially irreversible environmental changes. The pressure on natural resources is expected to increase dramatically.
The numbers show that a growing global population will also mean a 35% increase in food demand by 2030. Also demand for water will increase by 40% and for energy by 50%. In Africa, another consequence of climate change is reduced agricultural productivity by ⅓ over the next 60 years.
The link between trends in climate change and resource scarcity is a stark reality and needs to be addressed appropriately.
Solutions
The global economic development will be sustainable, or it won't be at all.
Businesses that are largely dependent on natural resources – water, land, energy – or are polluting the environment have already begun their transformation journey into responsible, ethical, waste-reducing companies. In order to achieve this goal, businesses have embraced innovation.
Learn more: Dell and Nikki Reed – Gold Jewellery made from Electronic Waste 
Unpredictable climate changes and environmental policies will bring organisational changes. Businesses must assume a leading role in alleviating environmental damage while working internally to adapt to changes by adopting organisational agility.
Learn more: 22 Benefits of the Agile Organisation 
Businesses must reassess their purposes. In order to survive in this challenging environment, businesses must acknowledge the need to become more than a source of profit for their shareholders. Business leaders need to look further and beyond earning money; they need to understand and measure their company's impacts on society and environment. Businesses need to develop an ecosystem that spans over a longer period of time for ROI.
[bctt tweet="The global economic development will be sustainable, or it won't be at all." username="brand_minds via @PwC_UK"]
Companies need to become aware that moving towards a business model that is sustainable and ethical is a powerful differentiator. As various reports show, 66% of global Millennials are willing to spend more on brands that are sustainable.
3. SHIFT IN GLOBAL ECONOMIC POWER
Challenges
Between 2014-2016 many emerging markets experienced a decline in economic performance when commodity prices dropped.
Here are a few examples:
Brazil and Russia are now in recession;
A former champion of economic growth, China is slowing down;
On the other hand, India is growing thanks to the following: being a net importer of oil and other commodities and therefore a beneficiary of lower global prices, more business-friendly policies to stimulate economic development and growth.
PwC has projected that
India could overtake the USA as the world's second largest economy by 2050 (based on GDP at purchasing power parities) and should be the third largest economy ahead of Japan by 2030.
Solutions
Businesses that are investing, or already invested, in emerging economies will need to make a careful assessment of whether and, if so, how they should manage in these more volatile market conditions, where prospects look less certain today than they did even a few years ago.
[bctt tweet="Brazil and Russia are in recession, China is slowing down, India is growing. " username="brand_minds via @PwC_UK"]
Join the Conversation
Get in touch with us on Facebook and Twitter. We'd love to hear your views!
---
source: https://www.pwc.co.uk/issues/megatrends.html