Stuck with leftover coins when travelling?
Turn them into vouchers with Coindrum!
Coindrum – Making coints count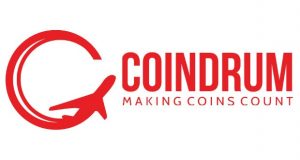 If you are a frequent traveller, you must have come across this situation many times: getting stuck with leftover coins.
The Problem with leftover coins:
They are a nuisance during security checks;
They might not be the currency of your destination;
They often go unused.
José Rosa, Managing Director of Lojas Francas de Portugal

The new Coindrum service is a great offer for passengers to dispose of their unwanted coins whilst getting more value for their money. Beyond solving an inconvenience the service will also get more people to start browsing the LFP retail offerings.
The Solution by Coindrum
Coindrum provides airports with self-service units that turn leftover coins into duty-free vouchers worth 110% of deposits.
Benefits of Coindrum for travellers:
Solves the foreign coin inconvenience for travellers;
Increases the percentage of people that shop for retailers;
Speeds up airport security checks.
Andrés Holzer, Vice Chairman of Dufry

Coins were neglected in the past due to their comparatively low value, it took the Coindrum innovation to demonstrate that they can be used as a psychological trigger to outspend their value at the tills.
Benefits of Coindrum for airport shops:
Get more travellers to start shopping;
Coindrum users spend on average 10 times what their vouchers are worth, and are even outspending their non-voucher counterparts;
It beats the current Average Transaction Value.
About Coindrum
An innovative technology business in the airport retail sector, Coindrum was founded by Lukas Decker in 2012;
The company is venture capital backed by the founders of Ryanair, Hostelworld and CarTrawler;
At date, Coindrum has raised a total of $2M in funding over 1 round;
The self-service units are currently present in nine European airports;
In 2018, the company signed its first deal outside Europe with Dubai Duty Free.
Won Best Technology Innovator at the 2018 DFNI Global Awards;
Won Gold in the Travel and Tourism Startup category at the 2018 Startup Awards.
Join the Conversation
We'd love to hear what you have to say.
Get in touch with us on Facebook Group and Twitter.