ROBERT IGER, former Disney CEO – 9 leadership lessons
Robert (Bob) Iger is the foreman Chairman and CEO of The Walt Disney Company, one of the world's largest and most admired media and entertainment companies.
Since becoming CEO in 2005, he oversaw the acquisitions of Pixar (2006), Marvel (2009), Lucasfilm (2012) and 21st Century Fox (2019).
In 2016 Disney expanded its international footprint by opening its first theme park and resort in Mainland China, Shanghai Disney Resort.
He also took the company to the next level using technology by creating an ambitious direct-to-consumer strategy that features the company's various streaming services, including Disney+, which debuts on November 12.
His book, The Ride of a Lifetime: Lessons learned from 15 years as CEO of The Walt Disney Company launched on September 23.
Here are 9 leadership lessons that he shared in a LinkedIn article where he tells the story of the Lucasfilm acquisition and the making of the first Disney produced Star Wars film.
9 leadership lessons from Bob Iger:
Talk to your team members to make sure everyone is on the same page and fully understand the stakes;
Share the burden of what it means to be responsible with your team members;
Communicate to your team members that you are their partner and not just a CEO putting pressure on them to deliver results;
Be a resource and a collaborator, make them feel that they could call you at any moment to discuss any problem they might wrestling with;
Remind your team that you believe in them and that there are no better minds to run your company's projects;
If you can't make the deadline, it's ok. Don't rush to deliver your project on time even if this means taking a short-term hit to your bottom line. Sacrificing quality is never an option;
Decide wisely when it's worth engaging in any public discourse and when it's not;
When you run negotiations, let your partners know clearly about where you stand while allowing yourself to show empathy if the situation calls for it;
A successful deal is a deal where you build trust with your partners and suppliers.
You have to try to recognize that when the stakes of a project are very high, there's not much to be gained from putting additional pressure on the people working on it.

Robert Iger
JEFF BEZOS, former Amazon CEO – 6 leadership lessons
Amazon founder Jeff Bezos stepped down as the company's CEO in 2021. He founded the eCommerce retailer 27 years ago in a garage when it "was only an idea" and people were asking him "What's the internet?".
Leveraging the power of the internet and thanks to his vision of what makes a successful company, today Amazon is the world's largest online retailer of consumer products and a leader in the cloud computing segment.
According to Statista, in 2021, the online retail platform Amazon reported a net income of $33.36 billion, up 56% from a $21.3 billion net income in the previous year.
Leadership lessons from Jeff Bezos:
Move quickly to solidify and extend your current position
In 1997, with big tech companies like Microsoft and AOL expressing interest in online commerce, Bezos saw a window of opportunity."Our goal is to move quickly to solidify and extend our current position while we begin to pursue online commerce opportunities in other areas. We see substantial opportunity in the large markets we are targeting", he writes in his 1997 shareholder letter. I remind you that, at the time, Amazon was still selling books.
Set out to delight your customers
Jeff believes complaining customers are a company's most valuable resource for growth. They reveal blind spots that employees or managers could not otherwise identify giving the business the opportunity to improve and develop. Amazon's focus on customer obsession is one of its underlining factors for success.
Make bold investment decisions
At the heart of Amazon's investments is the customer. Every investment that Amazon makes is to further improve customer satisfaction and experience by developing systems, infrastructure and service.
Your employees must think like an owner
Jeff acknowledged early on that hiring the right people was paramount if Amazon was to be successful and achieve its objectives. "Setting the bar high in our approach to hiring has been, and will continue to be, the single most important element of Amazon.com's success."The retailer behemoth compensates its employees in Amazon stock than cash because becoming stockholders changes their mindset.
Embrace external trends
Businesses that adapt to the latest technological trends and customer behaviour changes evolve and survive. Businesses that resist change, don't survive. His advice to every company founder is to acknowledge powerful external trends like AI and machine learning and embrace them quickly.
Make high-quality decisions fast
Large organizations like Amazon have many things going for them with one downside: they are slow at making decisions. Jeff didn't allow this to happen to Amazon.He created a system of making high-quality decisions fast which relies entirely on the Day 1 mindset. Day 1 companies are startups, nimble and agile, bursting with vitality. Day 2 companies are already heading for the end. Amazon is a Day 1 company.
WHITNEY JOHNSON, CEO of Disruption Advisors – 6 leadership lessons
Whitney Johnson is a world-leading expert on developing high-growth teams and one of the leading business thinkers in the world as per Thinkers50.
With +20 years of research, consulting & coaching, Whitney Johnson helps leaders to acquire the necessary skills for leading teams with confidence and a strategic approach.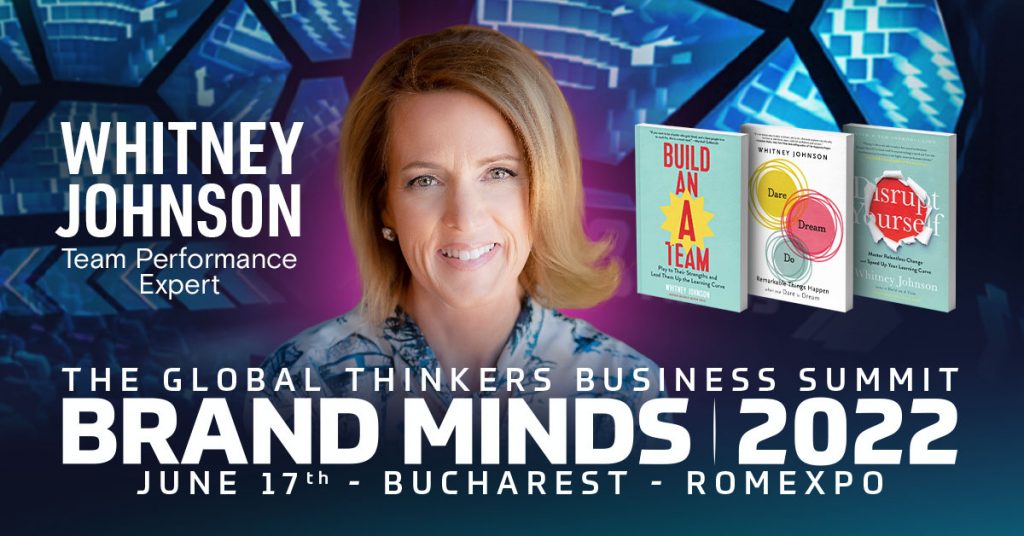 Leadership lessons from Whitney Johnson:
1.Take your business to the next level by putting the power of disruptive innovation to work.
"When you are driven by discovery, you take a step forward, gather feedback and adapt."
2. Change your business strategy as often as necessary.
"70% of all successful new businesses end up with a strategy other than the one they initially pursued."
3. Hire leaders whose higher goals align with the goals and objectives of your business.
"Before hiring anyone in your team, check to see if their why intersects with the why of the organization."
4. Always be looking to develop the talent in your business. 
"If you develop talent, there is absolutely no condition in which your company actually loses."
5. Employees are motivated by more than pay raises, bonuses and other extrinsic rewards.
"When we are no longer getting an emotional reward from our career, we may actually end up doing our job poorly."
6. Encourage your employees to disrupt themselves.
"Make disruption safe. Make it routine. Make it a human resources strategy."
We are thrilled to have Whitney Johnson on the stage at BRAND MINDS 2022, where she'll deliver a speech about The best tactics for building an extraordinary team.