Music is a great tool to learn new languages.
According to experts on teaching and learning, music is a tool that is developmentally appropriate, facilitates language fluency and helps brain development.
It has been shown that learning through music improves language levels and oral communication (source).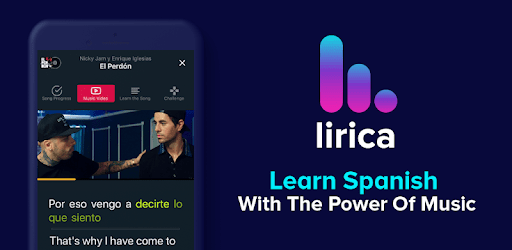 Lirica is a mobile application that teaches Spanish through lyrics from popular Spanish and Latin American music.
Mission
Songs make language memorable. They are used in classrooms around the world to engage students and illuminate culture.

‍Our mission is to place this powerful classroom learning interaction directly into the hands of people to learn anywhere, whenever they want.

Lirica
Why should you use music to learn a new language?
Music is engaging and highlights the most important moments of our lives;
Songs help us set the mood and express our feelings;
Popular tunes are memorable;
Singing new words helps you remember them more easily;
Helps you better assimilate syntax;
Supports the enrichment of your vocabulary.
How it works
Choose a song you love;
Learn the lyrics and understand the song;
Learn grammar in a fun way;
Collect a disc when you master a song.
Key features of Lirica
The lyrics of Spanish speaking music videos have been translated by expert linguists;
Curated lessons focused on the key grammatical themes in the song;
Fun listening and translation games played to the pace of the song;
The gamification aspect of the app improves both user retention and experience.
About Lirica
It was founded in 2017 by Paul Custance, a former Sony Music Entertainment director;
Partners: Sony Music and Instituto Cervantes;
It was tested with students of Spanish at Birkbeck, LSE, King's and Instituto Cervantes;
It currently supports Spanish but new languages will be available soon;
4000+ users;
10,000+ downloads.
Awards and Recognition
Lirica was picked by Google as one of the "Apps of 2018" as a Hidden Gem and won the Creation & Education technology award at MIDEM in Cannes in June 2018.
In 2019 the app was a finalist at 2019 The Europas Awards in the Hottest EdTech Startup category.

Discover Music Traveler, the app connecting musicians with available studios in Europe and the USA

Join the Conversation
We'd love to hear what you have to say.
Get in touch with us on Facebook Group and Twitter.