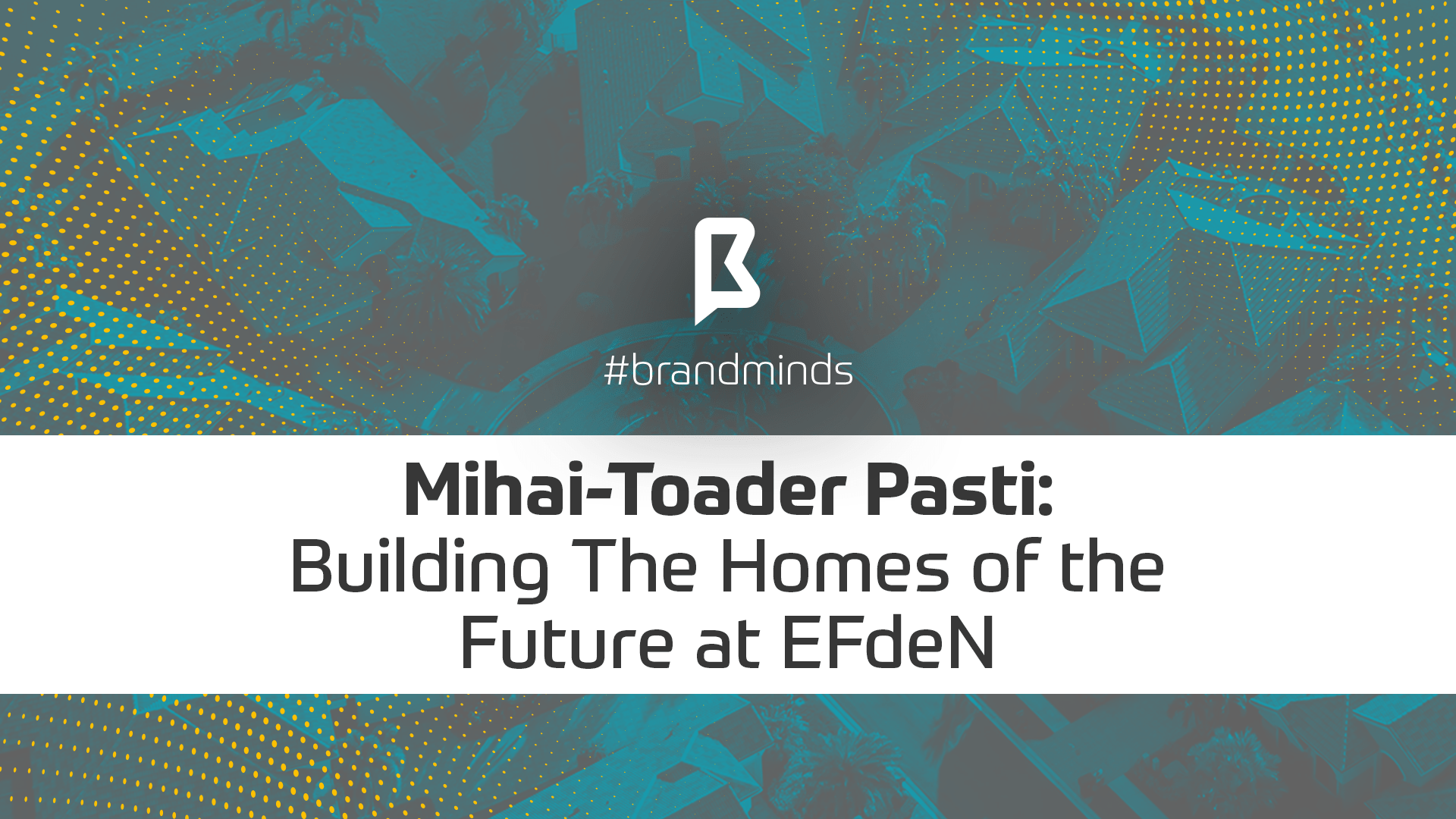 Mihai Toader Pasti is building the homes of the future as co-founder and General Manager of EFdeN & energiaTa.
EFdeN is an NGO founded in 2012 by a group of passionate young people committed to making Romania more sustainable.
Read the previous success story: Alex Govoreanu – Exploring Games with Questo.
Together with a team of seventy people with various education backgrounds (urbanism, design, architecture, 5 types of engineering, horticulture, communication and management), Mihai has been designing and building greenhouses for the past nine years.
Since 2010, he participated in 3 editions of Solar Decathlon, the world's most important competition for sustainable homes. At each edition, the greenhouse designed and built by the EFdeN team won prestigious awards, bringing the total number of awards to 35.
How does Mihai envision the house of the future?
He says the house of the future will become more interactive. The house will interact differently depending on the age or health issues of its owner. Maybe it will soothe a crying baby or cater to the needs of a sick old man. People suffering from depression or anxiety spend a lot of time indoors. Mihai is asking himself how their home could help them manage their illnesses.
I was interested to know more about EFdeN so I asked Mihai-Toader Pasti the following questions:
1. What is the story behind EFdeN? How did it all start?
The story of EFdeN starts two years before it was founded, in 2010, when two relevant things happened.
A young architect called Pierre Bortnowski visiting Madrid was hanging out with his friends in Casa de Campo Park. In the same time, the finals of the world's most important competition for solar homes were taking place. As a young assistant to the University of Architecture, at his return in Romania, he had a dream: for Romania to participate in this competition.
So he started gathering people to make it happen and this is how PRISPA project started in 2010. I was part, along with other colleagues who later joined EFdeN, of the PRISPA project. Unfortunately, the PRISPA house had to be sold in order to cover the participation expenses, so after the competition, the team dissolved, and the project didn't go any further.
But some of us really wanted to go further. This is why EFdeN was born in 2012. In a studio in Bucharest and not in a garage as other successful stories, because we did not even have a house. We had just one simple idea and one mission: to offer to other people at least the same experience we had in PRISPA, to create an educational context and opportunities.
We wanted to create a sustainable organisation that could offer meaningful and practical experience for young architects, engineers and designers, to raise awareness of climate change problems and try to mitigate them on a country level.
We did not aim for awards, fame or money, we just wanted this dream to live for decades, to not die. The fact we managed to do so many projects, while also changing a law in Romania and creating with energiaTa the biggest community of energy prosumers is something that happened because we always tried to push the boundaries of what is possible here.
2. In 2013, your team has grown from five to seventy people. What is your role as a leader?
My role as a leader was to get everything done in time and within the budget, while convincing enough people to pursue together and long enough a crazy shared dream: to be the best we could, to create the best home we could for Solar Decathlon competition.
People usually underestimate how challenging such a project can be. We have 2 years to create everything from scratch; we are responsible from concept and design to actually build a house with our own hands, a house which has to function in the best competition in the world for solar homes, after transporting it for more than 4700 km and assembling it in just 15 days.
We are also responsible for fundraising all the money, products and services we need. There is an enormous amount of things that could go wrong and we are responsible to solve them all, no big brother or sister to call, no parent to do our homework.
3. In the last four years, EFdeN has benefited from the active support of over 500 volunteers and supporters. How did you and your team manage to get everyone on the same page? What challenges did you encounter?
EFdeN is a truly amazing experience for everyone, from new members to coordinators and the management team. In time we had some amazing challenges to overcome: Theory to Practice, Financing & Partnerships, Teamwork & Interdisciplinarity, Long term planning and Execution.
We are constantly around 35 people and the average age in our project in 22 years old, the youngest is 19, the oldest is 31, having 50% gender balance.
Almost no-one has any working experience when they join our team and the vast majority never built anything in their life or had any experience in teamwork.
So in 2 years, until our first EFdeN participation in Solar Decathlon, we had to go from zero to hero which we successfully did.
In time we got better and better. For example, at the most recent Solar Decathlon competition we participated in (which took place in Dubai), we were on the podium 4 times in Engineering and Construction, Comfort Conditions, Sustainability and Communication.
How did we do that? By keeping our eyes on the ball, by doing lots of sacrifices, by loving what we do and by finding beacons of hope and energy in our own team and in society.
But the truth is you cannot get everyone on the same page. There are always people who don't trust us or who are not ready for the sacrifice it takes. It happened the same to us, it was not all the land of milk and honey, but we found common ground.
There were many people who didn't trust us and who refused to support us along our journey. But there were also some who supported us, and this made all the difference.
We are very thankful to our more than 120 sponsors that chose to support us and also to all the volunteers who were ever part of EFdeN and believed in this dream and put their time and energy into it.
Join the Conversation
We'd love to hear what you have to say.
Get in touch with us on Facebook Group and Twitter.