As in the last years Facebook took the face off Twitter, specialists started to wonder if Twitter isn't close to taking MySpace's road and die. and many were starting to believe that will be the reality. But, in fact, the end of 2017 and 2018's start show a revival of the social media platform.
"Twitter stock has been on fire, soaring some 16% in the past five days, including an 11% surge on Monday, thanks to a major endorsement from J.P. Morgan analyst Doug Anmuth, who named Twitter among the firm's best stock ideas for 2018. Investors wasted no time buying into the idea that Twitter's worst days are behind it," wrote Richard Saintvilus for Nasdaq at the end of December 2017.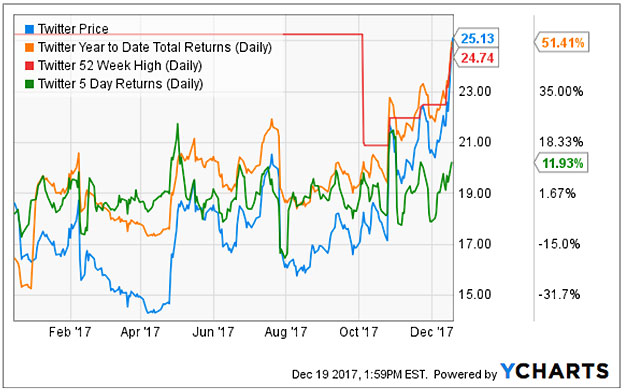 The company's improved live-streaming capabilities is one of several factors Anmuth sees as increasing Twitter's growth, including an expected 10% increase in daily active user growth in 2018 and an advertising revenue growth greater than 8 percent. Moreover, he expects the company to be profitable in 2018, which would mark a significant leap in the company's investment profile.
"We believe both the TWTR story and financial results will strengthen over the next year as the company continues to build on its differentiated value proposition for users & returns to revenue growth," wrote Doug Anmuth,quoted by CNBC.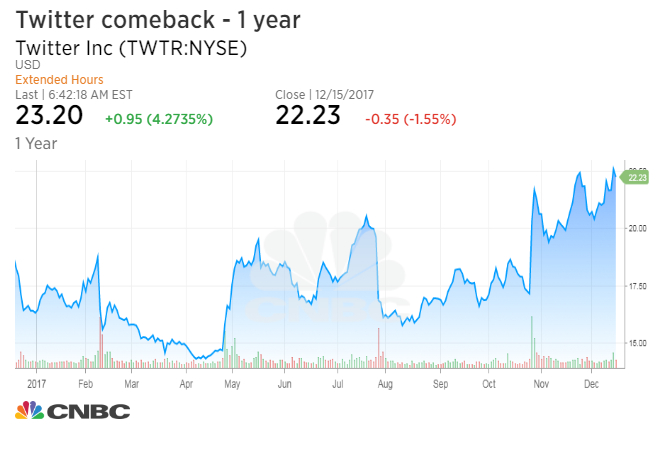 Moreover, according to MarketWatch, Bloomberg is bringing a news network to Twitter, in partnership with heavyweights including Goldman Sachs, Infiniti and AT&T. That is a great marriage between content and advertisers, proving the platform has a bigger monetization strategy than just random sponsored tweets. Twitter also launched pre-roll ads that can play before livestreams on its Periscope video platform. More recently, the company has started offering a more accessible way for developers to tap into content and data on its platform. There have also been rumors of a paid-subscription service on Tweetdeck for its most loyal and devoted users.