Learn about the business strategies used by Louis Vuitton and BMW from Porter's Diamond Model analysis of these two successful and powerful organizations.
The Porter Diamond Model, also known as the Porter Diamond Theory of National Advantage is a business framework that describes a nation's competitive advantage in the international market.
The model also highlights four factors that companies looking to expand their business internationally can take advantage of to achieve competitiveness in the market.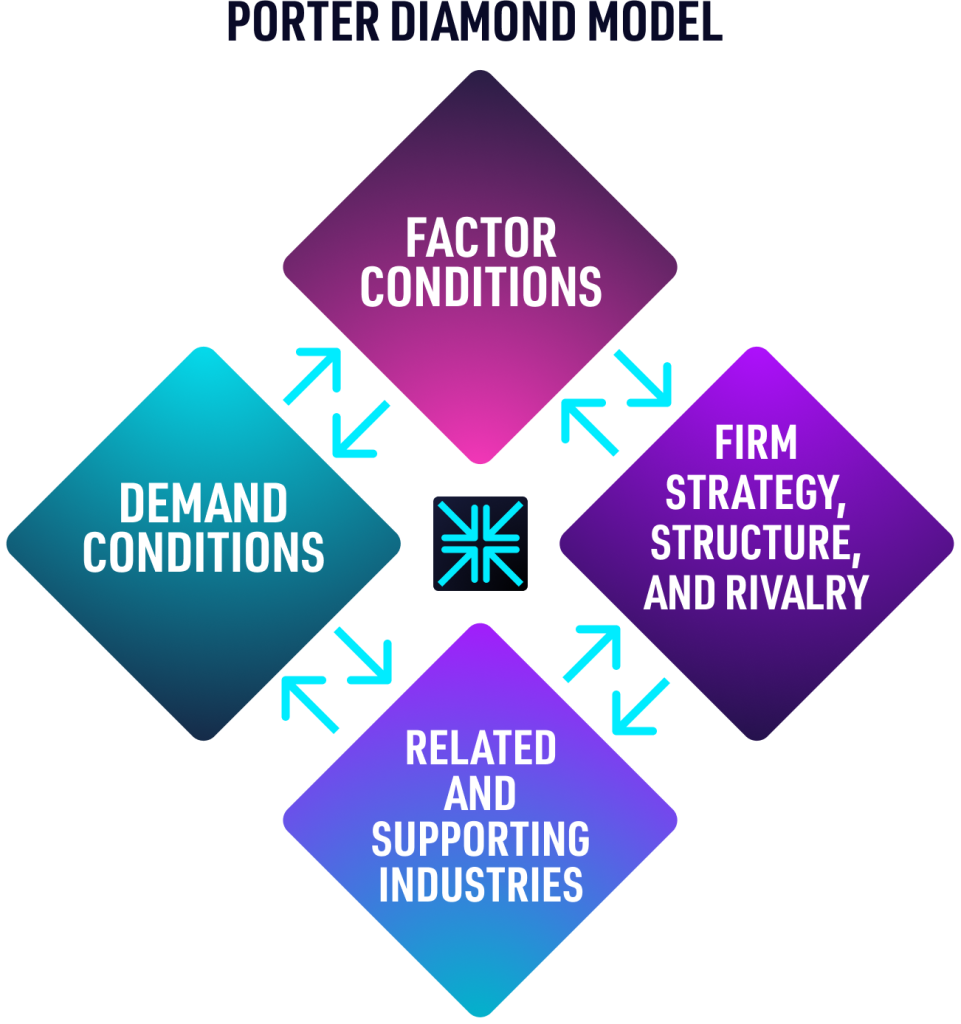 The Porter Diamond Model includes 4 attributes
The Porter Diamond Model analyzes a nation's advantage against four broad attributes that each nation establishes and operates for its industries:
1.Factor Conditions
This attribute defines the nation's position in factors of production, such as labour, land, natural resources, capital or infrastructure, necessary to compete in a given industry.
2. Demand Conditions
The second attribute of the Porter Diamond Model refers to the nature of home-market demand for the industry's product or service.
3. Related and Supporting Industries
This attribute reveals the presence or absence in the nation of supplier industries and other related industries that are internationally competitive.
4. Firm Strategy, Structure, and Rivalry
The Firm strategy, structure and rivalry attribute highlights the conditions in the nation governing how companies are created, organized, and managed, as well as the nature of the domestic competition.
For in-depth information on Porter's Diamond Model, check out this article!
Theoretical knowledge is good but it's only the starting point. Analyzing real-life examples is the best way to learn about a new business framework or model. It helps you put things in perspective.
For the purpose of this article, let's look at two global brands and how the Porter Diamond Model is applied to them: Louis Vuitton and BMW.
Porter's Diamond Model Analysis of Louis Vuitton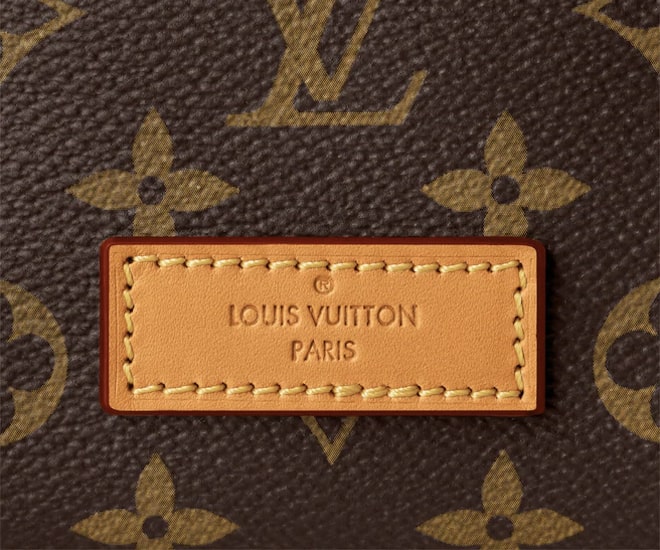 With a brand value of over $51 million in 2020, Louis Vuitton is the most valuable luxury brand in the world.
France is the company's home base but since its inception more than 150 years ago, Louis Vuitton has expanded in 50 countries and has a retail network of over 4,910 stores worldwide.
What is the secret of Louis Vuitton's success? Read Louis Vuitton: The story behind the brand.
Louis Vuitton: Factor and demand conditions
When you think of luxury, you think of France.
France is the world's capital for luxury goods, haute-couture fashion, cosmetics, perfumes and accessories and the home for famous international houses such as Chanel, Dior, Givenchy, L'Oreal, Clarins, Lancome, Hermes, Celine, Louis Vuitton etc.
It's not by chance that France has such a strong cluster of luxury brands.
The country's luxury goods industry has a long history which began more than 500 years ago.
Eight hundred years ago, France was Europe's silk centre with a booming silk industry.
King Louis XIV, the country's most fashionable royalty recognized the importance of luxury goods to the national economy. Under his leadership, the country developed a powerful textile industry which in turn boosted trading and the country's infrastructure.
Fast forward to the 21st century, France is synonymous with high fashion and luxury goods.
The fashion and luxury goods industry has a direct turnover of €150 billion. The share of French GDP generated by fashion is 2.7%. There are 1 million jobs in the fashion industry (source). The workforce in the industry is highly skilled. Experienced craftsmen or seamstresses sometimes receive an 18-month to 2-year training.
France was the perfect country for Louis Vuitton to be born in. The country provided the luxury brand with perfect factor conditions.
The French are known for their good taste and high fashion style so the brand had to work hard and innovate to meet the needs of such demanding customers (demand conditions).
This, in turn, helped them expand internationally and retain their competitive advantages.
With 37% of global sales, the Asian market is Louis Vuitton's biggest revenue source.
Surveys show that 92% of Japanese women own a Louis Vuitton handbag and sales in China rose by more than 50% and in August last year when the brand reported record sales at its largest store in Shanghai.
Louis Vuitton: Related and Supporting Industries
The country also ranks high in the Related and Supporting Industries attribute for the luxury goods industry.
The industry's development has been in close relationship with many subsectors such as textile and apparel, garments and embellishments, and sewing machinery. It's an ecosystem whose members pressured each other to improve and innovate for mutual benefit.
Louis Vuitton: Firm Strategy, Structure, and Rivalry
In France, the luxury goods industry is highly competitive.
With pressure from competitors, online sales increase and technology disruption, Louis Vuitton's business strategy is to grow through acquisitions.
The brand is part of LVMH, the world's largest conglomerate which came to be in 1987 when Louis Vuitton merged with champagne and cognac producer Moët Hennessy.
Over a period of 34 years, LVMH acquired more than 70 famous luxury brands. The latest acquisition is Tiffany & Co.
Porter's Diamond Model Analysis of BMW
BMW: Factor and demand conditions
Germany played a major role in the history of the automotive industry.
It was Karl Benz, a German mechanical engineer who designed and, in 1885, built the world's first practical automobile to be powered by an internal-combustion engine. Today, Germany is renowned for its powerful and innovative cars.
The largest industry sector in Germany is the automotive industry. Vehicles make up almost 17% of total exports.
The automobile industry generated roughly 426 billion euros in total sales in 2018.
With 882,000 manufacturing jobs in the automotive industry, Germany ranks first among European countries.
The country is a primary location for innovative car manufacturers and suppliers and is home to powerful brands such as BMW, Audi, Volkswagen, Mercedes etc.
One of the factors underlying German success is that the workforce is created. German students benefit from the country's dual system of education where they combine vocational education with apprenticeships. This type of education supplies the country with a steady flow of highly skilled workers.
The German automotive industry benefits from a strong industrial core, first-class infrastructure, a highly-skilled workforce and cutting-edge research and development.
BMW has become a prestige global brand, operating 31 plants in 14 countries, including the largest car manufacturing plant in the world.
BMW has taken advantage of the factor conditions provided by the country. Ranked 2019's 3rd most valuable car brand in the world, the company didn't start as a car manufacturer, but as an aircraft engine manufacturer.
The brand's success relies on its outstanding car design, technological innovation and workforce.
As the Porter Diamond Model recommends, the brand grows its own workforce. The BMW Manufacturer-Specific Advanced Training (MSAT) program provides students with extensive training on BMW vehicles thus preparing them to work for the company.
BMW: Related and Supporting Industries
BMW cars are high-quality automobiles.
The brand carefully selects suppliers in subsectors of the automotive industry such as parts and components, heating, ventilation, air conditioning, electronics etc. BMW depends upon a network of over 100 auto parts suppliers from all over the globe, though approximately 50% of its suppliers are either located in Germany or are subsidiaries of German-based companies (source).
BMW: Firm Strategy, Structure, and Rivalry
BMW faces tough competition both domestically and internationally.
The company's competitors are legacy brands much like itself.
On the local market, car automakers differentiate themselves through brand positioning.
In recent years, German car manufacturers have been struggling to adapt to new technological challenges (car connectivity, e-mobility), environmental challenges (green technology) and new entrants such as Tesla.
To stay ahead of the competition, BMW is using a competitive strategy which builds on market relevance, competitive services and research and development.
And it continues to make cars that consumers can emotionally relate to.
Attend the BUSINESS STRATEGY MASTERCLASS, on October 27 and learn future-proof business strategies for your organization from Costas Markides, Professor of Strategy & Entrepreneurship at London Business School.
Limited number of seats. Get your tickets today!